Nevada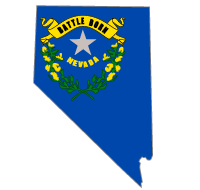 Nevada gained statehood in October 1864, one of two states to join the Union during the Civil War. In the 1864 election, Nevada ended up with an anomalous two electoral votes, when the third elector was snowbound. Since the new state's legislature had not yet convened, there was no mechanism to select a replacement. The state had three electoral votes through 1980. The population of the Silver State has more than tripled since 1980, including 35% growth between 2000 and 2010, bringing its number of electoral votes to six.

Although Republicans were dominant from the late 60s to late 80s, this influx of population has put Nevada squarely into the battleground state category. In 2016, Hillary Clinton beat Donald Trump by a margin of 48% to 46%. This was only the 2nd time since 1908 that Nevadans had sided with the candidate that did not win the presidency. The other time was in 1976 when they voted for Gerald Ford over Jimmy Carter.
Voting History
State voted with the overall winning candidate
Electoral College Votes
Colored bars represent electoral votes by party. Hover to see names. 2020 electoral votes shown in dark green until after the election.
Gray indicates available electoral votes that were either not cast or cast for a candidate not on the ballot.