Bernie Sanders continues to lead all candidates in the latest Granite State Poll of Democrats for the New Hampshire Primary. The Senator from neighboring Vermont gets 30% support. Joe Biden and Pete Buttigieg are statistically tied in 2nd; The three-point margin for Biden is well within the margin of error. No other candidate received more than 5% support.
Buttigieg, who barely registered in the prior Granite State Poll seven weeks ago, saw his support rise to 15% in the latest survey. Sanders lead grew from 4% go 12% over Biden, as the two moved in opposite directions. Sanders gained 4 points, while Biden lost the same. The big loser was Sen. Kamala Harris, who fell from 10% to 4%.
For the two most well-known names, this poll is a bit at odds with one released a couple weeks back from St. Anselm College. That survey gave Biden a 23% to 16% lead over Sanders. The chart below shows those averaging over 3% in these two polls; select the image for full results.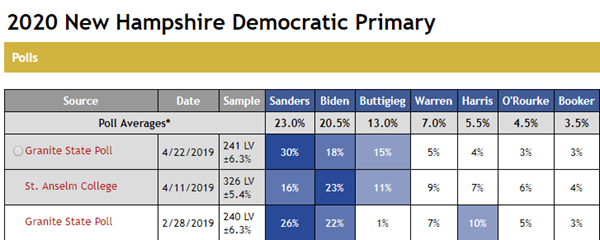 On the GOP side, President Trump held a commanding 76% to 10% lead over John Kasich. A declared candidate, former Massachusetts Gov. Bill Weld, received 5%.