February 11, 2021
A summary of some content changes to the 270toWin website in recent weeks:
2024 Electoral Map There will be a revised electoral map for the next presidential election, based on each state's population as reported in the 2020 Census. The release of that information - usually in December of the Census year - has been delayed until April largely due to the coronavirus. While we don't have the official 2024 map yet, the changes are still expected to be largely the same as those projected at the end of 2019. The interactive electoral map has been updated to reflect that. Using the buttons above the map, you can see how things will change. For example, the 306-232 result in the actual 2020 election becomes 302-236 if repeated in 2024.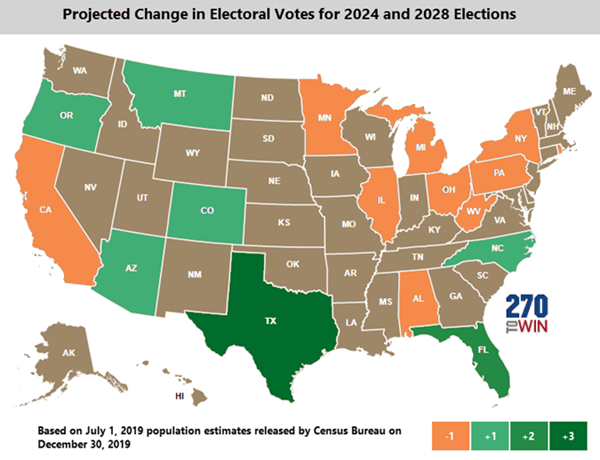 Historical Presidential Elections To make these maps more informative, we've replaced the stripes associated with split votes with actual numbers. Where applicable, there is also a split for 'Other'. These are faithless electoral votes cast for someone not on the ballot or electoral votes not cast. Refer to the Election Facts section on the map page for more details on any splits associated with the election you are viewing.
2022 Senate Map 34 seats are scheduled for the 2022 midterms. 20 are held by Republicans and 14 by Democrats. With roughly the same number of competitive seats held by each party, another closely-contested battle for control is in the offing. Sabato's Crystal Ball and The Cook Political Report are out with initial race ratings.
2021-22 Governor Map New Jersey and Virginia hold elections this year, 36 more states follow in 2022. The Cook Political Report issued its initial ratings earlier this month.
The 2022 House map is not yet ready. In any event, an accurate nationwide 2022 map likely won't be available for about a year as states go through the redistricting process triggered by the Census.
State Pages The Recent Presidential Elections section has been expanded with the option to view popular vote percentages back to 1976.
comments powered by

Disqus
Headlines