Three to five points separate Hillary Clinton and Donald Trump in four battleground states, a new series of Quinnipiac polls found. Clinton leads in Florida, North Carolina and Pennsylvania, with Trump in front in Ohio.
The results are presented in alphabetical order below, including a comparison to the last Quinnipiac poll in early September.
Florida: Clinton leads Trump by five points, both head-head and in a four-way race. The two were tied in the last Quinnipiac survey. The five point lead is slightly larger than the roughly three point lead for Clinton in the polling average.
North Carolina: Clinton leads by three points in both heats; this is right in line with the state's polling average. Both Clinton and Trump have gained, as the number of undecided voters, or those interested in Gary Johnson, has declined.
Ohio: Trump is ahead by three points here head-head, a lead that grows to five points when 3rd parties are included. This is a couple points better than the polling average. Trump has led most Ohio polls since early September. As in North Carolina, undecided and 3rd party support has declined.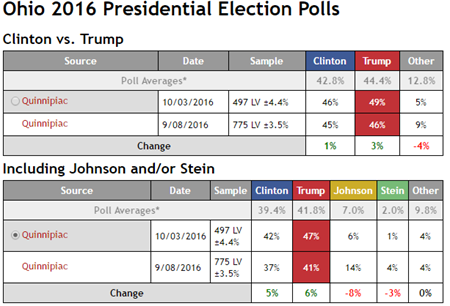 Pennsylvania: Little changed from the last Quinnipiac poll, Clinton leads by 4-5 points. This is a couple points better than the polling average.