Former Provo mayor John Curtis became the newest member of the U.S. House on Monday. He was seated less than a week after winning the special election in Utah's 3rd congressional district. Curtis won by over 30 points. This keeps the seat, vacated earlier this year by Jason Chaffetz, in Republican hands.
There are now 240 Republicans in the House, 194 Democrats. The one remaining vacancy, in Pennsylvania's 18th district, will be filled via special election on March 13, 2018. That seat was held by Republican Tim Murphy, who resigned last month. The race is currently rated 'Likely Republican'.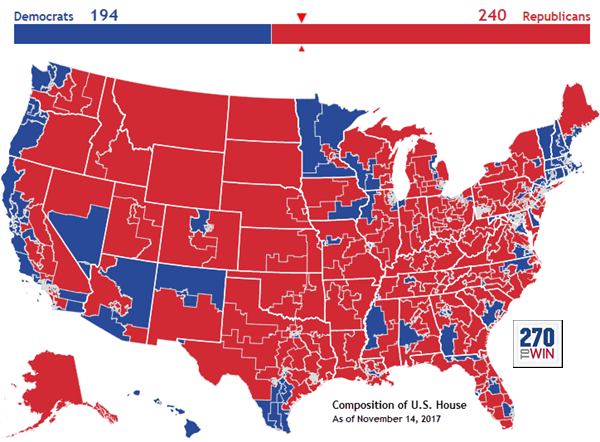 At least one additional vacancy is expected prior to the Pennsylvania election. Republican Pat Tiberi (OH-12) has announced he will leave Congress by January 31, 2018. Additionally, Republican Jim Bridenstine (OK-1) is awaiting confirmation as NASA administrator. Timing is unclear, but if/when it occurs, Bridenstine will need to resign.