The latest Change Research poll of California shows a lot of movement from their prior survey in late May. Sens. Kamala Harris, Elizabeth Warren and Bernie Sanders are separated by just three points, essentially tied given the poll's margin of error. Harris and Warren gained 8 and 10 points, respectively, from the prior poll. Sanders had a small decline in support.
The big loser in this poll is Joe Biden. The former vice president saw his support fall from 30% to 17%. He finds himself in 4th place. South Bend Mayor Pete Buttigieg fell from 12% to 8% and remains in 5th place.
The Golden State has the nation's largest allocation of Democratic pledged delegates, currently estimated at 416. Based on this poll, at least the top four finishers would qualify* for delegates, having reached the required 15% threshold.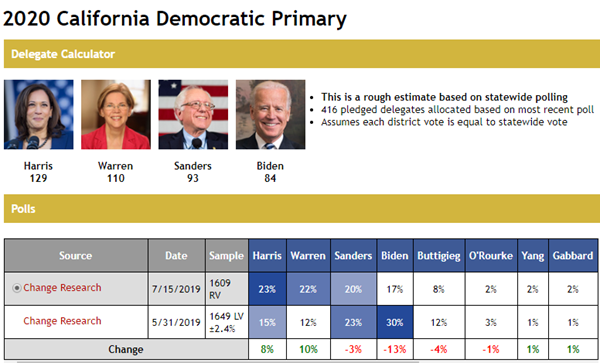 California will hold its 2020 primary on March 3 - Super Tuesday. This is significantly earlier in the calendar than the June date it has used in recent cycles. The 416 pledged delegates represent about 30% of those expected to be available that day.
* This is a very rough estimate that won't be correct even if this poll is exactly right. Most Democratic delegates are allocated by congressional district, with the distribution based on the vote in each district. This means, for example, Buttigieg could earn delegates by reaching 15% in one or more districts, even though he wouldn't qualify (in this scenario) for a share of the statewide delegates.