California Sen. Kamala Harris' debate performance has led to a surge in support according to a new poll from Morning Consult. Harris received 12% from the 2,407 registered Democrats surveyed, doubling her pre-debate level of support. Most of the gain came at the expense of former Vice President Joe Biden, who lost five points. Still at 33%, Biden remains well ahead of the field.
The debate didn't seem to move the needle much for the remainder of the field. Massachusetts Sen. Elizabeth Warren and former HUD Secretary Julian Castro, who both saw generally favorable coverage after their first night performance, saw little change in support. Former U.S. Rep. Beto O'Rourke, who seemed to come out on the short end of a testy exchange with Castro did see his support fall from 4% to 2%.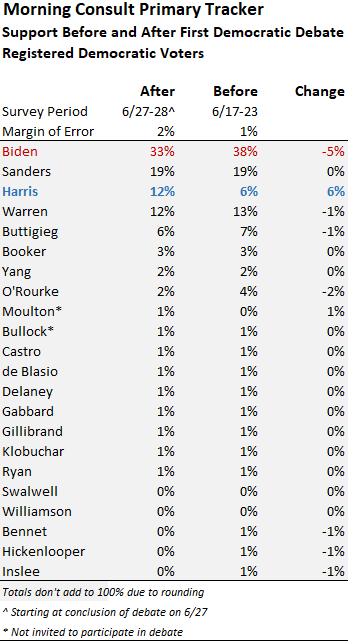 Morning Consult has been conducting a weekly tracking poll of the Democratic field. The current survey was an abbreviated version of that, taken from the conclusion of the debate on June 27 through June 28.
The next Democratic debate will take place on July 30 and 31 in Detroit. It will be hosted and moderated by CNN. Montana Gov. Steve Bullock has qualified, along with the 20 that took place in the just-completed event. However, per DNC rules, a maximum of 20 candidates will be able to participate. If none of the qualifiers withdraws from the race before then, a tiebreaker will take place to eliminate one of them from the debate.