Kansas Voters to Decide on State Abortion Amendment
By 270toWin Staff
August 2, 2022, 11:59 AM ET
Alongside the state's August 2 primary, voters in Kansas will weigh in on abortion. It is the first time the issue has been put in front of voters since since the Supreme Court's decision in the Dobbs case. That ruling overturned Roe v. Wade.
The ballot question will let voters decide whether to amend the State Constitution to specify that it does not contain a right to abortion. If it passes, it will overturn a 2019 state Supreme Court decision which ruled that the Kansas Constitution did include such a right.
If a majority votes 'Yes', in support of the amendment, it will give the Republican-controlled State Legislature the opportunity to enact new restrictions on abortion. A 'No' vote would maintain the status quo.
Polls close at 7:00 PM local time, which is 8:00 PM Eastern Time, except 9:00 PM Eastern for those areas observing Mountain Time.
Anyone registered to vote, including independents, can vote on the ballot measure. However, according to Vox.com, "[t]he timing [of the intitiative] is intentional: Republican lawmakers placed the measure on the August primary ballot instead of into the November general election in hopes that turnout remains low. Republicans outnumber Democrats in the state roughly two to one."
That strategy may backfire - at least somewhat - as the importance of the issue to many voters is driving increased turnout. A single public poll on the ballot measure from mid-July indicated the vote will be close. 'Yes' led 'No' by 47% to 43%.
Text of the Ballot Initiative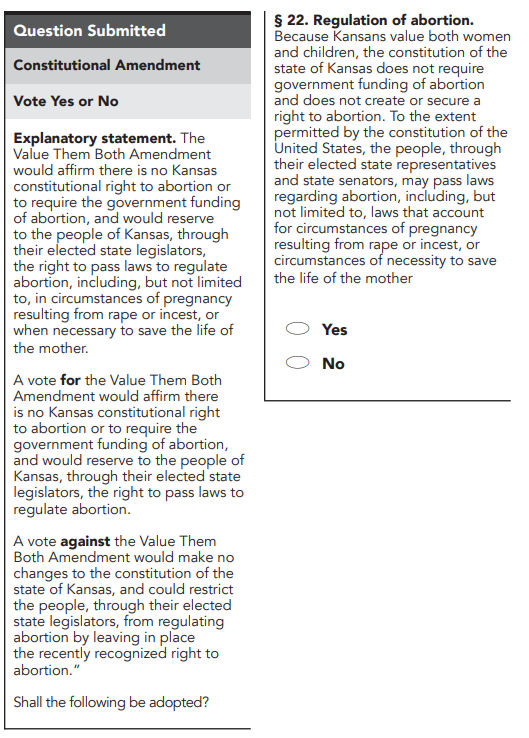 comments powered by

Disqus
Headlines