Donald Trump solidified his lead in the 2016 Republican race by defeating Marco Rubio and Ted Cruz by 10 points and claiming most (if not all) of the state's 50 delegates. Rubio just edged Cruz for second, while Jeb Bush, John Kasich and Ben Carson were well back in single digits. After another lackluster performance, Jeb Bush suspended his campaign.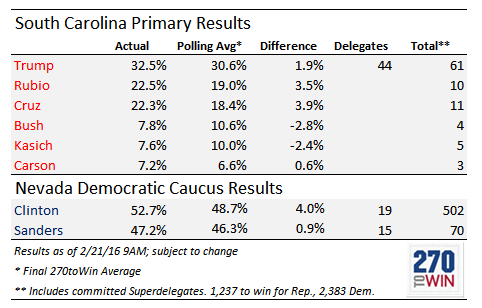 Trump, Rubio and Cruz all outperformed the polling averages, and it appears we have a 3-person race for the nomination. John Kasich will likely benefit from Bush's withdrawal and will probably stick around at least through mid-March in the hopes of adding to his delegate count in states like Michigan and his home state of Ohio. Ben Carson doesn't seem to have a realistic path forward. While he may outperform South Carolina in some of the southern states on Super Tuesday, most of those states have a threshold minimum popular vote to win delegates.
Rubio appears to have barely edged out fellow Senator Cruz for 2nd place; perhaps the endorsement earlier this week by Governor Nikki Haley made the difference. Despite the strong showing by both Rubio and Cruz, they will likely have nothing to show for it in terms of delegates.
South Carolina is the only Republican state to be exempt from the Party's proportional allocation rules in effect for contests before March 15. The state awards 29 delegates to the winner of the state, with 3 more to the winner of each of the state's 7 Congressional Districts. As of this writing, Trump has 44 of those 50 delegates, and is likely to win the remaining 6. This puts him well in front in the early delegate count.
Additionally, since its inception in 1980, the winner in South Carolina's primary has gone on to be the Republican nominee each cycle except for 2012, when Newt Gingrich defeated Mitt Romney.
The remaining five Republicans will compete for 30 delegates in the Nevada caucuses this Tuesday.