Seven Congressional Vacancies: Special Election Update
By 270toWin Staff
June 15, 2018
There are currently seven vacancies in Congress. The next special election will be on June 30 in Texas' 27th congressional district. This will fill the seat of Republican Blake Farenthold, who resigned in April.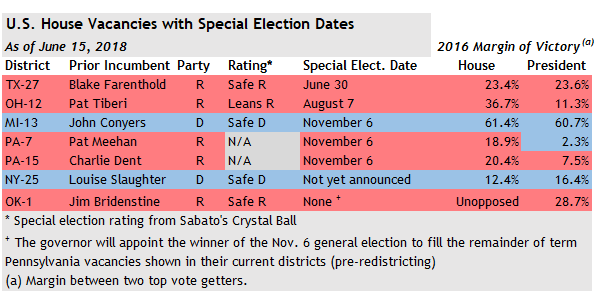 A brief update on each vacancy.
TX-27 | Special Election: June 30 | Rating: Safe Republican
Early voting began this week and will continue through June 26th. Gov. Greg Abbott scheduled this on a Saturday preceding a major holiday, so turnout on Election Day itself will likely be light. Of the nine candidates on the ballot, only three who won in the state's primary will be on the November ballot for the two-year term beginning in January. If no candidate reaches 50% of the vote, there will be a runoff in September.
OH-12 | Special Election: August 7 | Rating: Leans Republican
Republican Troy Balderson and Democrat Danny O'Connor were nominated in Ohio's May 8th primary. A recent Monmouth University poll gives Balderson a 10 point lead, although about 25% of voters remain undecided.
MI-13 | Special Election: November 6 | Rating: Safe Democratic
One of three special elections to be held concurrently with the midterm elections. Perhaps the most interesting thing about this safely Democratic seat is the intra-family rivalry between the two members of former Rep. John Conyers Jr. looking to replace him. The long-time congressman threw his support behind his son, John Conyers III when he resigned. However, Conyers III has been disqualified from the ballot after a challenge by his cousin, state Sen. Ian Conyers, who is also running. Should be a good time at the next family reunion...
PA-7 & PA-15 | Special Election: November 6 | Rating: N/A
These special elections will take place within the borders of the current PA-7 and PA-15. On the same day, all voters in Pennsylvania will cast ballots for representatives who will serve two-year terms in the state's redrawn districts beginning in January. In the recent primary, Pennsylvania Democratic voters nominated Mary Gay Scanlon for the new 5th district and Susan Wild in the new 7th district. The Party subsequently nominated Scanlon and Wild for the special elections, given the overlap between old and new districts. Republican voters nominated Pearl Kim in the new 5th and Marty Nothstein in the new 7th; the party has not yet selected candidates for special election. For the two-year elections, the new 5th district is Likely Democratic, while the new 7th is a toss-up.
NY-25 | Special Election: TBD | Rating: Safe Democratic
Gov. Andrew Cuomo has not yet set a date for a special election for this seat that opened upon the death of Rep. Louise Slaughter. Voters will nominate candidates for the general election in the New York primary on June 26th.
OK-1 | Special Election: None | Rating: Safe Republican
No separate vote will be held for this open seat. Under state law, Oklahoma Gov. Mary Fallin will appoint the winner of the November 6th general election to complete the term.
comments powered by

Disqus
Headlines