Election News
December 15, 2015
Who do you think won the CNN Republican debate? Vote now in our straw poll.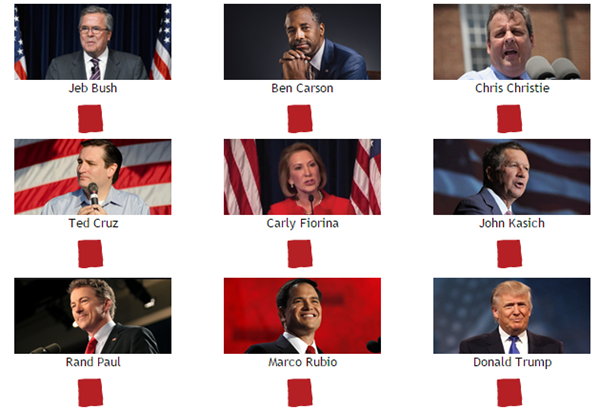 December 15, 2015
The fifth Republican debate will be held tonight at The Venetian in Las Vegas. It is hosted by CNN and Salem Radio and telecast live on CNN, moderated by Wolf Blitzer. This will be the final Republican debate for 2015.
As with previous Republican debates, it will be split into two sessions. The first, at 6 PM ET will include George Pataki, Mike Huckabee, Rick Santorum and Lindsey Graham. The main event, at 8:30 ET, will include nine candidates: The eight that participated in the Fox Business debate a few weeks back plus Chris Christie. Both Christie and Rand Paul made the main stage by virtue of their polling performance in New Hampshire and Iowa, respectively. This is the first debate where early state polling was considered as a qualifying criteria.

As in prior dates, the candidates will be ordered by polling averages. CNN is using the average of national polls from November and December. Donald Trump will again hold center stage, flanked on his left by a surgng Ted Cruz and on his right by a fading Ben Carson. Marco Rubio, will be to Carson's right. Given the direction of the race today, these two probably should be switched, but they didn't ask our opinion. Jeb Bush will be to Cruz's left, with Chris Christie and Rand Paul on that end. On the other end, Carly Fiorina and John Kasich will be to the right of Rubio.
Turning to the polls, we've compiled the national 270toWin polling average for these nine, as well as that average for the first two voting states of Iowa and New Hampshire. These averages include the five most recent polls, which is different than the CNN criteria.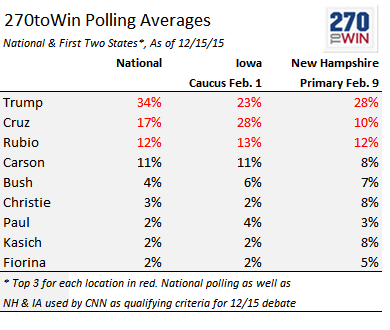 While the top 3 are the same in all three locations, note that the recent ascendency of Ted Cruz in Iowa has not yet translated into New Hampshire.
NPR has put together a nice summary of what each candidate needs to accomplish and avoid in the debate.
December 11, 2015
The fifth Republican debate will be on Tuesday, the 15th at The Venetian in Las Vegas. Hosted by CNN and Salem Radio, it will be moderated by Wolf Blitzer, Dana Bash and Hugh Hewitt. CNN will broadcast the debate at 9PM ET, preceded at 7PM by a forum for those not making the main event.
As we noted previously, CNN is going to use poll standing in Iowa and New Hampshire, as well as nationally, to decide who makes the main stage. At this point, it looks like Rand Paul could miss out, while Chris Christie would return, after he missed out on the Fox Business debate last month. The New Jersey governor is pretty much a lock, as he has performed quite well in recent New Hampshire polling, including 2nd place in a poll out Friday morning.
As a result, there will be 8, perhaps 9 participants in the main Republican debate. The final determination will come after this weekend.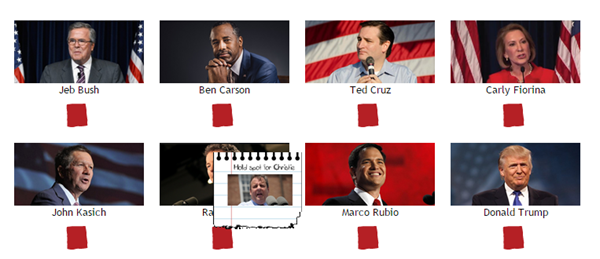 The Democrats will debate next Saturday in Manchester, Vermont. ABC will host the debate beginning at 8PM ET. Co-sponsor WMUR, an ABC affiliate and New Hampshire's most influential television station was dumped from the event today because of a labor dispute with the International Brotherhood of Electrical Workers. This prevented a possible scenario where the participants would have to cross a picket line to attend the debate.
Hillary Clinton, Bernie Sanders and Martin O'Malley, the three remaining Democrats in the race, are expected to participate.
December 7, 2015
Earlier today, we cited a Monmouth University poll that showed Ted Cruz had taken the lead in Iowa; although we did note that Trump maintained a small lead in the Iowa polling average.
A CNN | ORC Iowa poll out this afternoon paints a completely different story than the Monmouth University poll. While this poll also showed a large gain for Cruz and decline for Carson vs. the prior CNN | ORC survey, both remained well back of Donald Trump, who showed 33% support. That is a high-water mark for Trump in any Iowa poll conducted thus far.
The CNN poll was conducted from November 28 to December 6, while Monmouth did their survey from December 3 to December 6. The San Bernardino terrorist attack took place on December 2nd, so Monmouth's poll was conducted entirely after that. One would think Trump's numbers would improve or at least be steady after that incident, so the sampling dates don't seem to explain what is a huge difference between these two polls.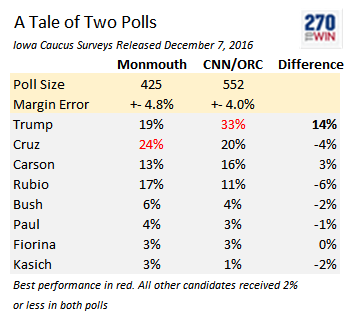 December 7, 2015
Ted Cruz has jumped into the lead in Iowa, according to a new poll from Monmouth University. While this is the first poll Cruz has led, it has been somewhat expected given his climb in recent weeks. Much of Cruz's support growth can probably be traced to a corresponding fall by Ben Carson.

The image at left shows that Cruz has more than doubled his support since late October's Monmouth poll, as Carson has lost more than half of his. While this transition from Carson to Cruz was happening, Donald Trump took the lead in other Iowa polls and he maintains a small lead in our 5-poll Iowa average. Marco Rubio has also seen significant growth in support, and is just behind Trump in this latest poll.

December 7, 2015
A new poll finds Fading Republican Ben Carson trails Hillary Clinton by just 1%, while frontrunner Donald Trump trails her by 11%. These are some of the findings of the MSNBC/Telemundo/Marist poll out today. Clinton leads other prospective challengers by anywhere from 3 to 7 points.

The poll also looked at how each candidate would do against Clinton with a subset of Latino voters. No great surprise here, as Clinton beats Bush, Cruz and Carson by about 25%, and Trump by 42% with that segment. Rubio performs best, with a 19 point deficit.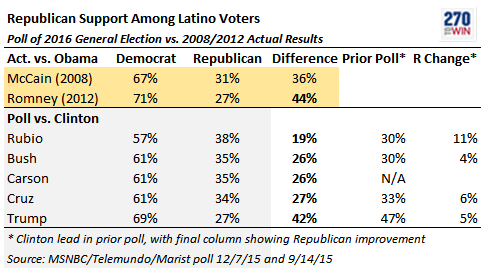 Rubio gained 11 points, after trailing with Latinos by 30 points in the prior MSNBC survey, conducted in September. In fact, where comparisions are available, each Republican's relative support with Latinos is up, and Republicans are generally outperforming 2012 actual results. Barack Obama beat Mitt Romney by 44 points, 71% to 27% in that year's presidential election. Even Trump, vilified by Latinos for his stance on immigration, is running no worse than that at this point.
December 4, 2015
Donald Trump has opened up a 20 point lead on his closest challengers for the Republican nomination in the latest CNN | ORC poll of registered Republicans. This is the first national poll fully sampled after Thanksgiving. Trump's 36% represents a new high in polling support, as does the size of his lead. In the last CNN | ORC poll in late October, Trump had 27%, but just a 5 point lead.
Ted Cruz was 2nd, with 16% support, just ahead of Ben Carson's 14%. Hidden in that result is that Cruz's support is on the rise, while Carson is fading. In the prior CNN | ORC poll, Carson had 22%, Cruz just 4%. These two appeal to a similar portion of the electorate.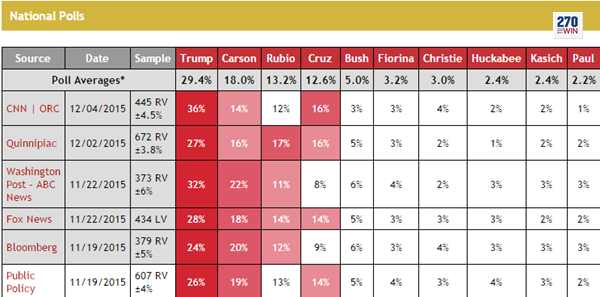 Less than two months from the Iowa Republican caucus, Trump remains the undisputed national frontrunner in the still-crowded Republican field.
New: 3rd Party / Independent Electoral Map
It's pure speculation at this point, but if Trump were to continue dominating the Republican field, it's possible we could see one or more high-profile candidates jump into the race as independents or with a 3rd party. Perhaps a defeated Republican or former New York Mayor Mike Bloomberg. On the other hand, if Trump is pushed aside 'unfairly', he might choose to take his considerable base and run as an independent himself. While unlikely, this could lead to electoral votes being won outside the two major parties.
Our new electoral map lets you game out such scenarios. Try it out!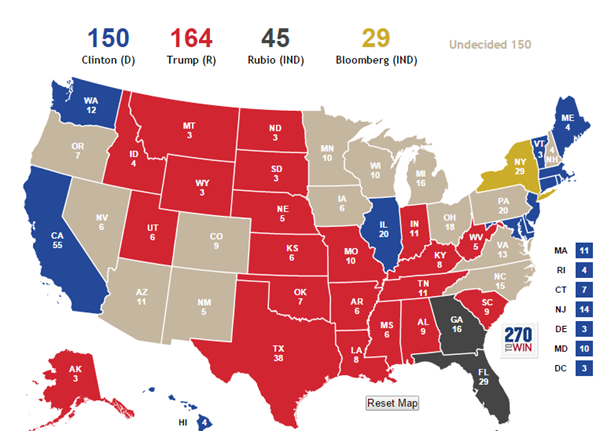 December 1, 2015
Two Weeks
Coming out of the Thanksgiving holiday, the next big event on the presidential calendar is the Republican debate on December 15th in Las Vegas. As we previously noted, it is likely that New Jersey governor Chris Christie will rejoin the main stage, based on qualifying criteria set by host CNN that considers polling performance in Iowa and New Hampshire. As an aside, Christie was endorsed this past weekend by the New Hampshire Union Leader in this editorial.
The Democrats will debate on December 19th from Manchester, New Hampshire.
Two Months
We're exactly two months out from the start of the 2016 election calendar. On February 1, 2016, the Republican and Democratic caucuses in Iowa will take place. On the Republican side, Donald Trump holds a small lead over Ben Carson in the 270toWin polling average, although the most recent polls have Ted Cruz overtaking Carson. Marco Rubio is also seeing double-digit support. Interest drops off quickly after that, with the two most recent Iowa winners (Rick Santorum and Mike Huckabee) not apparently making much of an impact.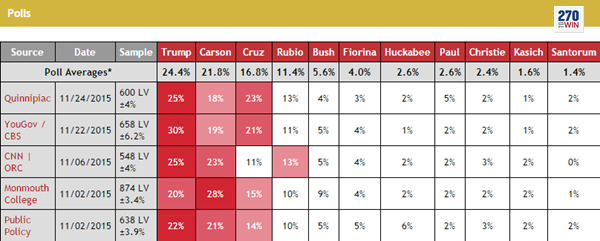 On the Democratic side, Hillary Clinton is averaging 53%, with Bernie Sanders at 37% and Martin O'Malley at 5%. It is worth noting, however, that two polls out just before Thanksgiving had Clinton ahead by less than 10%. It is also worth noting that the winner of the Iowa Democratic caucus has gone on to be the Democratic nominee for the last five cycles, including three competitive elections (i.e., no Democratic presidential incumbent). Those were Al Gore in 2000, John Kerry in 2004 and Barack Obama in 2008.

November 23, 2015
For the first time this election cycle, polls from early voting states will help determine who makes the main stage at the next Republican debate. That debate is scheduled for December 15th in Las Vegas and will be hosted by CNN, who has set the qualifying criteria.
Candidates that average 3.5% in national polls or 4% in either Iowa or New Hampshire in the weeks leading up to the debate will take the main stage. CNN says nine candidates would currently qualify: Donald Trump, Ben Carson, Marco Rubio, Ted Cruz, Jeb Bush, John Kasich, Rand Paul, Carly Fiorina and Chris Christie.
There will also be an undercard debate. Any candidate not making the main stage who saw at least 1% support in four separate national, Iowa or New Hampshire polls will make the cut. At this point, that list includes Mike Huckabee, Rick Santorum, Lindsey Graham and George Pataki.
If the above holds, Christie will return to the main stage after being relegated to the undercard in the Fox Business debate earlier this month. He has mainly outperformed the criteria in New Hamsphire. Graham and Pataki will get back on stage after also being excluded in the last debate. Jim Gilmore, who has only participated in one debate, will continue to be on the sidelines.
CORRECTION: The original version of this story said that Jim Gilmore had not been invited to any of the Republican debates. He was invited, and did particpate, in the undercard debate hosted by Fox News on 8/6/15.
November 22, 2015
As the Thanksgiving holiday approaches, a new batch of polls give us the state of the nomination races nationally and in some early voting states.
Republicans
National: Two polls out today, one from Washington Post/ABC News (WP/ABC) and one from Fox News give Donald Trump a 10 point lead over Ben Carson. Trump's 32% number in the WP/ABC poll matches the highest level of support he has received in any poll thus far. However, it is worth noting that this prior 32% was in last month's WP/ABC survey. The Fox poll saw less combined support for Trump and Carson (54% WP/ABC vs. 46% Fox) and more (28% Fox vs. 19% WP/ABC) for Rubio/Cruz. Cruz reached 14% in the Fox poll, tying Rubio and also tying his best performance to date. Most recent polls have these four candidates taking nearly 75% of voter support.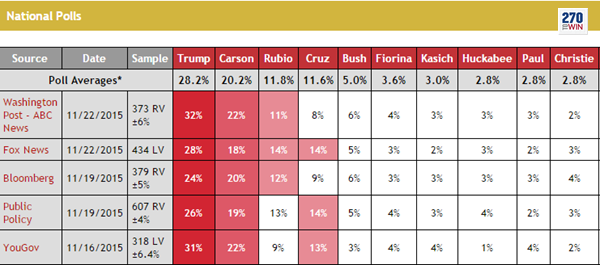 Early Voting States: CBS and YouGov released their latest Battleground Tracker series today, individually polling the early states of Iowa, New Hampshire & South Carolina.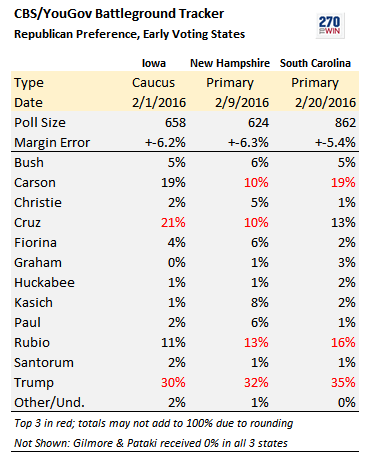 Notable here is Ted Cruz at 21% in Iowa; he was at 12% in the October CBS/YouGov poll. Much of that gain came at the expense of Ben Carson, who fell from 27% to 19%.
Finally, there was a separate New Hampshire poll from Suffolk University and Boston Globe. Trump led with 22%, double that of Marco Rubio, Ben Carson and Ted Cruz who were around 10%. This is in line with other recent live polls from that state. What was notable, however, was that the pollsters asked about preference if Mitt Romney were in the race. The 2012 Republican nominee dominated that survey, with 31% double that of second place Donald Trump, at 15%. Romney has repeatedly said he's not interested in running.
Democrats: Hillary Clinton maintains a dominant lead over Bernie Sanders, up by over 20% in both of today's polls.