80 Days from Election Day: Battleground House Maps
By 270toWin Staff
August 18, 2018
There are 80 days until the November 6th midterm elections. On this page, we present two battleground House maps based on the current ratings of Sabato's Crystal Ball, The Cook Political Report, and Inside Elections. 218 seats are needed to control the House in the 116th Congress that will be seated in January, 2019.
Both maps are interactive - click/tap a map to use it as a starting point to create your own 2018 House forecast.
Consensus Forecast: This first map is based on a calculated average rating of the three forecasters except that the darkest red/blue color is only used for those districts rated safe by all three forecasters. This gives us a broader view of the universe of seats that may be competitive on Election Day. Currently, 321 seats are seen as safe for the incumbent party, with 114 having various levels of competitiveness. Of those, about 95 are currently in GOP hands.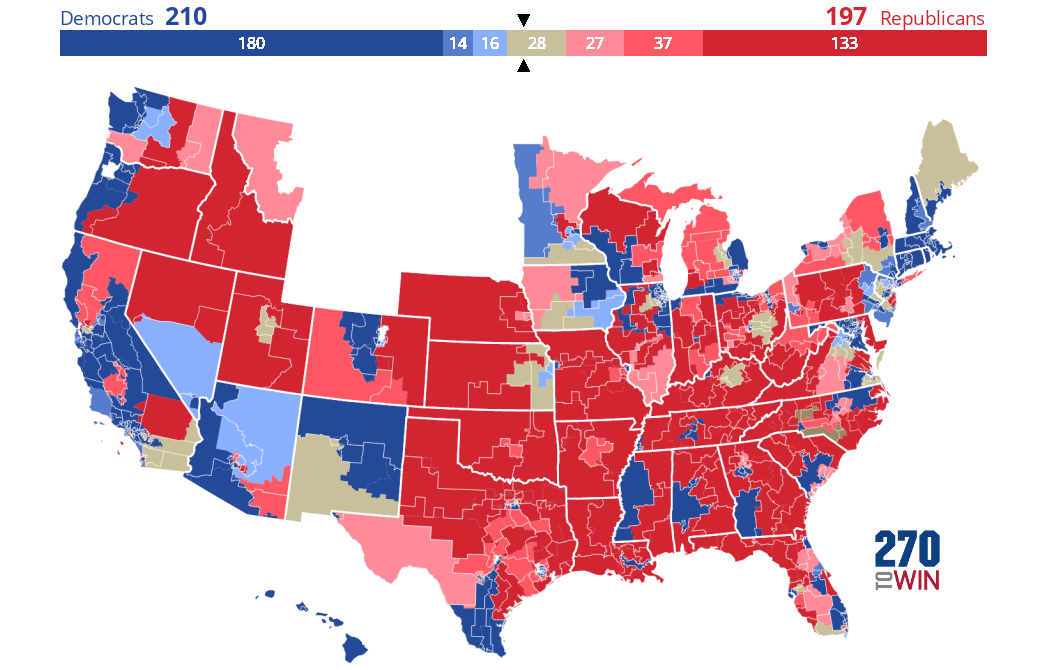 ===
Most Competitive:
This next map categorizes a district as competitive if at least one of the three forecasters gives it a rating of toss-up, tilt, or leans. It is a broader view of the more competitive races than one would get by looking at a single forecast. Absent a real wave election, these are the seats where control is likely to be won or lost. Republicans hold 60 of these 70 districts.
Note that the above narrative is as of August 17th. As the forecasts evolve in the months ahead, the images in this article will update to reflect the then-current outlook.
comments powered by

Disqus
Headlines