A pledged delegate view has been added to the 2020 Democratic Primary map. This shows the number of pledged delegates each location will allocate in its 2020 primary or caucus. The total delegate view remains available, and includes 764 superdelegates. The distinction is important, as only pledged delegates will cast votes* in the first ballot at the nominating convention in Milwaukee next July.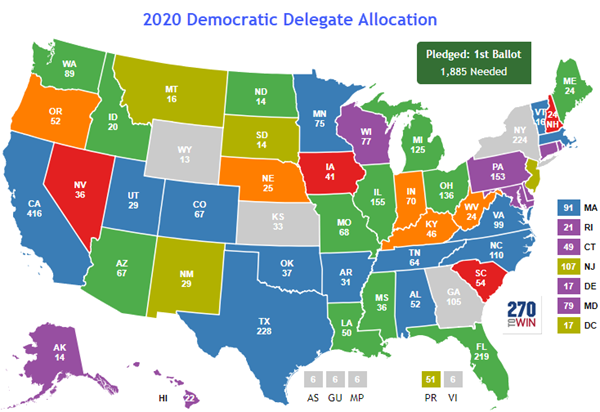 It will take a majority of pledged delegates - at least 1,885 of 3,768 - to win the Democratic nomination on the first ballot. If subsequent ballots are needed, 2,267 of 4,532 total delegates puts a candidate over 50%. All delegates become unpledged after the first ballot. Note that these 'magic numbers' will increase later this year as the party awards bonus pledged delegates to locations meeting certain criteria. We'll have a better idea on these once each location sets its contest date, but a rough estimate is that there will be 150-200 bonus delegates.
Here's the current breakdown by time period†: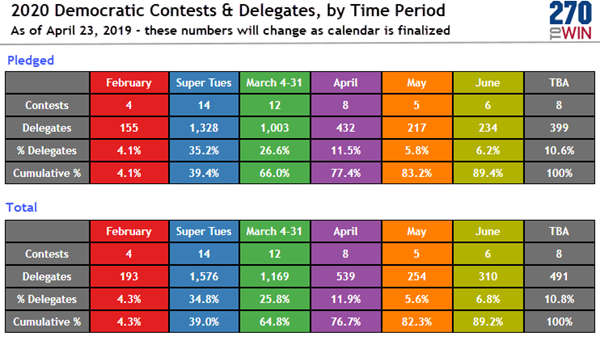 The full 2020 Election Calendar is here. Some dates remain subject to change.
* Unless the nominee's pledged delegate total is >50% of the total delegates available (including superdelegates). In that case, the nominee is a foregone conclusion and all delegates will vote
†Wyoming caucuses will be in March. Unknown if will be Super Tuesday or another date, so included in TBA.