July 16, 2021
The Cook Political Report has updated its 2022 Senate outlook, with four races seen as more competitive than earlier in the year.
The full forecaster analysis can be found here (subscription required).
Florida: Likely to Lean Republican. Reflects the entry of a high profile Democrat, Rep. Val Demings and her strong fundraising numbers, which have kept pace with those of incumbent Republican Sen. Marco Rubio.
Nevada and New Hampshire: Likely to Lean Democratic. In both cases, the ultimate competitiveness of the race will likely depend on whether a strong Republican declares their candidacy. In Nevada, waiting on former Attorney General Adam Laxalt; in New Hampshire it is Gov. Chris Sununu. Cook notes that if Sununu does get in, the Granite State will become the top GOP pick-up opportunity in 2022.
Wisconsin: Lean Republican to Toss-up. Republican Sen. Ron Johnson is a lightning rod in a state that is pretty evenly split politically. He has not yet announced whether he will seek a third term. In either case, Democrats are likely to field a strong nominee.
Updated forecast map below. Click or tap for an interactive version.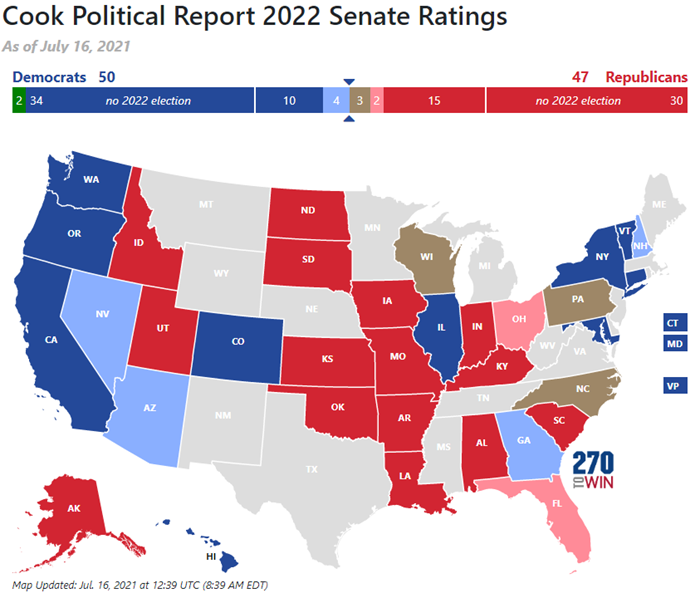 comments powered by

Disqus
Headlines