New Mexico Republican Rep. Steve Pearce announced that he will run for governor of that state in 2018. Incumbent Gov. Susana Martinez, also a Republican, cannot run again due to term limits. Pearce's colleague in the House, Democrat Michelle Lujan Grisham had previously announced her entry into the race. A poll from earlier this year gave Martinez just a 43% approval rating. The gubernatorial race is currently rated 'Lean Democratic' by Sabato's Crystal Ball.
14 current members of the House have announced they will not be seeking reelection in 2018. The list includes eight Republicans and six Democrats. Three of the Republicans are retiring, while the other eleven members are running for Governor or U.S. Senator. Five of the 14 seats are expected to have competitive races in 2018.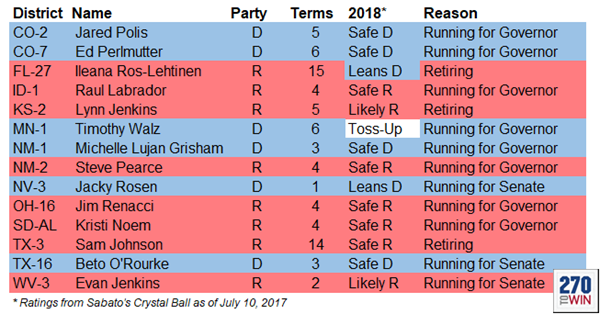 Two House seats are currently vacant. Democrat Jimmy Gomez (CA-34) is expected to be sworn in on Tuesday. UT-03, previously held by Jason Chaffetz, will be filled via a special election to be held on November 7th.