There are 14 formally declared Republican candidates for 2016. Scott Walker and John Kasich are expected to join the field later this month, with former Virginia governor Jim Gilmore saying earlier this week that he will run for president, with a formal announcement early in August.
None of the 17 announced or prospective candidates has broken out; polling remains quite competitive, with many of the so-called long shots leading in one or more states. The dates in the table below reflect the likely date for the 2016 Republican primary or caucus in that state. Those states not shown have not been polled.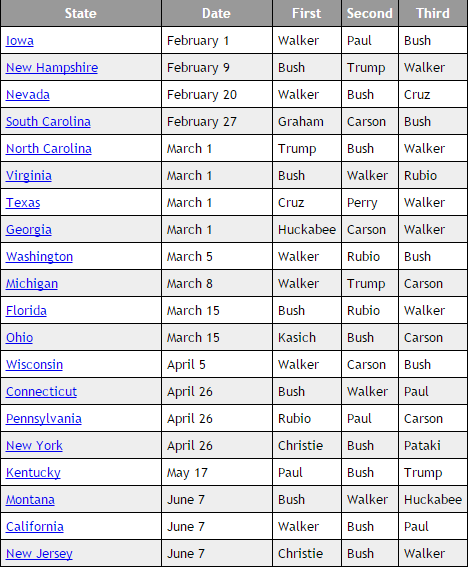 2016 Republican Field: Running or Actively Considering
Dates displayed are those when campaign launched or when an announcement is scheduled. The MAP link, where available, goes to an electoral map of that candidate vs. Hillary Clinton based on state-level polling conducted so far.
Names in bold are in the top 10 of the 270toWin polling average. Fox and CNN, hosts of the first two debates, have announced that qualification will be based on top 10 standings in the polls, based on the respective networks' calculations prior to the debate. CNN will include a separate forum for those that don't make the top 10.
Announced
| | | | |
| --- | --- | --- | --- |
| Jeb Bush | June 15 | Former Governor, Florida | MAP |
| Chris Christie | June 30 | Governor, New Jersey | MAP |
| Ben Carson | May 4 | Former neurosurgeon | |
| Ted Cruz | March 23 | U.S. Senator, Texas | MAP |
| Carly Fiorina | May 4 | Former CEO, Hewlett-Packard | |
| Lindsey Graham | June 1 | U.S. Senator, South Carolina | |
| Mike Huckabee | May 5 | Former Governor, Arkansas | MAP |
| Bobby Jindal | June 24 | Governor, Louisiana | |
| John Kasich | July 21 | Governor, Ohio | |
| George Pataki | May 28 | Former Governor, New York | |
| Rand Paul | April 7 | U.S. Senator, Kentucky | MAP |
| Rick Perry | June 4 | Former Governor, Texas | |
| Marco Rubio | April 13 | U.S. Senator, Florida | MAP |
| Rick Santorum | May 27 | Former U.S. Senator, Pennsylvania | |
| Donald Trump | June 16 | Businessman | |
Launch Pending
| | | | |
| --- | --- | --- | --- |
| John Kasich | July 21 | Governor, Ohio | |
| Scott Walker | July 13 | Governor, Wisconsin | MAP |
| Jim Gilmore | Early Aug. | Former Governor, Virginia | |