Ohio Poll: Biden Leads Trump and Democratic Primary Field
By 270toWin Staff
July 25, 2019
Former Vice President Joe Biden leads the Democratic field in Ohio, according to a new poll from Quinnipiac University. Biden also leads President Trump in the general election, with other match-ups essentially even.
Democratic Primary
Quinnipiac finds Biden well out in front with 31% support. Sens. Kamala Harris, Bernie Sanders and Elizabeth Warren are all bunched at 13-14%, with South Bend Mayor Pete Buttigieg receiving 6% of the vote. Nobody else received more than 1%. If this poll were to be exactly right (it won't be1), and if all the delegates were allocated based on the statewide vote (they aren't2), Biden would receive all of the states' 136 pledged delegates. However, it is an interesting example of how Democratic proportional allocation can become winner-take-all when only one candidate reaches the 15% threshold.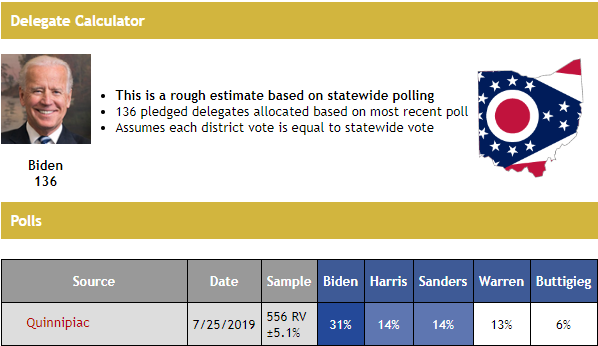 General Election
Biden leads Trump by a 50-42% margin in the Quinnipiac poll. Other tested match-ups (Sanders, Warren, Harris, Buttigieg and Sen. Cory Booker) were dead heats. Trump won the state by 8% in 2016. Ohio has sided with the winner of each presidential election since 1960, when it chose Richard Nixon over John F. Kennedy.
1Ohio's primary is on March 17, two weeks after Super Tuesday. Approximately 50% of the party's pledged delegates will be allocated prior to this date. The race will be different by then, with a much smaller field remaining.
2Of the state's 136 pledged delegates, 47 of them are based on the statewide vote, with the remaining 89 allocated based on the individual vote in each of the state's 16 congressional districts. The 15% threshold applies individually to each of these jurisdictions.
comments powered by

Disqus
Headlines