A large-sample poll out Thursday from Optimus showed Donald Trump winning each of New York's 27 congressional districts in this Tuesday's primary, but falling just short of 50% statewide. If this poll proves accurate, what does it tell us about how the state's 95 delegates will be allocated?
For a quick recap of how New York allocates delegates, see the bottom of this article. It is an abbreviated version of our earlier discussion on the topic.
Statewide Poll Results: Trump received just under 49% in this poll, Kasich about 24% and Cruz about 14%. Since Trump had less than a majority in this poll, he would split the 14 statewide delegates proportionately with Kasich, the only other candidate at or above 20%. This would yield 9 delegates for Trump, 5 for Kasich.
District Results: Trump leads in all 27 districts, finishing above 50% in 11 of them. He would earn 3 delegates in those 11 districts and 2 in the other 16, for a total of 65 delegates. For those 16 districts where Trump had less than a majority, Kasich finished 2nd in 14 of them, Cruz 2nd in the other two. Those 2nd place candidates earn one delegate each.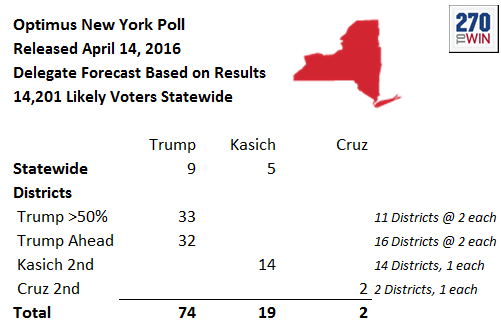 Summing it all up, if these were the exact outcomes, Trump would receive an estimated 74 of the state's delegates, Kasich 19 and Cruz 2. One big caveat is that this is the only Republican New York poll, aside from another Optimus poll, that holds Trump under 50% statewide since early March. Therefore, barring a late shift, this poll might reflect something closer to a worst-case scenario for the Republican frontrunner.
If Trump were to exceed 50% statewide, he'd get the other 5 state delegates and, depending on how far above 50% he actually was, he'd likely move over 50% in additional districts. The poll indicates he's within 3 points of 50% in 6 additional districts. If the actual vote breaks that way, Trump would be at roughly 85 delegates.
New York Allocation Methodology
Statewide Vote: 14 delegates will be allocated based on the primary results across the state. A candidate getting a majority of the vote gets them all. Otherwise, the 14 are allocated proportionately across any candidates reaching 20%.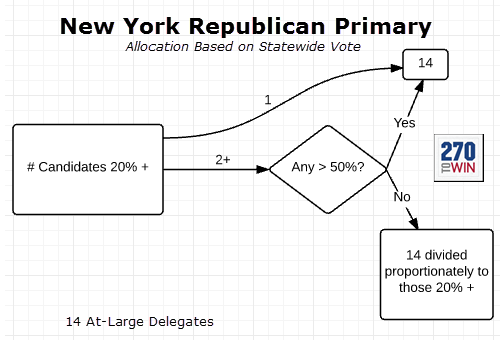 Congressional District Vote: For each district, a victory with >50% of the vote, or if only one candidate receives 20%, nets 3 delegates. Otherwise, the candidate with the most votes gets two delegates, the candidate in 2nd place receives one.