Republican Lamar Smith of Texas, head of the House Science Committee, announced his retirement Thursday afternoon. He is in his 16th term, and is the 2nd longest-serving member of the Texas House delegation. Only Rep. Joe Barton has served longer. Smith will serve out the remainder of his term.
Smith represents Texas' 21st district, a somewhat oddly-shaped area that sits primarily west of Austin and San Antonio, although it also runs north-south near I-35 between those two cities.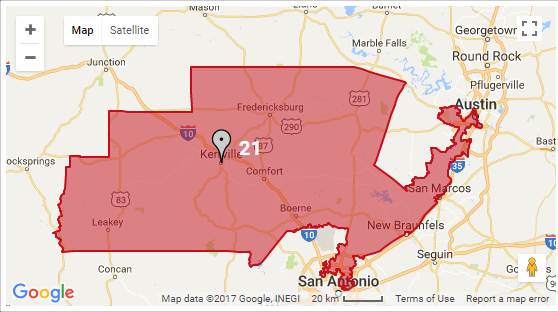 Smith easily won reelection last November by 21%. However, Donald Trump only won here by 10 points over Hillary Clinton, a sharp drop in margin from 2012, when Mitt Romney took the district by 22% over Barack Obama. At this point, however, the district remains as 'Safe Republican'.
Smith is the 4th of 36 Texas House members to pass on reelection in 2018. His announcement comes just two days after another powerful Texas House Republican, Jeb Hensarling announced his retirement. Overall, 31 House members have announced their departure, including 21 Republicans.