Trump Wins Nevada; Rubio Edges Cruz for 2nd
By 270toWin Staff
February 24, 2016
Donald Trump easily won Tuesday's Nevada caucuses, winning about 46% of the vote. Marco Rubio appears to have edged Ted Cruz for 2nd, with both scoring in the low 20% range.
If these positions hold, it will be a repeat of the results of this past Saturday's South Carolina primary. Trump's margin in Nevada was much bigger than in South Carolina, but his delegate haul will be smaller, owing to Nevada's proportional allocation rules.
The preliminary delegate count is 12 for Trump, and 5 each for Rubio & Cruz. Trump is well out in front, but only a small number of delegates have been awarded to this point. A much larger batch awaits on Super Tuesday.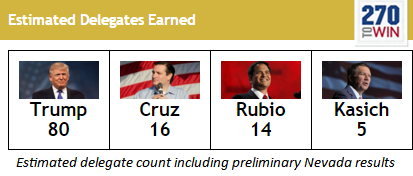 comments powered by

Disqus
Headlines