January 21, 2016
Lots of Iowa polling out today, eleven days before the February 1 caucuses. Not a lot has changed on the Republican side, while both Clinton and Sanders can point to positive results, although it remains unclear who is actually leading there.
Republicans: Four polls today. Two of them showed Trump and Cruz basically tied. Trump leads by about 10 points over Cruz in the other two. It is worth noting that the two polls with Trump well ahead have a much smaller sample size. Trump and Cruz remain the clear frontrunners with Rubio the only other candidate averaging in double digits.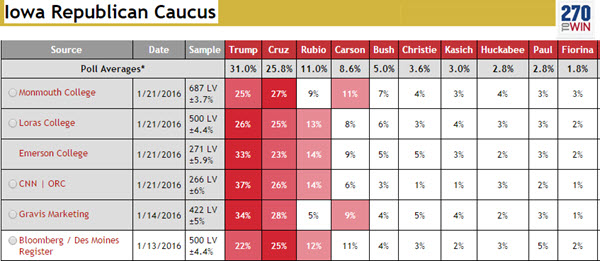 Iowa has 30 Republican delegates, to be allocated proportionately. This is about 1.2% of total Republican delegates. 1,237 delegates are needed for the nomination. All primaries and caucuses prior to March 15, except South Carolina, will allocate proportionately.
Democrats: Three polls today, two of which show Clinton ahead by 9 points while a CNN/ORC poll has Sanders with an 8 point lead. While CNN/ORC perhaps the most well-known of today's pollsters, it is again worth calling out the small sample size for that poll (as well as the Emerson College one). Appears to be anyone's guess who is actually ahead at this point.

Iowa has 52 Democratic delegates, to be allocated proportionately (some statewide, some by Congressional District). This is about 1.1% of total Democratic delegates. 2,383 delegates are needed for the nomination.
comments powered by

Disqus
Headlines