House Back at Full Strength; Looking Ahead to 2016 Elections
By 270toWin Staff
September 21, 2015
The swearing in of Darrin LaHood (IL-18) on September 17 (the office he took over no longer looks like this) returned the U.S. House of Representatives to full strength - 435 members - for the first time since January 5 of this year. The House is currently comprised of 247 Republicans, the same as earlier this year, and the most since 1931.
2016 Election
As is the case every two years (including all presidential election years), there will be elections for all 435 House seats in 2016. Given the Republican 29-seat majority (over the 218 needed), it should not be surprising that, this far out, Republicans are expected to retain control. An early projection by Sabato's Crystal Ball indicates that only 59 of the 435 seats are expected to be somewhat competitive, with just 17 of them true toss-ups. Republicans would keep control by winning just 10 of these 59 seats.

Retiring Members
Thus far, 22 Representatives have announced they will not be seeking another term in the 2016 House elections. Interestingly, there is an even split between Democrats and Republicans. Several are running for Senate; many are retiring. In terms of 2016, quite a few of these races may be competitive, including AZ-01, CA-24, FL-13, FL-18, MI-01, MI-10, MN-02, NV-03, NY-19, PA-08.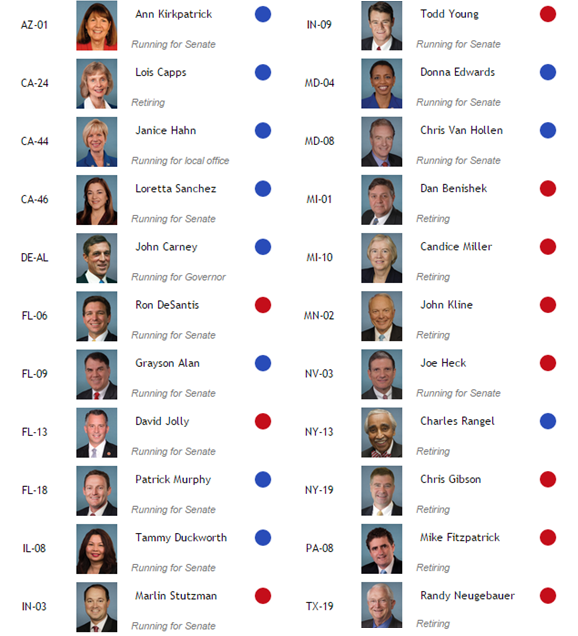 comments powered by

Disqus
Headlines