February 11, 2016
The team at Larry Sabato's Crystal Ball has updated their 2016 House of Representatives outlook, making 17 ratings changes. Of these, ten are positive for Republicans, while seven move in favor of Democrats. Nine of the races have become less competitive. 379 out of 435 seats are seen as safe for one party or the other, meaning the battle control will be fought in just 56 seats.
Since Democrats need to gain 30 seats to take control, it is highly likely that Republicans will hold the House in the 115th Congress. The elephant (or donkey, if you prefer) in the room is the presidential election. The Crystal Ball rankings profile is based on a "close national election where neither presidential candidate exerts excessive influence on other races."
The ratings changes follow. Use our 2016 House Interactive Map for a visual view and to create your own forecast. Note that we have recently enlarged the map and are working on some other enhancements to make it more user-friendly.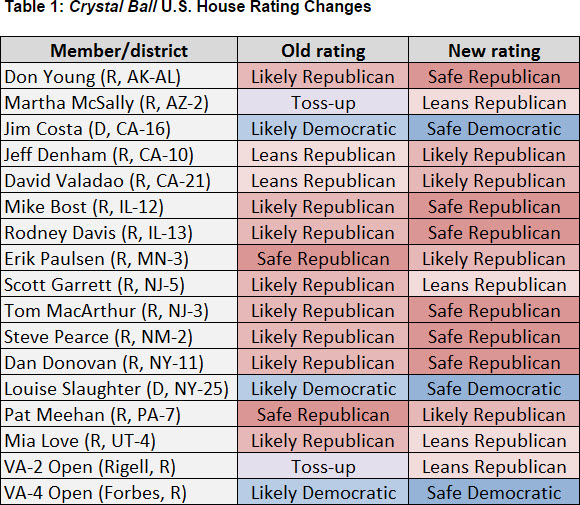 comments powered by

Disqus
Headlines