The Road to 270: Colorado
By Drew Savicki
July 27, 2020
The Road to 270 is a weekly column leading up to the presidential election. Each installment is dedicated to understanding one state's political landscape and how that might influence which party will win its electoral votes in 2020. We'll do these roughly in order of expected competitiveness, moving toward the most intensely contested battlegrounds as election day nears.
The Road to 270 will be published every Monday. The column is written by Drew Savicki, a 270toWin elections and politics contributor. Contact Drew via email or on Twitter @DrewSav.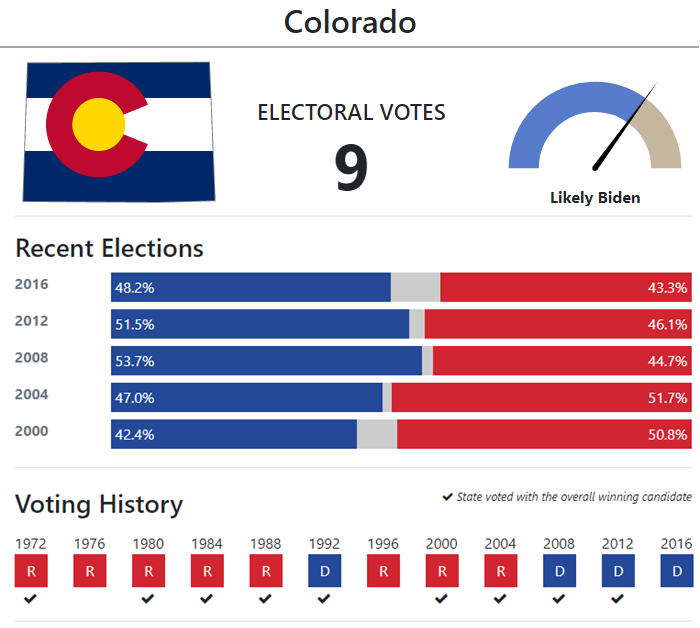 Admitted to the Union in 1876, Colorado's vast deposits of natural resources attracted a diverse settlement from all corners of the country. Today, Colorado retains that industry-based economy, while the booming Denver metro area is home to the largest city in the Interior West.
Politically, its partisan registration numbers suggest a state that's split cleanly three ways: 40% of its active voters are unaffiliated, while Democrats and Republicans split the balance about evenly. Though this large independent swath produced some volatile elections earlier this century, Colorado is looking more loyally blue today.
Congressional Politics
At the House level, Colorado has been fairly boring in recent years. During the Obama era, former Rep. Mike Coffman (R) was a perpetual Democratic target -- in his suburban Denver-area 6th District, he survived a string of three competitive races from 2012 to 2016. But Coffman's luck ran out in the Trump era, at least at the congressional level (he's now mayor of Aurora). In 2018, Jason Crow (D) defeated Coffman by 11%, becoming the first Democrat to represent CO-6 since its creation (Colorado was awarded a sixth seat in Congress after the 1980 census). There's no reason to think this Obama/Clinton district will revert to red.
If Coffman's suburban CO-6 eluded Democrats earlier this decade, CO-3 -- which encompasses the Western Slope, in the heart of the Rocky Mountains -- has eluded them into the Trump era. But in June, the congressional scene in that district took an unexpected twist. Rep. Scott Tipton (R), a generic backbencher, lost renomination to conservative firebrand Lauren Boebert. Tipton had the endorsement of President Trump but did not take his primary seriously -- he didn't even air any television ads. Seemingly asleep at the wheel, Tipton was ripe for a primary defeat. Boebert's anti-establishment profile simply resonated with GOP primary voters. A gun-toting restaurant owner, Boebert is a lightning rod for controversy, especially considering that she expressed some support for the far-right 'QAnon' conspiracy theory. Democrats have long eyed 3rd District after losing it in 2010. It's a fascinating mixture of working class Hispanic voters in places like Pueblo County, conservative rural whites, and ultra-liberal ski towns.
On primary night, Boebert's win prompted Sabato's Crystal Ball to move its rating for the race from 'Likely Republican' to the more competitive 'Leans Republican.' Democrats nominated former State Rep. Diane Mitsch Bush, who held Tipton to an eight point win in 2018. Over the past decades, the 3rd District has been open to supporting moderate Democrats. From 1987 to 1993, it had Ben Nighthorse Campbell -- a judo champion, he was a member of the North Cheyenne tribe, and was known for wearing scarves, instead of ties, on the House floor. Independent-minded, he would criticize the Denver liberals in his party. Campbell was elected to the Senate in 1992 as a Democrat but joined the GOP in 1995, though his overall record remained relatively centrist. From 2005 to 2011, Democrat John Salazar, who was a supporter of gun rights, held the seat.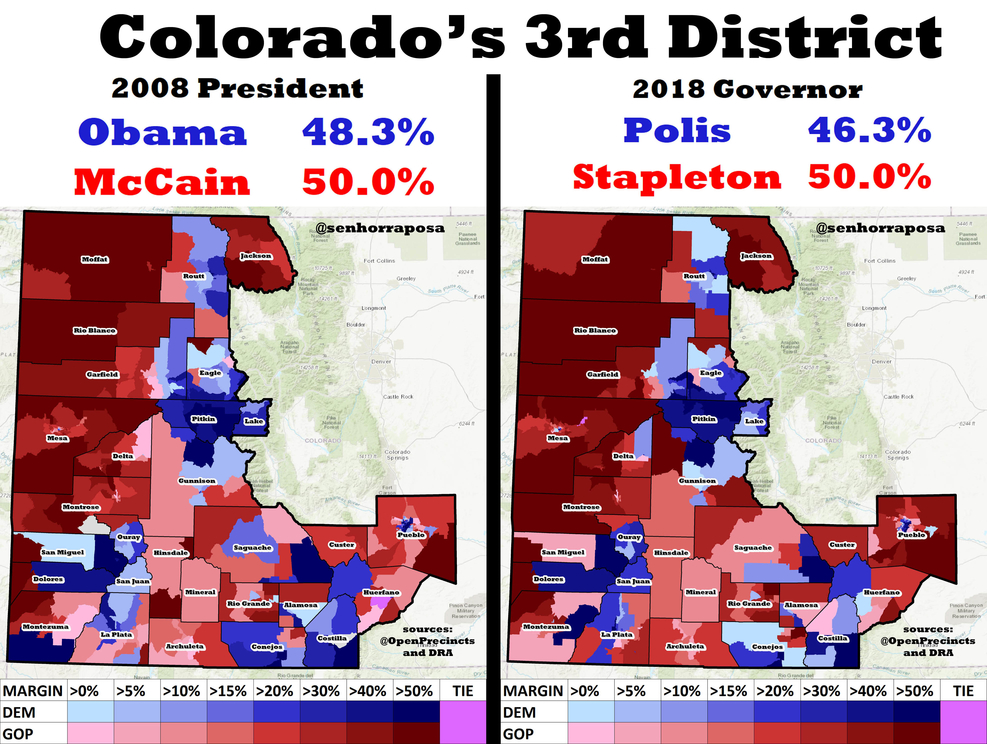 The 3rd District has proven elusive for Democrats, even when they're winning the state by a decent margin. The high point for a recent statewide Democrat was 2008 when Barack Obama received 48% of the vote in this district. Getting those last extra few points has proven difficult for Democrats and Diane Mitsch Busch has her work cut out for her, open seat or not.
Up the ticket, Colorado has a Senate race, featuring its junior Senator, Cory Gardner. Originally from the state's High Plains, along the Kansas border, he was elected to Congress in 2010 to represent the 4th District. Gardner earned a promotion to the Senate in 2014, when he defeated Democratic Sen. Mark Udall, a former Congressman himself. Udall ran a campaign that, at times, seemed entirely focused on abortion rights -- with the pervading anti-Obama tone of the year, that just wasn't enough. Gardner, by contrast, ran an upbeat campaign and simply outpaced Udall as a retail politician.
Colorado has steadily trended leftward since Gardner took office and, as Mike Coffman can attest, suburban voters there seem less willing to make distinctions between politicians of the same party these days. In the Senate, Gardner has had a largely conservative record and has tied himself closely to the President. The problem for Gardner is Joe Biden is very likely to carry the state -- perhaps by double-digits, if his current national lead endures -- and there aren't many split ticket voters left in Colorado these days. For example, in 2016, Colorado reelected its other senator, Michael Bennet (D), by 5.6% -- two years later, now-Gov. Jared Polis (D) nearly doubled Bennet's margin but carried the exact same number of State House districts.
The Democratic nominee is former Gov. John Hickenlooper. He initially mounted a quixotic 2020 bid for President, but dropped out. Several Democrats were eyeing the Senate contest earlier this cycle, but when Hickenlooper pivoted to the race, he largely cleared the field. Some Republicans maintain that Hickenlooper has come to see the Senate seat as a consolation prize -- in fact, that was the theme of a Gardner ad. But there's no guarantee voters will agree with that reasoning. Florida Sen. Marco Rubio initially sought the GOP nomination for President in 2016 -- after he dropped out, he repeatedly denied that he was considering running for reelection the Senate, but reversed course anyway. That didn't hurt him with voters, and he was reelected easily.
Gardner is in for the race of his life and it's not clear there's any way for him to turn things around, given how college educated whites are shifting -- and Hickenlooper perhaps not a great candidate, but a still sufficient one. Unless Trump can pull up his numbers nationally and in Colorado, Gardner is in trouble. Currently, forecasters like Sabato's Crystal Ball and Inside Elections have Democrats as modest favorites to flip the seat but it seems possible those ratings will get pushed further towards Democrats by election day.
Colorado's senior Senator is Michael Bennet. A former Superintendent of Denver Public Schools, Bennet was appointed to the U.S. Senate in 2009 by then-Gov. Bill Ritter. Senator Ken Salazar (D) resigned to join the cabinet of President Obama as his first Secretary of the Interior. Bennet narrowly won a full term in 2010 against Tea Party Republican Ken Buck. Then District Attorney for Weld County, Buck was considered a poor candidate given the national environment that was extremely favorable to Republicans -- Buck now represents CO-4 in Congress and chairs the state party. At the time, Colorado was still distinctly a purple state, so Bennet was a top target for the GOP.
Bennet's 2016 reelection showed that Colorado voters were beginning to split their tickets less often. Despite sporting clear leads in public polls, Bennet only narrowly outpaced Clinton statewide, though with a somewhat different coalition. While Hillary Clinton dominated in the Denver metro area, Bennet was much stronger in outstate Colorado. Bennet was reelected by about 6% vs Clinton's 5% win statewide. Though that 6% margin for Bennet seemed underwhelming, it's not a great sign for Gardner, either: Colorado has only gotten bluer since then though and Gardner's fate is hitched to Trump's.
In the Senate, Bennet has cast himself as one of the more moderate Democrats, occasionally raising the ire of progressive groups over his many votes for President Trump's judicial nominees. Along with Hickenlooper, Bennet also ran for President in 2020, though with little success. Bennet struggled to rise above a crowded field of candidates and rarely registered in polls, though he did get the endorsement of Democratic strategist James Carville, who engineered Bill Clinton's 1992 campaign.
As Colorado is increasingly moving off the competitive list for Republicans, Bennet's real threat in 2022 may come from a primary challenge to his left. As electability may become a less pressing concern in primaries for Democratic partisans, Bennet's moderation may cost him some support among base voters. Given his background as Denver's Superintendent, Bennet has received some speculation as a potential Education Secretary under a President Biden but the former VP has pledged to choose a public school teacher, should he be elected. If Hickenlooper is elected to the Senate, Colorado will have an unusual Senate delegation, in that its senior Senator would have once served as his junior colleague's subordinate. Before he was elected Governor, Hickenlooper served as Mayor of Denver and for the first two years of his term, Bennet served as Chief of Staff.
State politics
In 2018, Colorado really made the transition from purple to blue. Democrats picked up three statewide offices and cemented their control of the legislature. Perhaps the biggest indicator of the state's changing partisanship was that Secretary of State Wayne Williams (R) lost reelection, and by 8 percentage points. A noncontroversial moderate Republican with bipartisan appeal, Williams's loss to former Obama admin official Jenna Griswold (D) was a shock. Looking to the 2020 cycle, Griswold briefly formed an exploratory committee to run for the U.S. Senate against Gardner but ended her exploratory phase soon before Hickenlooper got in the race. Still in her mid-30s, Griswold seems likely to have a bright future in state politics. Colorado has never sent a woman to the U.S. Senate and, given her documented interest in the Senate, one can't rule out the possibility that she runs sometime in the future.
In the 2018 gubernatorial race, then-Rep. Jared Polis (D) defeated State Treasurer Walker Stapleton (R) by 11%, easily holding the governorship for Democrats. In the House, Polis was known as a libertarian Democrat -- notably, he was the only Democratic member of the House Liberty Caucus. Polis' election came with some milestones: he's the first openly gay governor (of any state) and is also Colorado's first Jewish chief executive.
Succeeding Polis in the House was Democrat Joe Neguse -- their district, CO-2, includes Boulder, plus some Denver suburbs. In 2008, Polis himself succeeded then-Rep. Mark Udall, who successfully ran for the U.S. Senate that year. As both Udall and Polis used the 2nd District as a statewide launching pad, it seems that Neguse may have similar potential down the line. Until then, as a 36 year-old Black congressman from a white-majority district, Neguse has an uncommon perspective in the House.
Given how Denver-centric Colorado politics is, Denver Mayor Michael Hancock seems likely to have a future in state politics, whether it be a bid for Congress or Governor down the line.
In 2018, Colorado voters approved an independent redistricting commission to redraw Congressional and legislative districts after the next Census. With the state projected to gain another seat, it will be worth watching where that seat falls exactly.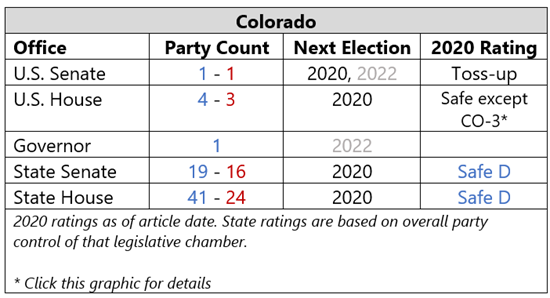 Presidential politics
Colorado's emergence as a swing state really started with the 2004 cycle. Aside from Bill Clinton's narrow win in the state in 1992, Colorado largely voted Republican throughout the 20th Century. Both campaigns made numerous appearances throughout the state -- it received special attention from Kerry's campaign because it was the state of his birth. Despite the national swing towards Bush, Kerry lost the state by about 4%, a big improvement over Gore's nine point loss four years earlier -- to be fair, Gore's showing was undoubtedly hampered by Ralph Nader's 5% share there in 2000. Colorado split its ticket that year though, electing Democratic state Attorney General Ken Salazar to the Senate.
In 2008, Barack Obama carried the state by a comfortable 54%-45%, and it has stayed in the blue column since. In their post-election book How Obama Won, Chuck Todd and Sheldon Gawiser pointed out an ominous sign for the Colorado GOP: while Bush carried white college graduates there by almost 30% in 2004, Obama won that group 56%-42%. Obama's coattails boosted down-ballot Democrats: they netted a House seat, by handily defeating the controversial Rep. Marilyn Musgrave in the 4th District, and flipped an open Senate seat, with Udall.
In 2012, Obama held the Centennial State -- though he took its nine electoral votes by a reduced margin that year, he actually flipped a county that McCain carried, Chaffee. For 2016, Hillary Clinton won the state 48%-43%. Clinton saw considerable slippage in the rural and more working class parts of the state while making some gains in the suburbs. Given the electorate's relatively high educational attainment, Joe Biden seems likely to improve upon Clinton's margin by quite a bit. All the statewide Democrats in 2018 outpaced Clinton's five point win, suggesting there's room for Biden to grow. With Trump struggling to lock down states that he carried in 2016 -- such as Michigan and Arizona -- it seems unlikely he can afford to prioritize flipping Clinton states.
---
Next Week:

Maine
Going forward, we will use the model powering the 2020 presidential election simulator to determine the following week's state. Specifically, we will look at the 'Battleground 270' results of 25,000 simulations run late Sunday afternoon. Of the states remaining, the next to be covered will be that with the highest likelihood of a Trump or Biden win as of that date. View the current state-by-state probabilities in the table at the bottom of the Battleground 270 page.
Reports in this series:
comments powered by

Disqus
Headlines