Colorado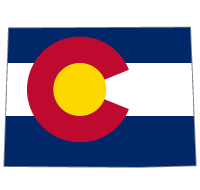 Colorado gained statehood in August 1876. After voting primarily Republican from 1920-2004, the state has voted with the Democrats in the last three presidential elections, including Hillary Clinton's five-point margin in 2016. That election saw one of Colorado's electors attempt to vote for Bernie Sanders. That vote was disallowed and the elector was replaced.

Surrounded by deeply red states (except for New Mexico to the south), the state is today one of the few battlegrounds in the Western half of the country. Colorado's population has been growing, and it now has 50% more electoral votes than it did in the 1960s. Based on population trends at the end of 2016, the state may gain a 10th electoral vote after the 2020 presidential election.
Voting History
State voted with the overall winning candidate
Electoral College Votes
Colored bars represent electoral votes by party. Tap to see names. 2020 electoral votes shown in dark green until after the election.