The Road to 270: New Mexico
By Drew Savicki
July 13, 2020
The Road to 270 is a weekly column leading up to the presidential election. Each installment is dedicated to understanding one state's political landscape and how that might influence which party will win its electoral votes in 2020. We'll do these roughly in order of expected competitiveness, moving toward the most intensely contested battlegrounds as election day nears.
The Road to 270 will be published every Monday. The column is written by Drew Savicki, a 270toWin elections and politics contributor. Contact Drew via email or on Twitter @DrewSav.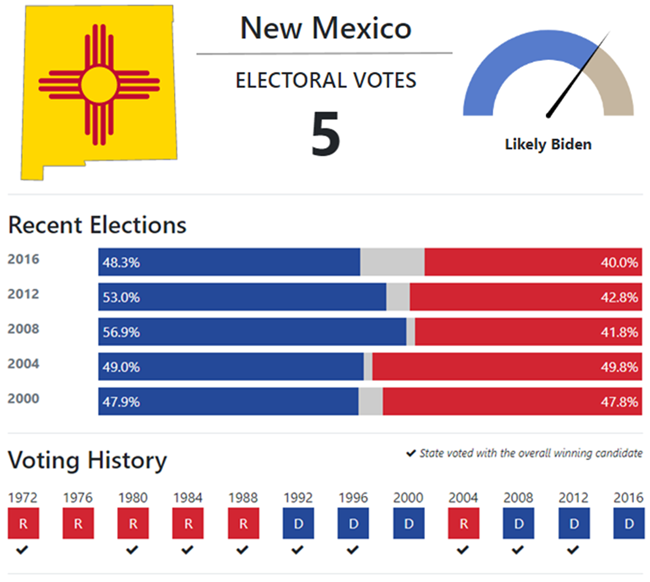 New Mexico, the Land of Enchantment, is one of the most demographically unique states in the nation. At 49% Hispanic, 37% white, and 11% Native American, there is truly no other place in the country like New Mexico.
Valencia County: The Great Bellwether
Located in central New Mexico is one of the nation's most reliable bellwether counties – Valencia County. With an unbroken streak going back to 1952, Valencia County has consistently chosen the winner of the presidential election. This is currently the longest such streak in the country. At 61% Hispanic, Valencia is not the kind of place you'd expect to be a bellwether. At the state level, Valencia's track record is more mixed.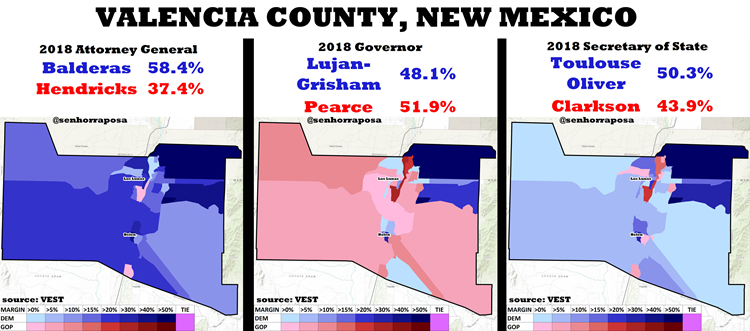 Valencia County split its ticket in 2018, opting for Republicans in three statewide races (Governor, Treasurer, and Land Commissioner) despite Democrats winning all those offices. There are a large number of swing voters in this county, with the Democratic win margin as high as 21% and a Republican win almost at 10 points. The map above demonstrates how swingy the county can be, with the Republican share of the vote ranging from 37% all the way up to 52%,
Congressional politics
New Mexico's small, three-member House delegation has undergone quite a few changes in recent years. Its three U.S. House seats have all been open at least once over the past decade or so. In an extreme case, 2008, all its congressional districts saw open-seat contests. With the retirement of the late Sen. Pete Domenici, a Republican who had dominated state politics since the 1970s, sitting GOP Reps. Heather Wilson and Steve Pearce gave up their seats to run for Senate. Pearce narrowly won the primary but was clobbered in the general contest by then-Rep. Tom Udall.
A bit more recently, in 2012, Rep. Martin Heinrich (D), from the Albuquerque-based 1st District, retired to run for the open U.S. Senate seat in 2012 and was succeeded by former state Health Secretary Michelle Lujan Grisham, who in turn ran for Governor in 2018. Once dominated by Republicans, the 1st District has moved off the competitive list over the years as the GOP brand in urban America has declined. When Lujan Grisham retired to run for Governor, she was succeeded by former state Democratic Party Chair Deb Haaland. Haaland is the first Native American to represent New Mexico in Congress and one of just four Native Americans in the body overall.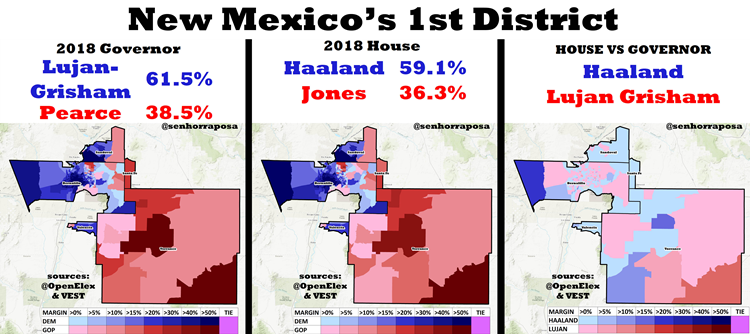 Looking at Deb Haaland vs Michelle Lujan Grisham, a few things stand out. Haaland was generally stronger in the areas containing or bordering Indian Reservations. With both candidates being from Albuquerque, there was no clear overperformance for one candidate in the city. Lujan Grisham seemed to do better in the more traditionally Republican eastern portion of the city.
Encompassing the state's southern half is the sprawling 2nd Congressional District.1 1It is the fifth largest district in the country, with a land area larger than the total area of 33 other states. It is also the largest district in a state with more than one at-large district.Although it has long been the most Republican district in the state, the 2nd District has shown an occasional friendliness towards Democrats. Representing NM-2 since 2019 is Democrat Xochitl Torres Small. A Hispanic water rights attorney from Las Cruces, Torres Small struck a moderate tone in her 2018 race and she was endorsed by the centrist Blue Dog Coalition. Her opponent was State Rep. Yvette Herrell, from mostly rural Otero County. In contrast to Torres Small's moderate image, Herrell is a steadfast conservative and is once again the GOP nominee for the seat this year, after winning a heated three-way primary earlier this year. Torres Small is an excellent fundraiser and fits the district well for a Democrat -- but Trump is likely to carry this district again, so Sabato's Crystal Ball is maintaining the 'Toss-up' rating for now. Regardless of the outcome, New Mexico's three Representatives in the House next year will all be women of color.
Steve Pearce served two non-consecutive tenures representing NM-2, from 2003-2009 and then again from 2011-2019. A founding member of the House Freedom Caucus, Pearce was one of the most conservative members of Congress during his tenure but proved highly popular in this district. The two times this district has flipped in recent years, it's been when Pearce sought statewide office. As mentioned earlier, when he vacated NM-2 in 2008 to run for Senate, the district flipped blue, though Pearce himself reclaimed it in 2010. Ten years later, in 2018, he unsuccessfully sought the open governorship against fellow Rep. Michelle Lujan Grisham. Pearce's political instincts have proven to be somewhat questionable, as his recent bids for statewide office were in Democratic wave years -- he also ran for Senate in 2000, but lost the primary.
Representing the 3rd District in the northern half of the state is Rep. Ben Ray Luján (D). This heavily Hispanic district is home to Santa Fe, Los Alamos, and the bulk of the state's Native American population. Once staunchly Republican, Los Alamos County, home to the famed laboratory of the same name, has strongly trended leftward in recent years thanks to its high education level. Although Luján has risen up through the ranks of House Democratic Leadership, he has chosen to follow the same path of now Sen. Chris Van Hollen of Maryland, who was in House Leadership but ran for Senate in 2016. Early last year, Sen. Tom Udall announced he was retiring rather than seeking a third term in the Senate. Frustrated with the logjam at the highest levels of Democratic leadership, Van Hollen and Luján have figured they have better shots at advancing in the Senate than in the House. The Crystal Ball rates the open 3rd District as 'Safe Democratic.'
Sen. Udall has had a long career in New Mexico politics. In the 1990s, Udall served two terms as New Mexico's Attorney General before running for Congress in 1998. With the resignation of Rep. Bill Richardson (D) to become President Clinton's Ambassador to the United Nations, the 3rd District flipped to Republican Bill Redmond. Redmond's tenure would prove to be ephemeral, as Udall easily dispatched him, and Democrats have held the seat ever since.
Tom Udall is part of the famous Udall political family, which has been active in western politics since the late 19th century. Two of Udall's cousins served alongside him in Congress: Sen. Gordon Smith (R-OR) and Rep. Mark Udall (D-CO). In 2008, both Tom and Mark Udall were elevated to the Senate, but Smith, a Republican, lost in that wave year. Although not technically a Udall, Republican Sen. Mike Lee of Utah is a second cousin of Tom's. Additionally, though not related, one of Mitt Romney's ancestors was connected to the Udalls.
Although Republicans have made noise about competing in New Mexico at both the presidential and Senate levels, they lack a top tier recruit for the Senate race. The Republican nominee is former TV meteorologist Mark Ronchetti. If he were running for the House, Ronchetti would be considered a decent fundraiser but for a Senate candidate, his numbers are not terribly impressive. Democrats do not seem concerned about Luján's candidacy, as representing 1/3 of the state in Congress has its perks. The Crystal Ball rates the Senate race as 'Likely Democratic' though other forecasters like Inside Elections rate the race as 'Safe Democratic.'
Given the challenging national environment and the sheer number of Republican senators on defense, it seems quite unlikely Ronchetti will receive substantial outside help. With the party focused on defending Senate seats in Montana, North Carolina, Iowa, and other states, it doesn't seem like New Mexico will get much attention. Perhaps if the President's approval ratings were higher, things might be different but in the current environment little suggests this will be a competitive race.
New Mexico's junior Senator is Martin Heinrich. First elected to the House in 2008 when Rep. Heather Wilson unsuccessfully sought the GOP nomination for U.S. Senate, Heinrich has maintained a low profile in Congress. After two terms in the House, Heinrich saw an opportunity for promotion when longtime Democratic Sen. Jeff Bingaman announced his retirement in 2011. Bingaman and Domenici served together from 1983 to 2009, giving the state stature in the chamber that it lacks now -- but with Heinrich and Luján each 48, amassing that type of longevity again may be possible.

State politics
New Mexico has produced a number of prominent governors in recent years, two of whom have run for President. In 1994, businessman Gary Johnson defeated Democratic Governor Bruce King who was seeking a fourth term. Johnson, a libertarian conservative, ran for President in 2008 as a Republican. By the early 2010s, Johnson felt increasingly out of step with a party that had abandoned its belief in fiscal conservatism, so he switched to the Libertarian Party. In fact, Johnson was the Libertarian nominee for President in 2012 and 2016, with New Mexico being his best state in both elections. In 2016, when third parties did well across the board, Johnson claimed 9% there. Johnson was also the Libertarian Party's nominee for U.S. Senate in 2018, in which he received 15% of the vote statewide.
Succeeding Johnson as governor was Clinton-era Energy Secretary Bill Richardson. A former Congressman, Richardson governed as a sort of libertarian Democrat, signing bills legalizing medical cannabis and outlawing capital punishment in the state. In 2008, Richardson launched a largely ignored campaign for President. In a crowded field featuring candidates with much higher name recognition, Richardson failed to stand out from the crowd.
Although New Mexico has recently elected Republicans, 2018 seems to have been a realigning election in the state. Democrats flipped three statewide offices: Governor, Auditor, and Commissioner of Public Lands. Governor Susana Martinez (R) was increasingly unpopular by Election Day 2018 and Lujan Grisham won the office by a solid 14 point margin. In the race for State Auditor, former state Democratic Party Chair Brian Colón defeated Wayne Johnson (R). Johnson had been appointed by Governor Martinez, when Auditor Tim Keller (D) resigned to become Mayor of Albuquerque.
New Mexico has an unusually strong Libertarian Party. In January 2018, Public Lands Commissioner Aubrey Dunn announced he was leaving the Republican Party and joining the Libertarians. A rancher, Dunn already had a reputation as a libertarian Republican, so his switch was not entirely surprising. His switch gave the party their only statewide office in the nation. At the time, Dunn had already announced he was running for the open U.S. House seat in New Mexico's 2nd District but was thought to have been eyeing a run against Senator Martin Heinrich. Dunn did get in the Senate race but dropped out when it became clear that Johnson was interested in running. The Public Lands Commissioner was Democrats' closest statewide race in 2018. State Rep. Stephanie Garcia Richard (D) defeated Public Regulations Commissioner Patrick Lyons by an eight point margin and became the first woman to hold the office.
Democrats have made gains in the legislature in recent years and cemented control of the State Supreme Court, which will give them complete control over redistricting after the Census. In this year's primary, a number of conservative Democrats in the State Senate were ousted by progressive challengers. The list of incumbents defeated includes the Senate President. Unlike many states, New Mexico has a strictly volunteer legislature, which means they don't receive a salary and meet for only a very small portion of the year.
Presidential politics
Throughout the 20th century, New Mexico generally voted Republican for President but changing demographics shifted it into the Democratic corner when Bill Clinton came along. By the early 2000s, New Mexico was one of the most closely-contested states in the nation. Despite all the post-attention election attention Florida received, New Mexico was actually the closest state, by raw votes, in the 2000 election. Gore won here by just 366 votes. With his message of compassionate conservatism, Bush very narrowly flipped it in 2004, but Republicans have struggled there since.
The Trump campaign has insisted it can compete in New Mexico but it is hard to take such a claim seriously given his unpopularity nationwide. Polls show Joe Biden a bit weaker with Hispanics than Hillary Clinton in 2016 but it is quite unlikely New Mexico is in play this cycle.
---
Next Week:

Virginia
Going forward, we will use the model powering the 2020 presidential election simulator to determine the following week's state. Specifically, we will look at the 'Battleground 270' results of 25,000 simulations run late Sunday afternoon. Of the states remaining, the next to be covered will be that with the highest likelihood of a Trump or Biden win as of that date. View the current state-by-state probabilities in the table at the bottom of the Battleground 270 page.
---
Reports in this series:
comments powered by

Disqus
Headlines