New Mexico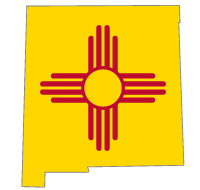 New Mexico joined the Union in January 1912. It has participated in 27 presidential elections through 2016, with the results split almost down the middle; 15 for Democrats, 12 for Republicans. However, Democrats have now won 6 of the last 7 elections. This shift is at least partially due to the increasing support of the Democratic party by Latinos in recent years. 2016 saw Hillary Clinton defeat Donald Trump by about 8 points.
Voting History
State voted with the overall winning candidate
Electoral College Votes
Colored bars represent electoral votes by party. Hover to see names. 2020 electoral votes shown in dark green until after the election.