The Road to 270: South Carolina
By Drew Savicki
July 6, 2020
The Road to 270 is a weekly column leading up to the presidential election. Each installment is dedicated to understanding one state's political landscape and how that might influence which party will win its electoral votes in 2020. We'll do these roughly in order of expected competitiveness, moving toward the most intensely contested battlegrounds as election day nears.
The Road to 270 will be published every Monday. The column is written by Drew Savicki, a 270toWin elections and politics contributor. Contact Drew via email or on Twitter @DrewSav.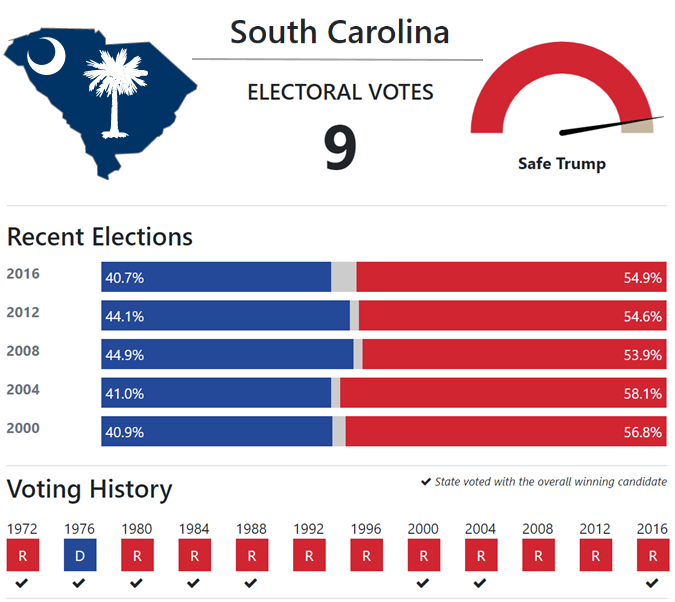 In many ways, South Carolina is the state that's most shaped the trajectory of the Democratic primary this year. After struggling in three earlier states, Joe Biden -- from his strength with Black voters and after a critical endorsement from Rep. Jim Clyburn -- routed his opponents in the state. Biden's win in the Palmetto State set him up for a strong performance on Super Tuesday, and gave him momentum for contests beyond that.
Although South Carolina won't be as critical in the general election, it's seen some realigning political trends that may carry on in 2020.
The South Carolina Primary
Every four years, South Carolina is a major battleground in the race for both parties presidential nominations. On the Republican side, South Carolina is the first state home to a significant evangelical population. Evangelical whites are a prominent constituency in the Republican Party and appealing to them is necessary in order to win the nomination. On the Democratic side, South Carolina is the first state with a majority Black electorate. The first two states in the nominating process, Iowa and New Hampshire, are overwhelmingly white, though Nevada, with its large Hispanic population, also holds an early caucus.
South Carolina's history as an early primary state in the primaries is relatively recent. Its status as a pre-Super Tuesday contest begins with the 2000 Republican primary. In 2000, the South Carolina primary occurred in February after Alaska, Iowa, New Hampshire, and Delaware. South Carolina in 2000 was a particularly acrimonious fight between then Texas Governor George W. Bush and Arizona Senator John McCain. Fresh off a win in the New Hampshire primary, McCain was looking for momentum in the Palmetto State. McCain was on the receiving end of a vicious smear campaign towards his wife and their adopted daughter. Bush ultimately won the primary 53-42% and went on to steamroll McCain in most of the remaining contests. McCain's brand of conservatism was a poor fit for the primary electorate of the time.
In 2004, South Carolina again held its primary in February but not as a standalone contest. It was on held what was dubbed 'Mini Tuesday', with a number of other states. North Carolina Senator John Edwards carried the state fairly easily against Massachusetts Senator John Kerry. A homespun southerner, Edwards charmed South Carolina voters.
2008 is the first cycle where the current early state schedule began. The modern order of Iowa, New Hampshire, Nevada, and South Carolina was first used that year. With significant support among Black voters and two candidates dividing up the white vote, Barack Obama won the South Carolina primary in a landslide.
On the Republican side that year, John McCain won the Palmetto state by just 3%, with former Arkansas Governor Mike Huckabee finishing a close second. Four years later, former House Speaker Newt Gingrich romped to victory in the state with 40% of the vote and captured 23/25 delegates in the state. In 2016, Donald Trump was fresh off a victory in New Hampshire and swept the state, taking all 50 delegates with him.
On the Democratic side, both 2016 and 2020 were landslide wins for Hillary Clinton and Joe Biden. With their strong support among Black voters, both candidates won every county in the state. If you want to be the Democratic nominee, competing in South Carolina is a must. There is no path to the Democratic nomination without the support of Black voters.
Congressional Politics
As a southern state with a racially polarized electorate, South Carolina has seen few competitive congressional elections over the last decade. The most recent case, though, was in 2018. Rep Mark Sanford (R) -- who was at times critical of President Trump -- lost renomination in South Carolina's 1st District to fellow Republican Katie Arrington. Democrats nominated ocean engineer Joe Cunningham, who flipped the seat later that year. After Georgia Rep. John Barrow's 2014 loss, Cunningham became the first white Democrat elected to the House from a Deep South state.
Based in Charleston, the 1st District is a predominately suburban, traditionally Republican district that has trended leftward in the Trump era. The President carried it by 13% in 2016, down from Mitt Romney's 18-point win four years earlier. Cunningham's opponent is State Rep. Nancy Mace, the first female graduate of South Carolina's Citadel, the famous military academy. Political forecasters like Sabato's Crystal Ball and The Cook Political Report rate the race as a tossup and one of the most vulnerable Democratic held seats. Given the suburban nature of the seat, it seems likely Trump's margin will decrease this year and Cunningham could certainly win reelection.
South Carolina's congressional delegation also includes two of the most prominent Republican Senators. Representing South Carolina in the Senate since 2003, Lindsey Graham came to fame during his time in the House. In the late 1990s, he served as an impeachment manager during the trial of President Clinton. Regarded as a mainline conservative with his hawkish foreign policy and pro-immigration stances, Graham has long been viewed with suspicion by his party's right flank; Graham was especially known for his long friendship with the late John McCain. As two of the most prominent proponents of a hawkish U.S. foreign policy, Graham and McCain sometimes differed on domestic policy -- in one of McCain's last votes in the Senate, he sunk the GOP's repeal effort of President Obama's healthcare law, but Graham supported repeal.
In 2016, Graham briefly ran for President but found little success in a party that is now more skeptical of interventionism and immigration. In the primaries, Graham was a staunch critic of then-candidate Donald Trump, but with Trump's election and Graham's own primary coming up, he quickly changed his tune. His speech defending now-Justice Brett Kavanaugh during his 2018 confirmation hearings went viral. His abrupt and fierce embrace of the President turned heads but the reality is Graham represents a state where Trump is very popular, especially with Republican partisans. Graham's right turn paid off, as he was renominated last month.
Graham must still run in the general election later this year and, despite the red tint of the state, his political transformation has turned him into a Democratic target. Political forecasters such as Sabato's Crystal Ball rate his race as 'Likely Republican.' The Democratic nominee is former South Carolina Democratic Party Chair Jaime Harrison. Harrison has been an extraordinary fundraiser, but this race is an uphill battle for him. An upset can't be completely ruled out, especially if Joe Biden's strong national numbers persist, but Graham has the clear advantage. Harrison is South Carolina Democrats' best Senate candidate in many years, and could be a plausible successor to Democratic House Majority Whip Jim Clyburn when he eventually retires.
The Palmetto State's junior Senator in Tim Scott. Appointed by then Governor Nikki Haley following the resignation of Senator Jim DeMint (R), Scott is the lone Black Republican in the Senate. As just one of two African American Republicans in Congress, Scott occupies a unique spot in his party. In a party heavily dominated by older white men, the burden often falls on Scott to explain racial issues to his fellow Republicans. Of the two Senators, Scott is the more conservative, though not to the extent of his predecessor. Prior to his appointment to the Senate, Scott represented South Carolina's 1st District in the House. He was elected to that seat in 2010, when longtime Rep. Henry Brown (R) retired.
For decades, South Carolina was represented by two legendary Senators: iconic Democrat Fritz Hollings and the archconservative Republican Strom Thurmond. The two men had relatively similar political beginnings. In 1958, Hollings was elected Governor of South Carolina. Like most South Carolinians at time, Hollings opposed integration of public schools. By the end of his tenure as Governor, Hollings like many Americans, reversed himself on the issue. By the early 1960s, public support for civil rights was growing. The Civil Rights movement was in full swing, slowly inching towards the passage of a Civil Rights bill by Congress.
Strom Thurmond was elected Governor of South Carolina in 1946. With the Democratic Party adopting a civil rights plank of the platform in 1948, Thurmond broke with the party and formed an offshoot dubbed the 'Dixiecrats.' Thurmond ran under the Dixiecrat banner that year on a pro-segregation platform, ultimately carrying four southern states (including his home state) and 39 electoral votes. In 1954, Sen. Burnet Maybank died while seeking reelection unopposed. The state Democratic Party rushed to choose a replacement nominee but this move displeased activists and prompted Thurmond to run a successful write-in campaign for the seat. Two years later, Thurmond resigned so as to honor activists desire for a proper primary. He won the seat back that year and would go on to be reelected seven more times.
During his early time in the Senate, Thurmond was one of the most outspoken supporters of segregation, though he eventually tried to build bridges with the Black community in his state -- by the 1970s, he was hiring Black staffers. In 1964, Thurmond announced he was switching parties and supporting Arizona Senator Barry Goldwater's campaign for President. South Carolina was one of the few states Goldwater carried that year despite his sweeping loss nationwide.
State level politics
Republicans dominate South Carolina at the state level, holding all state executive offices. Gov. Henry McMaster has been a fixture in South Carolina politics, dating back to his time as a legislative assistant for Sen. Thurmond. McMaster served as a U.S. Attorney for South Carolina under President Reagan in the 1980s, before making an unsuccessful Senate bid in 1986 against Hollings. From 1993-2002, McMaster served as Chair of the South Carolina Republican Party until he was elected Attorney General in 2002. McMaster was the last separately elected Lieutenant Governor of South Carolina, elected in 2014. He became Governor upon the resignation of Nikki Haley to become UN Ambassador under President Trump.
In the legislature, Republicans lack supermajorities but are hoping to gain them this year. Democrats hold a number of rural seats that haven't voted Democratic for President in some time. The Democratic nominee for Governor in 2010 and 2014, State Sen. Vincent Sheheen, represents a district that voted for President Trump by double-digits and for 2020, drew a Republican opponent for the first time in many years. The low pay and part time nature of the South Carolina legislature means many seats go uncontested every cycle. Rural Democrats such as State Rep. Mandy Powers-Norrell have gone uncontested multiple cycles in a row but are now facing Republican opponents. It seems likely Republicans can finally capture supermajorities this cycle.
Redistricting should be largely uneventful though Republicans will want to shore up the 1st Congressional District, so expect a decent number of majority Black precincts to be shifted into the 6th District.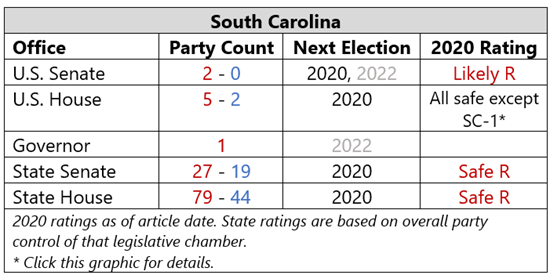 Presidential politics and 2020 outlook
Like every other state, the broader national trends have been seen in South Carolina. Despite its suburban nature though, the Greenville-Spartanburg area has long been a reliable source of votes for Republicans in the state. Charleston County was reliably Republican until 2008 but has voted Democratic since. Democrats receive most of their votes from the Black Belt but Clinton couldn't garner the enthusiasm President Obama had with Black voters -- and she lost support among rural whites as well. South Carolina is inelastically red and Democrats have been stuck between 41 and 45% of the vote in the past five presidential elections. Still, given Joe Biden's strength with Black voters and college educated whites, it seems quite likely he'll at least narrow the margin from Clinton's 14 point loss in 2016.
Editor's Note
South Carolina is the 34th report (33 states + DC) in The Road to 270 series. The remaining 17 states were all decided by a single-digit margin in the 2016 presidential election. As this year's most competitive states may differ from those in 2016, we wanted to have an objective way to get from here to the final report on November 2.
Going forward, we will use the recently launched 2020 presidential election simulator to determine the following week's state. Specifically, we will look at the 'Battleground 270' results of 25,000 simulations run late Sunday afternoon. The next state to be covered will be the least competitive state - as of that date - of those remaining. You can see the state-by-state breakdown in the table at the bottom of the Battleground 270 page.
Based on yesterday's simulations...
Next Week: New Mexico

Reports in this series:
comments powered by

Disqus
Headlines