South Carolina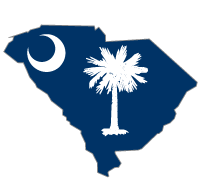 South Carolina, one of the original 13 colonies, attained statehood in May 1788 and has participated in every presidential election except 1864, when it had seceded from the Union. Like many other southern states, South Carolina voted almost exclusively Democratic from the time of Reconstruction through the early 1960s, before turning Republican largely in response to civil rights legislation. South Carolina was one of only six states to vote for Barry Goldwater in 1964 and has voted Republican since, except in 1976 when it voted for fellow southerner Jimmy Carter. In 2016, Donald Trump defeated Hillary Clinton by 55% to 41%.
Voting History
State voted with the overall winning candidate
Electoral College Votes
States' Rights Democratic
Colored bars represent electoral votes by party. Hover to see names. 2020 electoral votes shown in dark green until after the election.
An empty column indicates the state did not participate in that election.