Current Polling Averages: National and Four Early States
By 270toWin Staff
January 24, 2020
Here's a summary of the current national polling averages, as well as those in the four states that will hold their primary or caucus in February.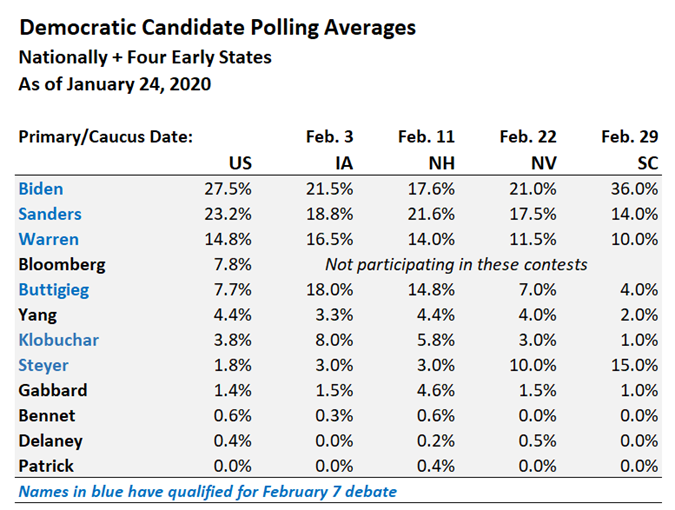 Joe Biden has a small lead over Bernie Sanders nationally, both are well out in front of the rest of the 12 person field. However, the picture becomes much less clear when looking at the states that kick off the 2020 election calendar. This is important for a couple reasons. First, delegates are won at the state level, not nationally. More importantly, because the primaries/caucuses occur over an extended period, each contest will be affected by the results in the ones that precede it.
In Iowa, which holds its caucuses a week from Monday, the polling shows four candidates bunched at the top. New Hampshire is shaping up the same way, although worth recalling that Sanders defeated Hillary Clinton by 22 points here in 2016. In limited polling, Biden and Sanders are leading the field in Nevada, with Biden well out in front in South Carolina. However, it is worth noting that Pete Buttigieg and Amy Klobuchar are polling well ahead of their national average in Iowa and New Hampshire. If the results play out this way, those two candidates could see more support develop in the latter two states.
Tom Steyer has been spending heavily in Nevada and South Carolina. He has moved into double-digits in both states, helping qualify him for the February 7 debate stage. However, he's unlikely to be in the top 4 in Iowa or New Hampshire, so some of that support could erode before the other two contests.
Mike Bloomberg is a wild card in all of this. He is now tied with Buttigieg for fourth nationally. However, he is skipping1 the early states to focus on Super Tuesday (March 3) and beyond. It is possible that his numbers will drop - at least temporarily - once the voting begins and he is not part of the story. The former NYC mayor could be in a better position if no one emerges as an obvious frontrunner before Super Tuesday.
1There is no formal ballot access in Iowa, so it is possible that Bloomberg could "crash the party" and see support in the caucuses. We're told his name is listed on the Iowa Democratic Party's results reporting form.
comments powered by

Disqus
Headlines