The Road to 270: Ohio
By Drew Savicki
September 28, 2020
The Road to 270 is a weekly column leading up to the presidential election. Each installment is dedicated to understanding one state's political landscape and how that might influence which party will win its electoral votes in 2020. We'll do these roughly in order of expected competitiveness, moving toward the most intensely contested battlegrounds as election day nears.
The Road to 270 will be published every Monday. The column is written by Drew Savicki, a 270toWin elections and politics contributor. Contact Drew via email or on Twitter @DrewSav.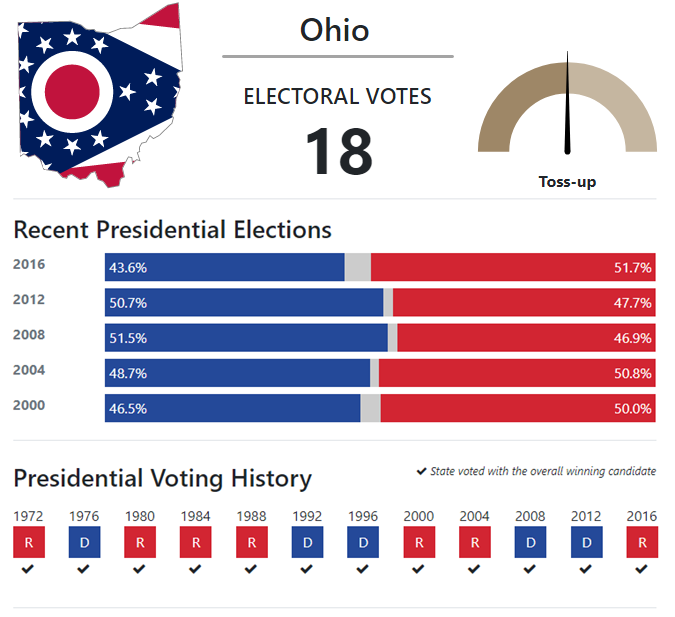 Long one of the great American bellwether states, the Buckeye state lurched rightward in 2016 thanks to an exodus among non-college educated whites from the Democratic Party. Long a bastion of Democrats, blue collar Eastern Ohio swung sharply rightward. Donald Trump's focus on manufacturing played well with voters in towns decimated by outsourcing.
Congressional politics
Like in Wisconsin, Ohio Democrats face two problems in gaining a foothold in the state's congressional delegation: redistricting and the state's rightward drift. Even though both states are competitive overall, no congressional districts in either state have changed hands since the current lines were drawn in advance of the 2012 elections. That will largely continue in 2020. Of the state's 16 congressional districts but only one of them is considered highly competitive.
Ohio's 1st District, in the southwestern corner of the state, takes in much of Cincinnati, but was drawn to include heavily-GOP Warren County. For Republicans, this gerrymander has held up well -- but there are some signs it may be breaking. Republican Rep. Steve Chabot was first elected in 1994, when he defeated then freshman Democratic incumbent Rep. David Mann. At the time, OH-1 was entirely within Cincinnati's Hamilton County. Chabot would win three terms under those congressional districts with 53-54% of the vote; when the lines were redrawn after 2000, he was given a safe seat. Still, the anti-Bush Democratic wave hit hard in Ohio in 2006: Chabot held on just 52-48% that year. With Barack Obama atop the ticket in 2008, he lost 52-48% to State Rep. Steven Driehaus (D). Chabot made a successful comeback in 2010 and would easily win reelection until 2018. That year, he narrowly defeated a scandal-plagued Democrat by just four points. Democrats have vowed not to make that same mistake this year. The party has a highly credible candidate in Healthcare executive Kate Schroeder. All three major forecasters rate this race as a 'Toss-up,' so Chabot is in real trouble.
Although Sabato's Crystal Ball rates Ohio's 12th District as 'Likely Republican', it is a district worth watching. The core of the district is suburban Delaware County, and it takes in a handful of more rural counties. The district is very similar to Indiana's 5th district, which is considered a toss-up. This is the district former Gov. John Kasich (R) represented for many years -- and his endorsement of Biden could make things interesting here. Rep. Troy Balderson (R) is clearly favored and it is a reach target, but these are the kinds of areas where Democrats have been making inroads.
Democrats hold only four of the state's congressional districts. One of them may have been on the competitive radar this year had Trump's approval ratings been higher. Rep. Tim Ryan has represented Youngstown in Congress since 2003, when he succeeded the eccentric Jim Traficant (D). When this district was drawn, Republicans thought they packed every Democratic voter they could find. This blue-collar district gave Barack Obama 62% of the vote in 2008 and the Mahoning Valley had long been a stronghold of the Democratic Party. After years of losing manufacturing plants to China, many of the district's voters warmed to Trump's anti free trade message and cultural conservatism. Hillary Clinton won it by just seven points in 2016, down considerably from Obama's 27-point win in 2012.

Though Tim Ryan's margins have slipped over the years, OH-13 is still rated as 'Safe Democratic' this cycle. Backed by the ultra conservative House Freedom Caucus, the Republican nominee is former State Rep. Christina Hagan who unsuccessfully ran for the 16th District in 2018. Although she is endorsed by President Trump, Hagan has no actual connection to the 13th District or even the 16th. Republicans argue that Ryan's brief presidential bid hurt him with voters in the district but there aren't signs that's been the case. Furthermore, President Trump's call for boycotting Goodyear is likely to fall flat in this district, where their Akron factory is a major employer. This district isn't a serious GOP target but if Ryan's margin does slip again, his political future will look rather uncertain. His biggest problem is likely to be redistricting: Ohio is expected to lose a district and that means OH-13 will have to expand to take in redder turf. Depending on what district looks like, Ryan might be in for a real race come 2022.
Ohio's two Senators don't agree on much but are known for their strong working relationship. The Buckeye State's senior Senator is the populist progressive Sherrod Brown. Despite Ohio's rightward shift, Brown remains a solid fit for the state. As evidenced by Trump's convincing win here in 2016, there is clearly an audience for populism. Brown has been a longtime opponent of free trade, dating back to his time in the House when he opposed NAFTA. After Hillary Clinton's loss in 2016, Brown was mentioned as a possible presidential candidate. As a Democratic Senator from an Obama/Trump state, Brown had exactly the kind of appeal with blue collar voters that Hillary Clinton lacked. Had Democrats won the governorship in 2018, it's hard not to see Brown actually running.
Brown has had a long career in Ohio politics, from his time in the legislature to his two terms as Secretary of State, followed by seven terms in the U.S. House, and now three terms in the Senate. Brown was first elected to the Senate in 2006 when he defeated Sen. Mike DeWine (R). With President Bush's popularity on the wane that year and the unpopularity of the Iraq War, Brown won the election by 12 points. In 2012, with Obama on the ballot, he faced a strong challenge from then State Treasurer Josh Mandel (R). Brown was among Republicans most targeted Senators up that cycle but he turned back Mandel by six points.
By 2018, Brown was again a top GOP target, particularly since Ohio went so strongly for Trump in 2016. Mandel initially sought a rematch but dropped out abruptly, citing his wife's health. Mandel's departure from the race prompted Rep. Jim Renacci (R), who was initially running in a crowded gubernatorial primary, to drop out of that race and switch to the Senate contest. Despite support from President Trump, Renacci never really gained steam against Brown. Brown will be up again for reelection in 2024, and he's likely to face a tough race as that will be a presidential year.
Ohio's junior Senator is the bookish Rob Portman. A wonkier Republican, Portman is deeply ingrained in the party establishment. He worked in the administration of President George Bush before he ran for Congress in a 1993 special election. Portman resigned his House seat in 2005 to join the administration of President George W. Bush as U.S. Trade Representative and later became Director of the Office of Management and Budget (OMB). Portman resigned from the administration in 2007 to become a lobbyist. When Sen. George Voinovich (R) announced his retirement in 2009, Portman announced his campaign for the seat. Portman cleared the field in the primary and handily won the open seat with 58% of the vote. At the beginning of the 2016 cycle, Portman was thought to face a competitive race but ultimately cruised to reelection. His opponent was former Gov. Ted Strickland (D) who served as Governor for one term from 2007-2011. Though Strickland initially looked like a favorite -- perhaps due to better name recognition -- Portman ran a smart campaign, and by the summer, began to pull away. Portman far outpaced Trump, winning a second term 58%-37%, and he even carried Tim Ryan's OH-13.
Pre-Trump, Rob Portman had often been mentioned as a possible presidential candidate but that now seems unlikely. His low-key style is a poor fit for today's Republican Party and it seems likely he'll be able to remain in the Senate for as long as he wishes.
State level politics
Gov. Mike DeWine (R) is an institution in Ohio politics: he's held elected office almost continuously since the 1970s. He has served at all levels of government in Ohio, from local to federal. After he lost his Senate seat in 2006, he staged a successful comeback in 2010, and was elected state Attorney General. Eight years later, he launched a campaign for governor, and won. As the state's chief executive, DeWine has governed as a conservative, but establishment-style Republican. In the era of COVID, DeWine has found significant trouble on his right flank. Many of President Trump's diehard supporters are deeply skeptical of government and many of DeWine's actions, particularly in regard to his statewide mask order, have been unpopular with them. At a recent Trump rally, Lt. Governor Jon Husted was booed by the crowd as he urged attendees to wear masks. Some Republican legislators have accused DeWine of breaking the law with his orders and some even want him impeached.
Then-Secretary of State Jon Husted initially ran for Governor in 2018 before dropping out and agreeing to join the ticket as DeWine's running mate. His political future is the subject of much discussion. As the nation's oldest serving governor, there is considerable speculation about whether DeWine will seek a second term. An ambitious politician in his own right, it seems unlikely that Husted would have joined the ticket had he not been promised the opportunity to run for Governor again. Regardless, either DeWine or Husted are likely to face a challenge from the party's right flank in 2022.
Democrats have struggled to break through at the state level in Ohio. Democrats thought they had their ideal candidate in 2018 in former state Attorney General Rich Cordray, who served in the Obama administration as Director of the Consumer Financial Protection Bureau (CFPB). His running mate was Rep. Betty Sutton, who defeated the rather eccentric Congressman Dennis Kucinich in a 2012 redistricting contest. Known for his appearances on Jeopardy, Cordray is a wonky politician but his years in DC kept him away from Ohio for too long. By the time he ran for governor, the state had simply changed too much. With its bench depleted over the years, Ohio Democrats lack a frontrunner for the 2022 gubernatorial race. Rep. Tim Ryan has occasionally flirted with a statewide bid but given the rightward trend of his congressional district, that seems rather unlikely at this point.
In 2018, Ohio voters approved an intriguing redistricting amendment that establishes a bipartisan redistricting process. It doesn't create an independent commission, rather any map created by the legislature requires some buy-in from the minority party, and limits to the extent which counties can be split.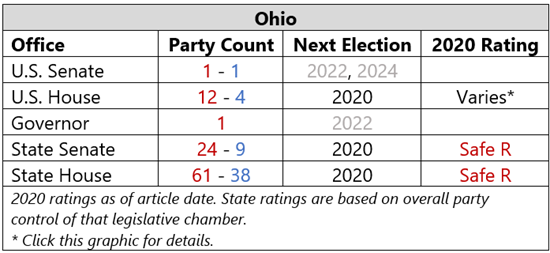 Presidential politics and 2020 outlook
As Sabato's Crystal Ball editor Kyle Kondik outlined in his 2016 book, Ohio has a reputation as a presidential bellwether state -- but, going forward, the Buckeye State's dramatic shift towards Trump prompted considerable debate about that status. Though Hillary Clinton won the nationwide popular vote by 2% in 2016, Donald Trump carried Ohio by eight points.
The Democratic margins fell throughout the state but the drop-off was particularly stark in eastern Ohio, which is in Appalachia. Like in West Virginia, coal mining was once dominant in this region and the Democratic Party's embrace of environmentalism pushed those once reliably Democratic voters into the Republican Party. Based on polling from other states in the Midwest, there seems to be a clear distinction between these voters and other non-college educated whites in the north. Joe Biden is polling better in Michigan and Wisconsin than Ohio and Pennsylvania -- perhaps this is because the former two states have been comparatively less reliant on mining. Essentially this can be boiled down to what we can call the manufacturing vote vs the mining vote. Not all areas in Appalachia were dependent on coal mining, but those that were used to be very Democratic. Those areas - with a long history of labor unions - did not become GOP-friendly until the 2010's.
The key for Biden winning Ohio is to win back Obama/Trump voters in the rest of the state. Outside of the Appalachian eastern part of the state, these voters may be movable. Biden has considerable room to grow across the state, particularly in the Columbus suburbs. For Trump, it's not clear he can squeeze out more votes in Appalachia or make a serious play for flipping Mahoning County (which houses the economically ailing Youngstown). A few other areas Biden really needs to gain some votes in are the Dayton area and the traditionally Republican northwest. Parts of rural northwestern Ohio swung towards Sherrod Brown from 2012 to 2018 so it seems like these areas have votes to gain for Democrats.
Until recently, Ohio was not seriously considered a top state for Biden campaign to invest in. But polling has tightened, and Biden is even leading in some surveys. If Biden were to win Ohio, Trump would have essentially no path to the presidency. As John Kasich would often point out during his 2016 run for president, no Republican has ever won the White House without it. On the other hand, if Biden wins the presidency in a clear national vote and can't carry Ohio, it would be evidence that the state has truly moved off the playing board.
---
Next Week:

Arizona
Tentative Schedule: Georgia (10/12), Florida (10/19), Iowa (10/26), North Carolina (11/2). Dates subject to change.
We use the model powering the 2020 presidential election simulator to determine the following week's state. Specifically, we will look at the 'Battleground 270' results of 25,000 simulations run late Sunday afternoon. Of the states remaining, the next to be covered will be that with the highest likelihood of a Trump or Biden win as of that date. View the current state-by-state probabilities in the table at the bottom of the Battleground 270 page.
Reports in this series:
comments powered by

Disqus
Headlines