The Road to 270: Wisconsin
By Drew Savicki
September 14, 2020
The Road to 270 is a weekly column leading up to the presidential election. Each installment is dedicated to understanding one state's political landscape and how that might influence which party will win its electoral votes in 2020. We'll do these roughly in order of expected competitiveness, moving toward the most intensely contested battlegrounds as election day nears.
The Road to 270 will be published every Monday. The column is written by Drew Savicki, a 270toWin elections and politics contributor. Contact Drew via email or on Twitter @DrewSav.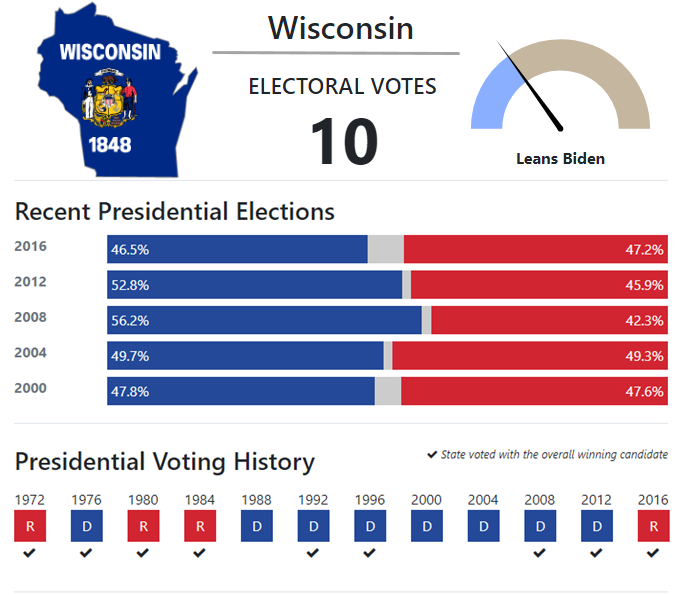 Divided between a highly liberal and highly conservative electorate, Wisconsin is known for its increasing gap between the two parties. The traditional home of the American dairy industry, the Badger State is particularly famous for its cheese. A land of contrasts, Wisconsin is both the home of the modern progressive movement and the modern conservative movement.
The suburban shift -- or lack thereof
One of the defining political shifts of the Trump era is the considerable gains that Democrats have made among college educated suburbanites. Unlike other suburbs in the Rust Belt -- such as the areas around Detroit and Chicago -- the Milwaukee suburbs, known as the "WOW" counties (Waukesha, Ozaukee, and Washington), remain blood red. These counties, located in the southeastern part of the state, are often the bane of Democrats in close statewide races. Over the past decade or so, the trio has routinely given Republicans two-thirds, or more, of the vote.
A key factor that separates this area from other suburbs, such as Chicago's 'collar counties,' is demographics. Washington County -- the reddest and most exurban of the WOW counties – is roughly the same size as Kendall County, Illinois, but Kendall is much more diverse.
To be fair, not all southeastern Wisconsin's suburbs have stayed red. Milwaukee County, a deep blue county which contains Milwaukee City, also includes a handful of suburban communities that have lined up more with national trends. Former Republican Gov. Scott Walker (more on him later) is from one such community in Milwaukee County, Wauwatosa -- he carried it by 4% in his successful 2014 reelection but lost it by 16% when he ran again in 2018. Despite these shifts, the enduring redness of the WOW counties dominates much of the discussion when it comes to the state's political geography.
Congressional politics
With the aggressive Republican gerrymander in place since 2012, Wisconsin has seen no U.S. House races within a ten-point margin, and that isn't likely to change this year. Despite being such a closely-contested state at all other levels of government, no congressional district in Wisconsin has changed hands since the current map was enacted. On paper, the western 3rd District should be competitive but Rep. Ron Kind (D) has locked it down over his more than twenty years in office. Still, since it is an Obama/Trump district, both the Cook Political Report and Sabato's Crystal Ball rate it as 'Likely Democratic.' Republican Derrick Van Orden has raised more money than previous candidates against Kind but the incumbent's 20-point win last cycle is keeping it out of reach for now.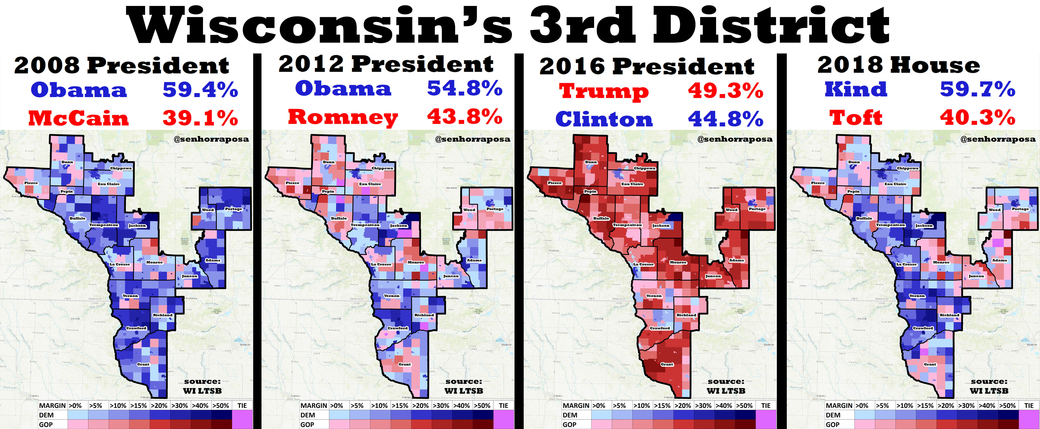 Located in what's called the 'Driftless Region,' the 3rd District swung sharply rightward from 2012 to 2016. President Obama carried this district by about 13 points in 2012 but Donald Trump carried it by five points in 2016. Looking back a bit further, Obama lost much of his rural support from 2008 to 2012, with his margin dropping by seven points. Given his substantial crossover appeal, Democrats have long pined for Kind to run statewide. First elected in 1996, Kind is only 57 and thus could be around for quite some time. Kind has declined overtures to run for the Senate and governor over the years but Democrats would love to see him run for the Senate in 2022. It seems unlikely he'll take the dive but no doubt he would be a very strong statewide candidate.
On the Republican side, Rep. Mike Gallagher seems likely to run statewide at some point. He represents the 8th District, which includes Green Bay, and some rural counties around it. A Marine veteran, the youthful Gallagher likely has a bright career in Wisconsin politics ahead of him. He is certainly a name to watch.
Fitting the state's political divide, Wisconsin's two senators have virtually nothing in common, and come from complete opposite ends of the political spectrum. Democrat Tammy Baldwin, from Madison, was first elected in 2012. The first openly gay senator, Baldwin has had a long career in Wisconsin politics: first as a state legislator and then a congresswoman.
In the 2012 Senate race, Baldwin defeated former Gov. Tommy Thompson (R), who also served Health and Human Services Secretary under President George W. Bush. Having been out of office for 11 years, Thompson couldn't clear the primary field and only won the primary by about four points, barely edging out businessman Eric Hovde. A progressive populist, Baldwin enjoys a lot of crossover appeal and was the party's top vote-getter in 2018. Although on paper the race should have competitive, Baldwin won reelection by a solid 11 point margin.
Wisconsin's senior Senator is Republican Ron Johnson. A healthcare businessman, Johnson is a reliable conservative vote in the Senate. Running as a "guy from Oshkosh," he was first elected in 2010, when he defeated then-Sen. Russ Feingold (D). Much like Baldwin, Feingold was a populist progressive, but he put a special emphasis on civil liberties: he cast the lone vote against the Patriot Act in the Senate. He also worked to limit the influence of money in politics, notably working with the late Sen. John McCain. After the 2010 elections the Arizona senator called the Senate a "a much poorer place" without Feingold.
In 2016, Feingold sought a rematch. Many observers considered Johnson's 2010 win a fluke, and even some Republicans were quick to write him off. But as the incumbent, Johnson ran a smart race and ended up winning the rematch 50%-47%, running ahead of Trump. Johnson pledged to serve only two terms in the Senate, but has since walked that back a bit.
State level politics
Swept into power in the 2010 midterms, Republicans held total control of state government in Wisconsin until the 2018 elections. Democrats made considerable gains at the state level that year -- they flipped three offices: the Governorship, the Attorney General's office, and the Treasurer's office.
Then the sitting State Superintendent of Public Instruction, Tony Evers (though a Democrat, Evers technically held no party affiliation as Superintendent) narrowly defeated the arch conservative Gov. Scott Walker. The state has no gubernatorial term limits, and Walker was seeking a third full term. A villain to Democrats and a hero to the Tea Party movement, early in his tenure, Walker oversaw the passage of Act 10, a bill that was aimed at limiting the power of public sector unions. Act 10 inspired protests, and a round of recall elections the following year -- this very much set the tone for a divisive decade of state politics.
Walker leveraged his credibility on the right into an ill-fated presidential bid in 2016. He spent part of his childhood in Iowa, where his father was a preacher -- a profile that would seem appealing to evangelicals in that crucial early caucus. But his anemic campaign failed to catch fire and after two lackluster debate performances, he dropped out in September of 2015. Walker's political style may have found success in Wisconsin, but it failed to break through at the national level.
In office, Gov. Evers has generally boasted decent approval ratings but his public battles with the legislature haven't endeared him to Republican partisans, or Republican-leaning independents. Given the narrowness of his 2018 win -- and the bright purple hue of the state -- he is likely to face a strong challenge in 2022. Like almost every other governor in the nation, Evers got a bump in approval in the spring with the COVID-19 pandemic but that increase in approval has receded. Evers's approval rating has taken a hit following the riots in Kenosha, though recent polling finds him at an overall positive 47%-41% approval spread.
Wisconsin Secretary of State Doug LaFollete is the longest currently serving state Secretary of State in the country. First elected in 1974, LaFollete is a distant relative of the legendary Robert 'Fighting Bob' LaFollette. Robert LaFollete served as Congressman, Governor, and Senator before leading the Progressive Party as its 1924 presidential nominee.
Secretary LaFollete has held the office of Secretary of State from 1975-1979 and then again from 1983 to present. During that interim period, he was the Democratic nominee for Lieutenant Governor in the 1978 election. Due to the office's low profile and few responsibilities, he faced only a few serious opponents over the years. He's held on in some tough national years for the party, though often by single-digits.
Though the office was already relatively weak by the time Republicans took control of the legislature, the Secretary of State's budget was further reduced. Now a practically moribund office, the Secretary of State is little more than a glorified notary public. Similarly, the office of State Treasurer had much of its responsibilities transferred to other agencies, and there was even a referendum in 2018 on whether to abolish the office altogether. Voters rejected the constitutional amendment but unless Democrats are somehow able to regain control of both chambers, the Treasurer will continue to function as a zombie office with no real powers or duties.
Following the election of Democrats Tony Evers and Josh Kaul as Governor and Attorney General in 2018, Republicans convened in the lame duck session to reduce the powers of both offices and the conservative controlled State Supreme Court upheld the legislature's actions. Despite a favorable year in 2018, the legislature remained solidly in Republican hands, and neither chamber is considered competitive this year. Democrats can realistically only hope to prevent Republicans from regaining veto-proof majorities. In addition to the Republican-engineered gerrymanders, the state's geography puts Democrats at a natural disadvantage in the legislature: the party's voters are too heavily clustered in Madison and Milwaukee.
Outside political observers love Wisconsin for its marquee State Supreme Court elections, which take place in the spring. In presidential years, they're held in conjunction with the partisan primaries. With Democrats shut out of the legislature, these races have grown in importance to liberals. Though technically nonpartisan, the party lines are quite clear (the parties endorse and campaign for court candidates). Republicans hold considerable majorities in both chambers of the legislature, so Democrats view these races as their sole way of keeping a check on the legislature. Members of the court serve ten-year terms and no more than one seat can be up in any given year. Though Democratic-aligned judges have won two of the last three elections, conservatives retain a 4-3 edge on the seven-member court.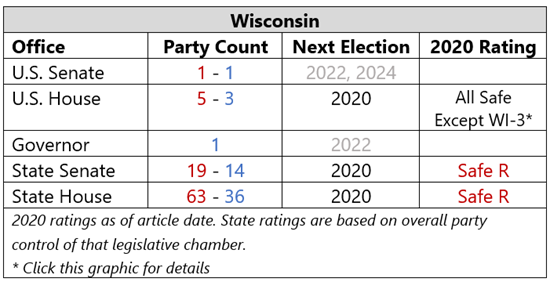 Presidential politics and 2020 outlook
Wisconsin first became a swing state in the 1960 election and with the exception of 1964, the state would not be decided by double-digits again until 1996. By the late 1980's though, Wisconsin began to take on a decidedly Democratic lean. Although Vice President George Bush handily won nationwide in 1988, he lost the Badger State to Michael Dukakis 51-48%, as the farm crisis of the 1980s hurt Bush in much of the Midwest. In that 1988 election, Wisconsin voted 11% more Democratic than the nation as a whole.
In the 2000 and 2004 elections, Wisconsin was among the nation's most contested states. In both elections, the state was won by the Democratic nominee by less than one percentage point. Obama's two big wins obscured the fact that Wisconsin is a very closely divided state. Having a Midwesterner on the ticket led to inflated Democratic margins and is one reason why so many Democrats, including those on Hillary Clinton's campaign, took the state for granted in 2016.
Joe Biden, for his part, has promised not to repeat the mistakes of Hillary Clinton and has aggressively courted the state. Although polling got the state wrong in 2016, there is reason for optimism among Democrats. A recent poll from the highly-regarded Marquette University Law School found Joe Biden's favorability to be a net -2, whereas Trump's is way down at -12. Marquette's findings really sum up the difference from 2016: Biden is a much more popular candidate than Clinton and Trump's vote share continues to track closely with his favorability numbers, suggesting he's having trouble getting people who dislike him to vote for him.
President Trump has tried to link Biden to the riots and protests in Kenosha but polls show voters don't associate him with them and are likely to blame President Trump instead. In that same Marquette poll, 54% of likely voters disapprove of Trump's handling of the protests.
For Biden to carry the Badger State he must win back Obama/Trump voters, particularly in western and southeastern Wisconsin. As Crystal Ball editor J. Miles Coleman pointed out recently, northern Wisconsin might be a region to watch this time. Biden has consistently polled better than Clinton with older voters, and northern Wisconsin, though it's taken on an increasingly GOP lean, has a population that skews older. Trump only carried senior voters in Wisconsin 49%-48% in 2016, so if he's clearly behind with them, it could be problematic. Biden doesn't need to win back every Obama/Trump voter in the rural areas, but reducing the Republican margins there is critical to a statewide victory.
---
Next Week:

Texas
Tentative Schedule: Ohio (9/28), Georgia (10/5), Florida (10/12), Iowa (10/19), Arizona (10/26), North Carolina (11/2). Dates subject to change.
We use the model powering the 2020 presidential election simulator to determine the following week's state. Specifically, we will look at the 'Battleground 270' results of 25,000 simulations run late Sunday afternoon. Of the states remaining, the next to be covered will be that with the highest likelihood of a Trump or Biden win as of that date. View the current state-by-state probabilities in the table at the bottom of the Battleground 270 page.
Reports in this series:
comments powered by

Disqus
Headlines