Ohio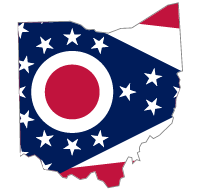 Ohio was the first state admitted under the Northwest Ordinance, entering the Union in March 1803. It participated in its first presidential election in 1804. Ohio has been a major battleground in recent elections due to the closeness of the vote and its wealth of electoral votes (currently 18). This was particularly true in 2004, when Ohio put George W. Bush over the top in a close 2 percent victory over John Kerry. 2016 saw Donald Trump defeat Hillary Clinton by over 8 points, the largest margin there since 1988.

In recent elections, the Buckeye State has proved itself to be a remarkably good predictor of the election winner. Since 1944, Ohioans have sided with the losing candidate only once – opting for Nixon over Kennedy in 1960. Ohio has been losing population (relative to the country as a whole) and it has lost about 1/3 of its electoral vote clout since the 1960s. It lost two electoral votes after the 2010 Census and is on track to lose one more after the 2020 presidential election.
Voting History
State voted with the overall winning candidate
Electoral College Votes
Colored bars represent electoral votes by party. Hover to see names. 2020 electoral votes shown in dark green until after the election.
Gray indicates available electoral votes that were either not cast or cast for a candidate not on the ballot.