The Road to 270: Texas
By Drew Savicki
September 21, 2020
The Road to 270 is a weekly column leading up to the presidential election. Each installment is dedicated to understanding one state's political landscape and how that might influence which party will win its electoral votes in 2020. We'll do these roughly in order of expected competitiveness, moving toward the most intensely contested battlegrounds as election day nears.
The Road to 270 will be published every Monday. The column is written by Drew Savicki, a 270toWin elections and politics contributor. Contact Drew via email or on Twitter @DrewSav.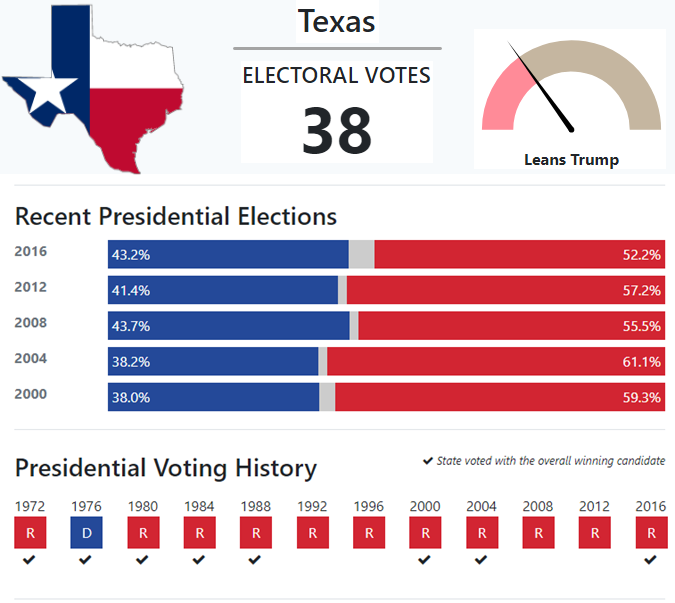 As Southern college-educated whites have begun to vote like their Northern counterparts, the Lone Star State - long a bastion of the Republican Party - has emerged as a newly competitive state. Dominated by several large metro areas and a diverse economy, Texas has seen migration from across the country. Though its rugged, cowboy persona still characterizes the state, elections are being increasingly decided in the suburbs of its large metro areas.
Congressional politics
Texas has emerged as a major congressional battleground in recent years. Forecasters such as Sabato's Crystal Ball put about a dozen Lone Star seats on the board this cycle, and almost all those districts are currently in GOP hands. By contrast, in 2012, the Crystal Ball ended the cycle by rating 34 of the state's 36 seats as Safe for either party -- an indication of how the playing field has expanded there.
All of this year's competitive Texas districts voted for Mitt Romney in 2012, but either gave Trump a lesser share, or outright flipped to Clinton four years later. The key factor is the education level. The Texas suburbs are home to no shortage of college-educated white voters -- a constituency that was receptive to Republicans like the Bush family but one that has been cooler toward Trump.
Let's start with two seats that are currently thought of as reach targets for Democrats. These are seats that the Crystal Ball rates as 'Likely Republican,' meaning they have potential to be competitive, but Republicans have a clear advantage.
TX-2: Outer Houston suburbs. Rep. Dan Crenshaw (R) was elected in 2018. Around the time of his election, Crenshaw came to fame after being mocked on SNL, and he later made an appearance on the show. A youthful veteran with a strong social media presence, Crenshaw seems likely to be around in politics for quite a while. Still, his district, which arcs north around Houston, is becoming less GOP. Trump won it by just nine points, after Romney carried it by 27% in 2012. Senator Ted Cruz (R) carried it by just one point in 2018. In his race, Crenshaw won the open seat by seven points in 2018. As the incumbent, he seems to have the upper hand now, but he'll need to keep generating that type of crossover support.
TX-3: Plano and other northern Dallas suburbs. Rep. Sam Johnson (R) held this district for 28 years -- he retired in 2018 and died earlier this year. Respected on both sides, Johnson was a veteran of both Korea and Vietnam, and was a POW during the latter conflict. In fact, in Vietnam, he shared a cell with another congressional giant: the late John McCain. Taking up most of Collin County, this area was one of the first in the state to start voting Republican. Romney carried it 63%-34% but Trump brought that down to just a 55-41% win, while Cruz only won this district by 3.5% in 2018. This district boasts the highest number of college-educated voters of any Republican held seat . Given the exodus of college-educated whites from the GOP, this is a real race to watch in November. Rep. Van Taylor (R) was elected in 2018 by a ten-point margin but some polling suggests a close race. If Biden flips Texas, or comes close, there's a good chance he carries this district.
The Crystal Ball also rates districts 6, 25, and 31 as 'Likely R' but these seats are not seeing the same level of attention as the other discussed above.
Moving on to the more competitive seats, there are two that are favored to flip to the Democrats, one is rated a tossup, and another rated as 'Leans Republican.'
TX-10: Western Houston to Austin. One of the wealthiest members of Congress, Rep. Mike McCaul has represented this district since 2005. In 2016, McCaul toyed with a 2018 intraparty challenge to Ted Cruz after the Senator declined to endorse then-nominee Donald Trump at the party convention. Eventually, Cruz warmed to Trump. McCaul faced the closest race of his career in 2018, winning by just 4%. By comparison, in the Senate race, then-Rep. Beto O'Rourke squeaked out a win in the district. Overall, there seem to be better Democratic targets this time: McCaul's personal wealth allows him to bankroll his campaign.
Let's look at the two that are likeliest to flip -- the Crystal Ball rates districts 23 and 24 as 'Leans Democratic':
TX-23: San Antonio suburbs, U.S./Mexico border, and El Paso. Rep. Will Hurd (R), a moderate Republican and the lone Black Republican in the House, is retiring after just three terms. In 2018, Hurd prevailed by less than 1,000 votes against Democrat Gina Ortiz Jones. Jones is back again and seems favored to flip this geographically vast seat. She maintains a considerable financial advantage over Republican Tony Gonzales.
TX-24: Northern Dallas suburbs. Democrat Candace Valenzuela seems favored to flip this diversifying district held by retiring Republican Kenny Marchant. Marchant has been a backbench conservative who narrowly fended off a poorly funded challenger in 2018. That year, O'Rourke, carried the district and Valenzuela seems to have an ideal background to build upon his performance. In a video kicking off her campaign, she outlined her biography as an Afro-Latina woman who grew up in poverty and is now on a local school board. Over the past two decades, the area has moved left quickly. Republicans have a serious nominee in former Irving mayor Beth Van Duyne, but if Texas is as close as state polling indicates, Biden could help Valenzuela flip the seat.
Looking at two Democratic held seats that the party flipped in 2018, both incumbents appear to be in good shape for reelection.
TX-7: Western Houston suburbs. In 2018, Democratic Attorney Lizzie Fletcher defeated nine-term Rep. John Culberson (R) in the state's 7th District. Once represented by George H.W. Bush, TX-7 is one of the most historically Republican districts in the state. Encompassing much of western Harris County, the 7th District is home to a large population of affluent white voters. The National Republican Congressional Committee (NRCC) recently canceled ad buys in the Houston market, a sign that they are giving up on winning back TX-7. The Crystal Ball currently rates this as 'Leans Democratic,' but that could change given the cancellations by the NRCC. Republicans have a credible candidate in veteran Wesley Hunt. He has proven himself a strong fundraiser but it seems the trendline is too steep for him to overcome. As one of the few Black Republicans nominated for a congressional seat, Hunt has enjoyed considerable attention from the Republican establishment, including endorsements from President Trump and Senator Ted Cruz (a resident of this district).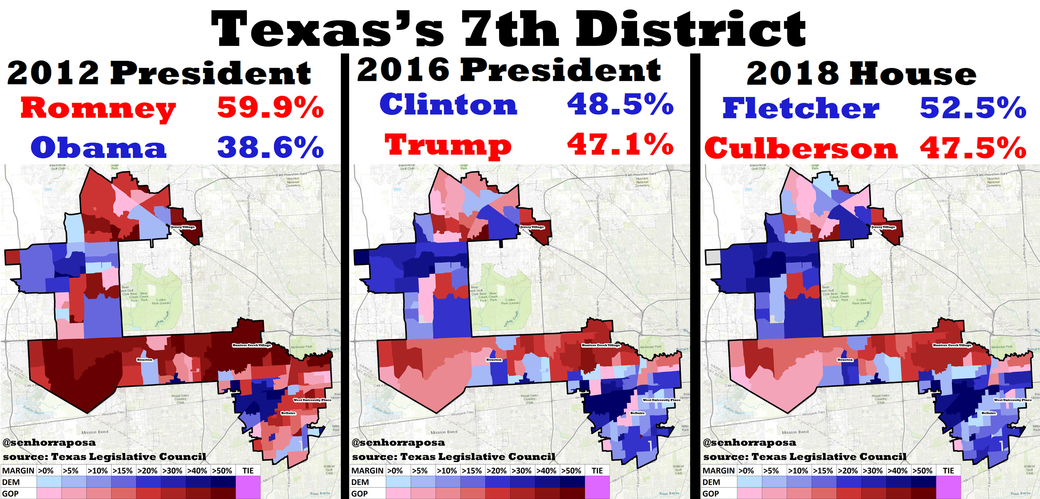 TX-32: northern Dallas suburbs, this is the home district of former President George W. Bush. Former NFL linebacker and attorney Colin Allred defeated Rep. Pete Sessions 52%-46% in 2018. This district went for Hillary Clinton 49%-47% in 2016, after Mitt Romney carried it by 15 points in 2012. Allred has proven to be an outstanding fundraiser and this seat has fallen off the target list, as the Crystal Ball rates it as 'Likely Democratic'.
Although he doesn't represent a competitive district, Rep. Henry Cuellar (D) (TX-28) is one of the more interesting members of the congressional delegation. The Laredo Democrat opposes abortion rights and was a close ally of then Governor W. Bush while he was in the Texas legislature. Cuellar faced a close primary earlier this year and will likely remain a big target for progressives in the future. Cuellar's stance on abortion is to put it mildly, quite of step with the party. Given his friendliness with many Republicans in the legislature, Cuellar is a rare Democrat the party will try to shore up in redistricting, likely by removing the San Antonio suburbs where he was quite weak in his primary.
Texas also has a Senate election on the ballot this year, one that has taken on a much lower profile than the barnburner 2018 Cruz/O'Rourke race. Sen. John Cornyn (R) was first elected in 2002 and previously served as the Senate Majority Whip from 2015-2019. Earlier in his career, Cornyn was a County Judge, then State Supreme Court Justice, and in 1998 was elected Attorney General of Texas. This seat has not been a priority for Democrats seeking to reclaim the majority in the upper chamber. The Democratic nominee - Veteran MJ Hegar came close to flipping a House seat in 2018, but has struggled to raise the money necessary to compete in a very large and expensive state.
A villain among Democrats, Texas's junior Senator, Ted Cruz, first came to the Senate in 2013. A former state Solicitor General, Cruz has straddled the line between establishment and anti-establishment conservative in the Senate. The son of an evangelical pastor, Cruz heavily targeted those voters in his ill-fated presidential bid in 2016. Cruz's path to victory in the primary was predicated on strong support from evangelicals, Tea Party conservatives, and libertarians. When that 2016 primary ended as essentially a two-man race between Cruz and Trump -- with Ohio Governor John Kasich as a third wheel -- the Texas senator, ironically, found himself appealing to the party's establishment elements. What Cruz couldn't see coming when he launched his bid was Trump's ability to bring out droves of newer, often less ideological voters, to Republican primaries.
State level politics
With Republicans support among college-educated whites declining, Democrats are making a play for the Texas House of Representatives this year. Unlike in Wisconsin, where Democrats are clustered into two major areas, Republicans face a geographic problem in Texas. Simply put, too many of their voters are located in the state's sprawling rural areas. GOP strength in the Panhandle, Central Plains, and the eastern Piney Woods is close to being maxed out, and only so many voters are there.
By contrast, the Democratic-trending suburbs have seen explosive growth. After picking up 11 seats in 2018, Democrats need nine more to gain the majority. The party has released a flurry of internal polls showing them either leading or close in seats that would have once been unthinkable for the party to contest. Meanwhile on the Republican side, internals have been scarce. With rural Democrats being a thing of the past, the party is almost entirely on offense.
If there's one seat that's a bellwether in November, it's House District 134. Sarah Davis is perhaps the most moderate Republican in the chamber and the only Republican in the legislature who supports abortion rights. If she loses, Democrats will have taken the chamber.
The Texas governorship has been a launching pad for presidential campaigns, and that seems likely to continue. Gov. Greg Abbott is a favorite of conservatives and as governor of a large state, he enjoys a large platform. It seems likely that Abbott will run for President regardless of whether Trump loses this year. Not bound by term limits, he'll be up for reelection in 2022 and seems likely to seek a third term, much to the chagrin of some other state Republicans. Lt. Gov. Dan Patrick and state Attorney General Ken Paxton are known to have bigger ambitions, so Abbott may be creating something of a logjam. Another Texas politician to watch is Land Commissioner George Prescott Bush. Though the office is low profile, he's notable as a member of the Bush family.
Texas is a rare state where arguably the Lt. Governor is a more powerful position than Governor. As President of the Texas Senate, the Lt. Governor has an outsized role in setting the majority's agenda and running the day to day operations of the chamber. The position greatly resembles the Lt. Governors of the old South, who also enjoyed similar powers but were reduced over the years. Like how it was in those states, the Texas Lt. Governor's powers are established by Senate rules rather than being enshrined in law. If a majority of Senators wanted, they could easily shift the powers to the President Pro Tempore. Although a Democrat, Lt. Governor Bob Bullock enjoyed a strong relationship with then Governor George W. Bush and was a key player in pushing Bush's agenda as Governor. Texas is also rather unique in that neither chamber is technically organized by party, but the divisions are quite clear.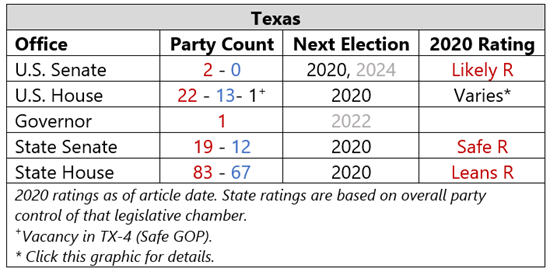 Presidential politics
Texas's emergence as a presidential battleground is rather new. The state has reliably voted Republican for President since 1980 and has elected only Republican Senators since the 1990s. Texas lurched rightward in the Reagan era thanks to the Democrats increasingly becoming a party of social liberalism and environmentalism. The oil industry is a major economic powerhouse in the Lone Star state, employing thousands of people across the state -- indeed, pumpjacks have long been iconic fixtures that dot the west Texas landscape. With the party running liberal candidates in 1984 and 1988, there wasn't much to offer to Texas voters.
In 1992, the state was more competitive, as the Democratic nominee was Arkansas governor Bill Clinton. Though President George H. W. Bush claimed Texas as his adopted home, another Texan on the ballot, Reform Party nominee Ross Perot, also made the race closer than usual. With then-Gov. George W. Bush on the ticket, Texas wasn't in play in 2000, and Bush cleared 60% there in 2004. Despite the national wave that year, Texas wasn't in play in 2008. By 2016, Texas Republicans had virtually maxed out in the state's rural areas, but had considerable room to fall in the populous educated suburbs that dominate the state.
There has been limited high quality polling of the state this year but most recent surveys have been close, generally within the margin of error. Although Biden is seeing weaker support among Hispanics in Florida than Clinton did in 2016, Hispanics in Texas are a different bunch. His increase in support among college-educated whites offsets any losses among blue collar Hispanics in the Rio Grande Valley. Those areas don't offer many votes.
The real battle for Texas is in the suburbs of places like Houston, Austin, and Dallas. Three counties in the Dallas metro area are worth watching this year: Denton, Collin, and Tarrant. To win Texas, Tarrant seems like a must-win county for Biden, and he'll need to keep the other two within a few points.
What does Trump need to do to keep the state in his column? He needs to reverse his slide with college educated voters, particularly white women. Unlike in the Midwest, non-college educated whites are not a swing group in Texas -- a large majority of them will support Trump. If Trump continues to slide with college educated white voters, the Midwest won't be his pressing concern -- it will be Texas. Fresh polling from CBS shows Trump leading Biden 48%-46% in Texas. CBS gives Trump a 53%-40% lead with white college graduates, but that's a clear drop from the 62%-31% margin he earned with them in 2016.
Texas has 38 electoral votes, second only to California, a number that's expected to grow by three after this year's census. Trump has virtually no path to reelection without Texas, and, given the larger trends, future Republican nominees will have to work increasingly hard to keep it in the red column.
---
Next Week:

Ohio
Tentative Schedule: Georgia (10/5), Iowa (10/12), Arizona (10/19), Florida (10/26), North Carolina (11/2). Dates subject to change.
We use the model powering the 2020 presidential election simulator to determine the following week's state. Specifically, we will look at the 'Battleground 270' results of 25,000 simulations run late Sunday afternoon. Of the states remaining, the next to be covered will be that with the highest likelihood of a Trump or Biden win as of that date. View the current state-by-state probabilities in the table at the bottom of the Battleground 270 page.
Reports in this series:
comments powered by

Disqus
Headlines