Wisconsin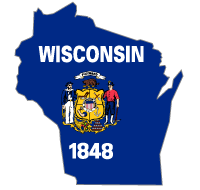 Wisconsin gained statehood in May 1848. Primarily Republican through 1928, the state (like most) turned Democratic during the Great Depression and World War II. From the mid-1940s through 1984, the state voted Republican more often than not. Democrats won the seven elections from 1988 through 2012, although the 2000 and 2004 races were extremely close. This streak was broken in 2016 when Donald Trump won the state by 0.7% over Hillary Clinton. The victory came despite the fact that of the dozens of polls tracked in the months leading up to the election, not a single one had him winning the state.
Voting History
State voted with the overall winning candidate
Electoral College Votes
Colored bars represent electoral votes by party. Hover to see names. 2020 electoral votes shown in dark green until after the election.