Gov. Hochul Signs New York Congressional Redistricting Into Law
By 270toWin Staff
February 4, 2022, 2:50 PM ET
New York Gov. Kathy Hochul (D) has signed the state's new congressional map into law, one day after the plan was approved by the Democratic-controlled state Legislature. The new map has national implications, singlehandedly improving Democratic prospects to keep control of the U.S. House.
Democrats currently hold a 19-8 margin in the House delegation. As we wrote the other day, the new map will leave the Party well-positioned to gain up to three additional seats. Those GOP-held Districts are 1 (Long Island), 11 (Staten Island), and 22 (Central New York). The state is also losing a district meaning Democrats could control as many as 22 of 26 seats next year. For a more granular look at the state of play in each new district, see these analyses by David Wasserman for The Cook Political Report ($) and Harrison Lavelle for SplitTicket.
The New York shapes have been added to the House Interactive map.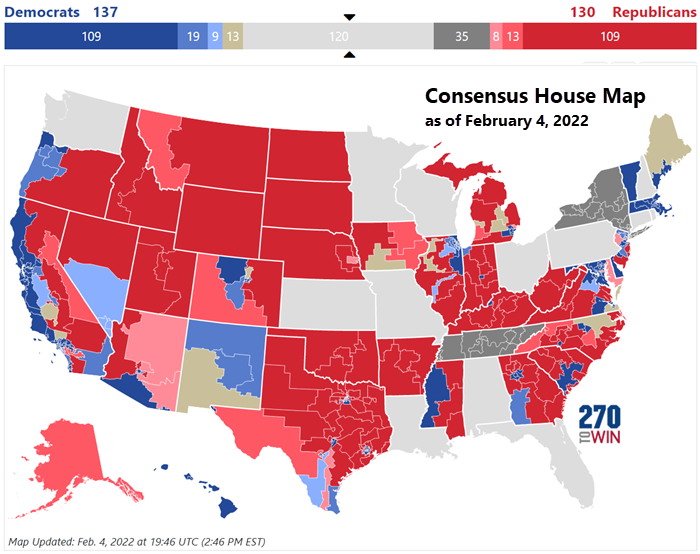 Remaining States
13 states, with 120 total districts have yet to complete congressional redistricting. The two largest, Florida and Pennsylvania, combine for 45 (38%) of these districts.
| | |
| --- | --- |
| State (Districts) | Comments |
| Alabama (7) | Returns to the list after a Federal Court issued a preliminary injunction against the newly-enacted map based on the Voting Rights Act. Any change to this ruling would need to be via the U.S. Supreme Court. How the Court rules may also impact redistricting in other Southern states covered by the Act. |
| Connecticut (5) | Redistricting commission was unable to pass a new map, punting the responsibility to the State Supreme Court. The Court appointed a special master, who submitted his proposed map. It represents only minor changes from the map currently in use. The Court held a hearing on the merits of the plan late last month. |
| Florida (28) | The state is gaining a district. The state Senate overwhelming approved a plan; the state House has developed a couple proposals of their own. The process is essentially on hold as Gov. Ron DeSantis (R) has asked the Florida Supreme Court to weigh in on whether District 5 must remain largely intact. That district sprawls across the northern part of the state and connects Black voters such that they can elect a representative of their choice. DeSantis submitted his own map which essentially throws out that structure. |
| Kansas (4) | Democratic Gov. Laura Kelly vetoed the redistricting bill passed by the Republican-controlled Legislature. The plan splits Kansas City into two districts. The shift jeopardizes the state's lone Democratic member, Rep. Sharice Davids (KS-3). The Legislature will attempt to override the veto; a close vote is expected. |
| Louisiana (6) | The Legislature is meeting in special session this month to pass a redistricting plan. A number of proposals have been introduced. At a high level, the GOP would like to roughly maintain the status quo, while Democrats favor the addition of a second majority-minority district. |
| Minnesota (8) | The legislature has until February 15 to pass a new map. They are more likely than not to miss that deadline, at which point a five-judge panel will take over the process. That panel has already held hearings and may be able to act fairly quickly if needed. |
| Missouri (8) | A map that largely maintains the status quo 6-2 Republican edge was passed by the state House. It goes on to the full Senate, after being advanced by that body's redistricting committee. Some conservatives in the state Senate are pushing for a more aggressive map that would 'crack' Kansas City such that Democrat Emanuel Cleaver would have a difficult time getting reelected. |
| New Hampshire (2) | The Republican-controlled state House approved a map that would make District 1 more favorable for the party. The Senate has not yet taken action; GOP Gov. Chris Sununu has asked that chamber to modify the House map to make both districts more competitive. |
| Ohio (15) | The state is losing a district. Ohio returned to the incomplete list after the State Supreme Court invalidated the enacted plan, calling it an unconstitutional Republican gerrymander. The legislature was given a month to draw a new map not dictated by partisan considerations. |
| Pennsylvania (17) | The state is losing a district. The Democratic-controlled Pennsylvania Supreme Court has taken over the redistricting process. Commonwealth Court Judge Patricia McCullough, a Republican, is serving as a special master in the process. She will recommend a map, after which other parties can object. A hearing will be held February 18. |
| Rhode Island (2) | Commission has approved a map with little change from the current one. It is not binding on the Democratic-controlled legislature. It will be interesting to see if there is an attempt to shore up District 2, which has a small chance of becoming competitive given the retirement of long-time Rep. Jim Langevin. |
| Washington (10) | The state House recently approved a map that made very minor modifications to one passed by the state's redistricting commission in November. It heads to the Senate, which must also approve it with a 2/3 majority. |
| Wisconsin (8) | In November, Democratic Gov. Tony Evers vetoed the map passed by the Republican-controlled legislature, passing the process to the State Supreme Court. The Court held a daylong hearing last month to consider various proposals. |
comments powered by

Disqus
Headlines