The Road to 270: North Carolina
By Drew Savicki
November 2, 2020
This is the 51st and final installment in The Road to 270 series. The column is written by Drew Savicki, a 270toWin elections and politics contributor. Contact Drew via email or on Twitter @DrewSav.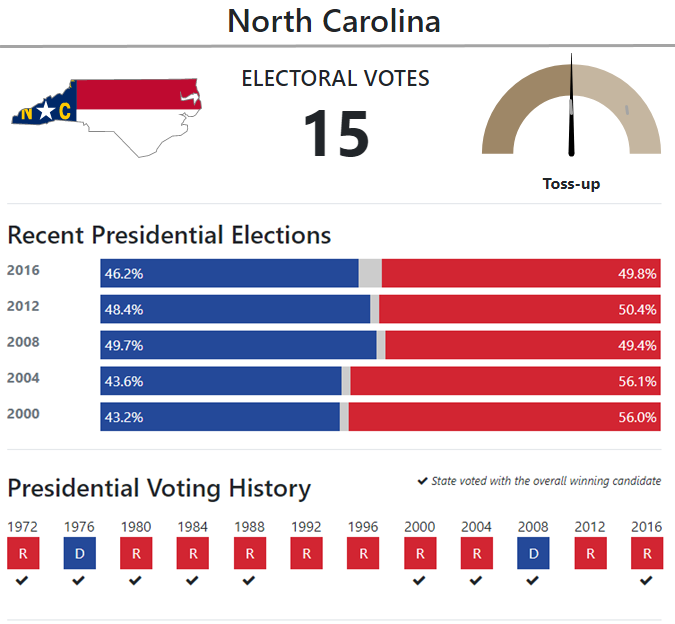 North Carolina has transformed from being the heart of the tobacco industry in the old south to a bustling hub for business and technology. The Tar Heel state has shed its traditional conservative lean in favor of a decidedly purple or light pink status. A population boom over the last 10 years has brought enormous change to North Carolina. Bitter polarization has come to grip the state's politics during this period, with the Tar Heel state the subject of numerous court battles over voting rights, LGBT rights, same sex marriage, etc.
2010: A realigning election
2010 was probably the single most important election in the history of North Carolina. After over a century of Democratic control of the legislature, Republicans toppled the Democratic supermajorities and won supermajorities of their own. Governor Bev Perdue (D) went from having the trifecta to being a sitting duck with Republicans able to override many of her vetoes. The North Carolina Governor possesses no veto power over redistricting so the GOP had full control over the process. Republicans successfully gerrymandered their supermajorities to remain until 2018. That 2010 election ushered in an era of conservative dominance and transformed a once sleepy state party.
Following the election of Barack Obama in 2008, Democrats were quite optimistic about the upcoming elections in North Carolina and for good reason. Obama became the first Democrat since Jimmy Carter to win the state and Kay Hagan (D) had just defeated Senator Elizabeth Dole (R). Democrats set their sights on defeating freshman Senator Richard Burr (R) in 2010 and popular Secretary of State Elaine Marshall jumped in the race against him. National Democrats backed former State Senator Cal Cunningham, who had the backing of the Democratic Senatorial Campaign Committee (DSCC). Cunningham lost a runoff against Marshall by 20%. That would be the last time - until the Tennessee primary this year - that a DSCC backed candidate lost the primary. 2010 didn't turn out to be a good year for Democrats and Burr won reelection by 12%.
By 2012, Governor Bev Perdue was deeply unpopular and opted against running for reelection. Democrats nominated Lt. Governor Walter Dalton, who although was elected separately, was nonetheless heavily tied to Perdue by Republicans. Dalton could not escape Perdue's shadow and lost the general election to Charlotte Mayor Pat McCrory (R). McCrory - at the time a moderate Republican, was also the party's nominee in 2008. In office, McCrory was little more than a figurehead for the state's Republican establishment and signed nearly every piece of conservative legislation that came before his desk.
The 2010 election set in motion a chain of events that led up to present day and helps explain North Carolina's perpetually gridlocked and polarized politics.
Congressional politics
Due to court ordered redistricting, North Carolina is seeing several competitive congressional races this year, an unusual occurrence in recent cycles. Unlike many other states, North Carolina lacks a true swing district. All 13 Congressional Districts have voted the same way in the past three presidential elections.
Particularly of interest is the state's 8th District, which includes Fayetteville and the surrounding communities. Home to the largest military base in the United States, NC-8 best resembles the 2nd district in Arkansas. A mixture of urban, suburban, and rural - with a large Black population - this district has been represented in some form by Rep. Richard Hudson (R) since 2013. Hudson faces a competitive race from former North Carolina Supreme Court Justice Pat Timmons-Goodson (D). In Congress, Hudson has been fairly anonymous and this is his first real race since 2012 when he defeated Rep. Larry Kissell (D). There has been an uptick in spending in this district in recent weeks and Timmons-Goodson has the ideal profile for a Democrat here. Both Cook and the Crystal Ball rate this district as 'Leans Republican' so Hudson is the favorite but not prohibitively so. This Fayetteville centric district is also a major battleground for control of the state legislature. This area will be worth watching on election night.
Thanks to court mandated redistricting, Democrats are all but certain to pick up two districts. The 2nd and 6th Congressional Districts were redistricted from Republican gerrymanders to solidly Democratic seats. The new 2nd District encompasses much of Wake County including all of Raleigh and its southern suburbs. The new 6th district includes both Winston-Salem and Greensboro. Reps. George Holding and Mark Walker (R) decided to retire rather than mount considerably uphill battles for these redrawn seats.
Although it has flown under the radar this year, the 9th district could very well be a sleeper race. Rep. Dan Bishop was elected in a highly contested special election in 2018. This time the race hasn't drawn much attention but this seat, which stretches from the Charlotte suburbs to rural Robeson County, could be quite competitive. The Charlotte suburbs have rapidly trended Democratic in recent years and Bishop could lose in a wave election.
Out west is the state's 11th District, which is surprisingly competitive. White House Chief of Staff Mark Meadows represented this district from 2011 until his resignation in March. This Appalachia district was redrawn to include all of solidly Democratic Asheville. Republican Madison Cawthorn upset the Trump and Meadows backed candidate in the primary, and later got a primetime speaking slot at this year's Republican Convention. However, Cawthorn faces allegations of sexual harassment and recently removed racist language from his website. The Democratic nominee, Moe Davis is hardly without problems either. The former Chief Prosecutor at Guantanamo Bay, Davis has few connections to the district and tends to shoot his mouth off. This race between two flawed candidates has turned more expensive as both parties have invested here. Cawthorn has the edge if ever so slightly. It's possible Davis could win but western North Carolina isn't particularly friendly turf for Democrats anymore. It seems likely that former Rep. Health Shuler (D) is kicking himself for not running this year.
If Shuler had sought a comeback, it's possible he might be favored to win back his old district. A former NFL quarterback, Shuler represented NC-11 from 2007-2013. He was a very popular congressman but retired in 2012 when Republicans gerrymandered the seat to remove Asheville from it. Alternatively, had she not run for Lt. Governor, State Senator Terry Van Duyn would have been a strong Democratic candidate for this district.
North Carolina is no stranger to competitive or expensive U.S. Senate races but this year breaks the record. It is the most expensive U.S. Senate race in American history. According to OpenSecrets.org, almost $300 million has been spent on the race. Freshman Senator Thom Tillis (R) served previously as Speaker of the North Carolina House. A Chamber of Commerce style establishment Republican, Tillis's political style is a poor fit for Trump's populist Republican party. In the Trump era, Tillis has been viewed skeptically by the party's right flank and the diehard Trump supporters. His orthodox conservative policies do not neatly mesh with Trumpism and his strident conservatism has alienated the other half of the state. Tillis was narrowly elected to the Senate in 2014 when he defeated the late Senator Kay Hagan. Hagan, a longtime Democratic state legislator from Greensboro, was elected in the 2008 wave. Tillis heavily tied her to Obama, who was unpopular in the state at the time.
This year, Tillis is facing a very close race from Cal Cunningham. After originally running for Lt. Governor, Cunningham has run a low-key healthcare centric campaign and it appears that is what voters want. In early October, revelations of an affair Cunningham was having came to light and Republicans have seized on the issue. Though it's lowered his favorability numbers, it hasn't made a dent in the horse race numbers. Cunningham continues to lead by low single digits as he did pre-scandal. As long as Biden holds his lead here, it's hard to see a path to victory for Thom Tillis.
North Carolina's senior Senator Richard Burr has maintained a low profile during his tenure. A former Congressman from Winston-Salem, Burr was first elected to the Senate in 2004 and served as Chairman of the Senate Intelligence Committee from 2015 until May of this year. Burr stepped down as Chair following the announcement of a criminal investigation into an insider trading scandal. Burr is a low profile affable Senator known for his odd car and the fact that he does not wear socks. After five terms in the House and three terms in the Senate, Burr is planning to retire in 2022. There are a number of potential candidates on both sides, ranging from folks like Mark Meadows to Roy Cooper. It seems likely this race will be highly contested regardless of the winner of this year's presidential election.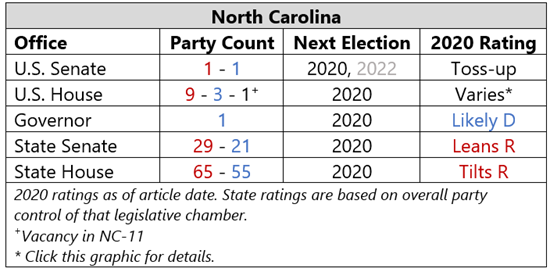 State level politics
With all of its statewide offices elected in presidential years, North Carolina's state politics are heavily influenced by the top of the ticket. Five statewide races were decided by less than 1% in 2016. With Joe Biden increasingly likely to win the state and Governor Cooper cruising to reelection, a downballot sweep seems more likely. North Carolina's 10 statewide offices are part of what's called the Council of State. Following the 2016 elections, Republicans hold a slim majority but that's not likely to be the case after this year's election.
First elected to the state legislature in the 1980's, Governor Roy Cooper has been a staple of North Carolina politics for many years. Having served four terms as North Carolina's Attorney General, Cooper ran for Governor in 2016 and narrowly defeated Governor McCrory. Cooper heavily focused his campaign on the blowback North Carolina received from House Bill 2. Colloquially known as the 'Bathroom Bill', HB2's passage caused an immediate uproar. This bill not only barred transgender people from using the bathroom of their identified gender but also overturned an LGBT anti-discrimination ordinance passed by the Charlotte City Council. It also prevented cities from raising their minimum wage higher than the state's minimum wage. This bill prompted severe backlash against the state of North Carolina. Sports tournaments, conventions, concerts, business events, etc. were all canceled. This had a tangible economic impact and North Carolina. Especially in a southern state, the evangelical wing of the Republican Party is quite powerful and they represent a major wing of the state party. This bill was met with widespread approval by them but found backlash elsewhere. Caught between a rock and a hard place, McCrory doubled down in his defense of the bill and it probably cost him reelection.
As Governor, Roy Cooper has largely been a sitting duck but one of his biggest achievements was negotiating a repeal of HB2. Was it a perfect bill that had everything Democrats wanted? No, but it fulfilled a campaign promise of Cooper's. Having to deal with Republican supermajorities for most of his time as Governor, Cooper has been almost entirely unable to get his agenda passed. Despite the divided government, Cooper has maintained high approval ratings as Governor and his handling of the COVID-19 pandemic has earned him accolades. Cooper is a prohibitive favorite for reelection against the Lt. Governor Dan Forest. Forest - a staunch social conservative, is running a largely moribund campaign and struggling to drum up enthusiasm against an affable Governor. Cooper will glide to reelection and there is a great deal of discussion about his future. With an open U.S. Senate seat in 2022, Cooper could very well be a candidate for it, if Democrats flip the open Lt. Governor's race this year. As one of the nation's weakest chief executives, the North Carolina Governor is hardly an enviable position to have, especially under divided government.
With Cooper's possible coattails, Democrats have realistic chances at flipping at least one chamber of the North Carolina General Assembly. Combined with Democrats holding their majority on the North Carolina Supreme Court, that would give them leverage in redistricting. One of Cooper's key priorities has been to expand Medicaid and if Democrats do flip both chambers, that will be a big priority for the new Democratic majorities.
Presidential politics and 2020 outlook
This is only the fourth election in which North Carolina is a swing state. Like Georgia, this is a state that George W. Bush had no trouble winning either time. Even with North Carolina Senator John Edwards in 2004, John Kerry still lost this state by double digits. Since then, millions of new voters have come to North Carolina, transforming the Tar Heel state from solid red to a sort of pinkish color. As a decidedly center-right state, North Carolina's not quite purple but it is very competitive.
Since the Tar Heel lacks a true bellwether county let's look at a few interesting ones.
Robeson County (Lumberton): This rural majority minority county in southeastern North Carolina is on paper an odd place to trend rightward. Home to the Lumbee tribe, this socially conservative county overwhelmingly backed Amendment 1 in 2012, which outlawed same-sex marriage in North Carolina. Robeson is a quirky little place. Once reliably Democratic, it's made a strong trend rightward in recent years as Democrats become increasingly associated with social liberalism. This county flipped to Trump after voting for Obama twice. It's not a must win for Trump but he really can't afford a slippage in other rural areas.
New Hanover (Wilmington): This suburban county is one of the likeliest Trump/Biden counties in the country. As one of the more educated counties in North Carolina, there's really not much going for Republicans here. This probably isn't a must win for Trump but he will need to keep Biden's margin down.
Gaston and Union: Bordering Mecklenburg county to the west and east are the GOP strongholds of Gaston and Union. These exurban counties are reliably Republican but the population boom in recent years might change the composition of the electorate a bit. It's evident that Trump and Republicans are feeling the heat in Gaston County as the President recently rallied in Gastonia. It's rather uncommon to see a GOP nominee for President rallying there days before the election. If Biden can hold Trump to below 60% of the vote in both of these counties, he's on his way to victory statewide.
With Biden recently gaining in the polls here, Democrats have been increasingly optimistic that the Tar Heel state will flip. Biden is likely to get previously unthinkable margins out of the two largest counties in the state – Wake and Mecklenburg, both of which voted for George W. Bush at least once. The state will be one to watch when the polls close at 7:30 Eastern Time on Tuesday. There are few paths to victory for Trump without North Carolina. Likewise, Democratic hopes of taking control of the Senate will take a significant hit if they can't flip the seat here.
---
Select a state on the map to read its 'The Road to 270' article.
comments powered by

Disqus
Headlines