North Carolina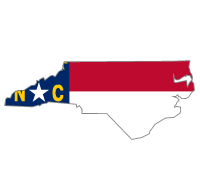 North Carolina, one of the original 13 colonies, entered the Union in November 1789. The state did not participate in the 1864 election due to secession. Like many other southern states, North Carolina voted almost exclusively Democratic from 1876 through 1964 and almost exclusively Republican beginning in 1968. The initial shift was largely in response to white conservative voter uneasiness with the civil rights legislation passed in the mid-1960s, which was effectively exploited by the Republicans "southern strategy."

In 2008, Barack Obama reversed the trend of Republican dominance here (although just barely), defeating John McCain by about 14,000 votes out of 4.3 million cast (49.7% to 49.4%). In percentage terms, it was the 2nd closest race of the 2008 election (behind Missouri). In 2012, North Carolina was again the 2nd closest race (this time behind Florida) as the state flipped Republican. Mitt Romney beat Obama by about 2%. Donald Trump won the state by 3.6% over Hillary Clinton in 2016. Based on population projections, the state may gain an additional electoral vote after the 2020 presidential election.
Voting History
State voted with the overall winning candidate
Electoral College Votes
Colored bars represent electoral votes by party. Hover to see names. 2020 electoral votes shown in dark green until after the election.
An empty column indicates the state did not participate in that election.