The Road to 270: Michigan
By Drew Savicki
August 31, 2020
The Road to 270 is a weekly column leading up to the presidential election. Each installment is dedicated to understanding one state's political landscape and how that might influence which party will win its electoral votes in 2020. We'll do these roughly in order of expected competitiveness, moving toward the most intensely contested battlegrounds as election day nears.
The Road to 270 will be published every Monday. The column is written by Drew Savicki, a 270toWin elections and politics contributor. Contact Drew via email or on Twitter @DrewSav.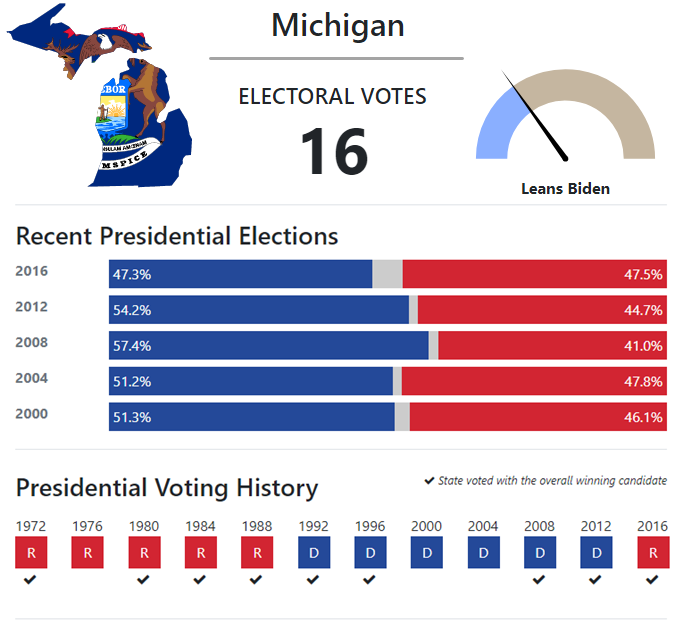 Michigan - the birthplace of American auto industry and a booming industrial center in the Midwest has fallen on hard times in recent years. The increased outsourcing of manufacturing has been felt deeply in the state. Long past its golden age, Detroit has struggled to revitalize itself and has fallen behind other major cities in the country.
Geography
Michigan can be divided up into a few geographical regions that help explain its current political divide.
Northern Michigan: The northern half of Michigan can be split into two subregions. The first is the upper peninsula or as it is often referred to, the "UP". This largely rural and blue collar region has drifted away from the Democrats in recent years. On the far western end is Gogebic County, a former mining community. Like other such communities, it was once reliably Democratic but swung heavily towards Trump.
The area below the UP is referred to as the northern lower peninsula. This rural region is where some of the most Republicans areas in the state are located. Particularly interesting in this region are two resort counties that, unlike other counties in the area, have trended leftward. Leelanau and Grand Traverse Counties swung heavily towards Democrats in 2018. By contrast, the counties in this region that border Lake Huron are more comparable to those on the UP.
Central Michigan: Home to three major metro areas in Lansing, Grand Rapids, and Flint. The Grand Rapids area, where Gerald Ford was raised, is a traditional Republican bastion that has trended Democratic in the Trump era. Meanwhile, the more industrial Flint area has seen a declining population and its heavily white working class suburbs have raced towards Republicans.
Western Michigan: Traditionally Republican, this area largely overlaps with the state's 2nd and 6th Congressional Districts. It is home to a sizable Dutch population that has influenced its conservatism. Republican Fred Upton has represented the 6th Congress since the late 1980's. Although he's generally had a lock on his Kalamazoo based district, 2018 saw the closest race of his career. This region is predominately suburban but still swung towards Trump in 2016. It saw a considerable shift back to the Democrats in 2018 and will be a crucial region for both sides in the presidential race this year.
Detroit Metro: Michigan's population hub, this region is the source of Democratic votes in the state. As residents have moved out of Detroit into the suburbs, the demographics of the suburbs have shifted. The small city of Harper Woods - northeast of Detroit, has seen a stunning demographic transformation in 20 years.
The Thumb: This rural region is mostly industrial and a Republican bastion. No Democratic nominee for President has carried this region since Bill Clinton in 1996. Like most rural white areas, this region swung heavily towards Trump in 2016. The Thumb based 10th Congressional District has seen quite a bit of turnover in the past few years, first with longtime GOP Rep. Candice Miller's retirement and then her successor's retirement this year.
Congressional politics
The past decade has seen considerable turnover in Michigan's congressional delegation. House Dean John Dingell retired in 2014, with his successor as Dean, John Conyers resigning amidst a 'MeToo' scandal in 2017.
Representing Southeastern Michigan in Congress for nearly 60 years, Dingell was a beloved staple of the state's politics. He first won election to the House in a 1955 special election held following the death of his father, Rep. John Dingell Sr. He had little trouble holding the seat, winning reelection with more than 60% of the vote all but twice in his career, one of which was in the Tea Party wave of 2010. A steadfast supporter of his state's auto industry and ally to organized labor, Dingell was a mainstream Democrat, though he broke with the party on gun rights. The family dynasty, which began in 1933, continues to this day: John Dingell passed the torch to his wife Debbie, who is now completing her 3rd term.
Michigan has something of a fondness for dynastic politics as Democratic Reps. Dan Kildee and Andy Levin come from well-known political families. Kildee represents one of the most interesting districts in the state. The Flint based 5th district snakes up into several predominately white working class counties that prior to 2016 used to be quite friendly to Democrats.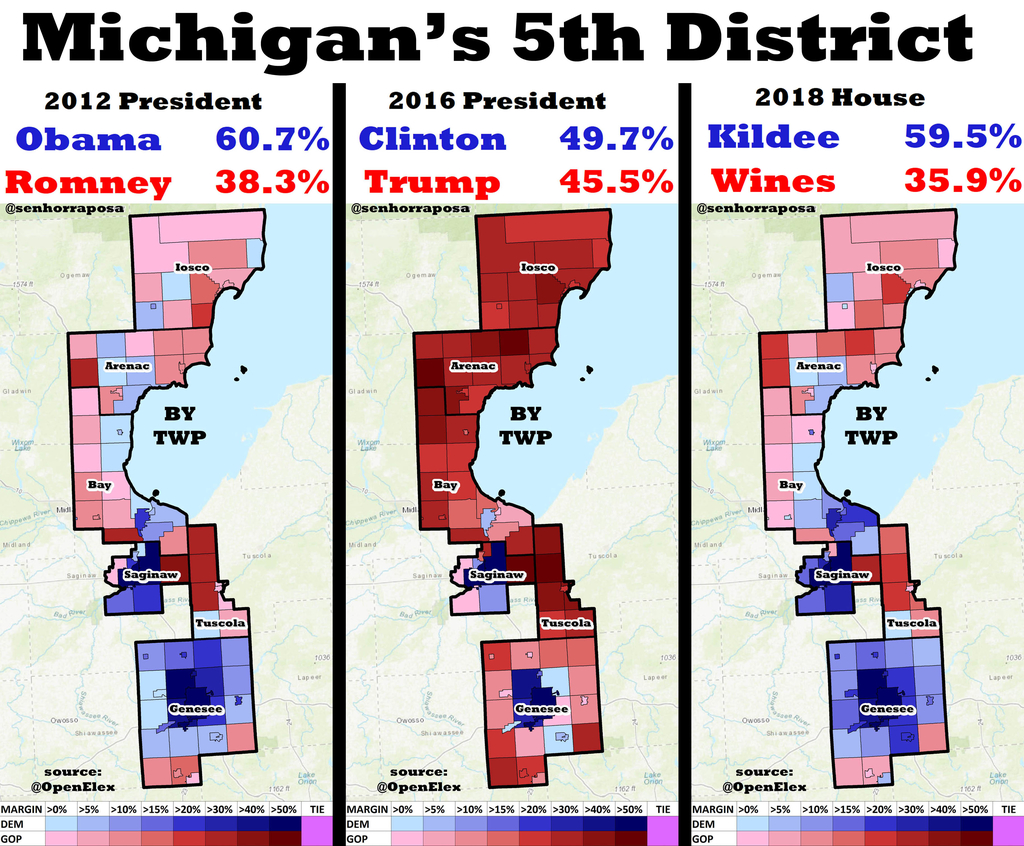 With a sharp turn to the right among white working class voters, the district swung considerably towards Trump in 2016. Though Kildee saw his margin slip from 2016 to 2018, he's still popular in the area, and he obviously has considerable appeal among white working class voters. On paper this should be a competitive seat, but Kildee's big margins have kept this district off the competitive radar. The Kildee family has represented this area since 1977 and that shows no signs of changing, although he has been mentioned as a possible candidate for Senate when a seat opens up.
Like Northern Minnesota, Northern Michigan used to be friendly to electing Democrats. From 1993-2011, Democrat Bart Stupak represented Michigan's 1st District in Congress. A conservative Democrat, Stupak was known for his opposition to abortion rights. His stance on abortion played well with his district's rural conservative voters. Stupak retired in 2010 and Republicans have held the seat since. Democrats have targeted it a few times over the years but its trend to the right has kept it out of reach for the party. That is not expected to change in 2020.
In contrast, 2018 saw Democrats pick up two traditionally Republican suburban seats outside Detroit and Lansing. The 8th District, which stretches from Lansing to northern Oakland County was represented by Republican Mike Bishop from 2015-2019. Generally a backbench conservative, Bishop lacked much of a profile and lost to Democrat Elissa Slotkin 51%-47% in 2018. Although this district has voted Republican for President in the past two presidential elections, Slotkin's enormous fundraising scared off any top tier Republicans from running. Slotkin is not out of the woods just yet, as Trump could potentially carry the district, but her race is clearly not a top Republican priority. Likely out of an abundance of caution, both the Crystal Ball and Cook rate the district as 'Leans Democratic.' As Senator Debbie Stabenow's Congresswoman, Slotkin is often mentioned a possible successor to her down the line.
A similar story can be found in the 11th District where Democrat Haley Stevens flipped the open seat in 2018. The 11th district is located in the traditionally Republicans suburbs northwest of Detroit. Moderate GOP Rep. Dave Trott chose not to seek reelection in 2018. A former Obama administration official, Stevens flipped this seat 53-47% and this district seems likely to go for Biden this time. Stevens has been an excellent fundraiser and the absence of a top tier challenger is why the Crystal Ball rates her race as 'Likely Democratic'. Given the educated nature of this district, it seems like a plausible Trump/Biden district.
One other area of the state that is worth noting is the state's 7th Congressional District, which includes parts of central and southeastern Michigan. Republican Tim Walberg represented this district from 2007-2009 and then again from 2011 to present. Walberg's profile as a socially conservative pastor is not the best fit for this working-class district but the party affiliation is all that matters now in this strongly Republican trending seat. After this district went for Mitt Romney just 51-48% in 2012, Donald Trump carried it 56-39% four years later and Gretchen Whitmer didn't carry it in 2018.
Michigan's senior Senator is Democrat Debbie Stabenow. A former congresswoman, Stabenow defeated one-term Sen. Spencer Abraham (R) in 2000, and was not seriously challenged in 2006 or 2012. Generally a popular figure with voters, Stabenow has held elected office in the state almost continuously since 1979. If Democrats retake the Senate majority, Stabenow will the Senate Agriculture Committee, which will be a boon to the state's farming industry.
Stabenow's 2018 race was the closest Senate race in Michigan since 2000 -- she won reelection by 6.5% against Army veteran John James (R). Stabenow didn't run much of a campaign -- she was more interested in helping other down-ballot Democrats -- but James attracted some attention from national Republicans. After his loss in 2018, Republicans recruited him to run again this year against Michigan's junior Senator, Gary Peters.
In the Senate, Peters has kept a low profile but he's no electoral slouch. His time in Congress started after the 2008 elections when was elected to a swingy House seat in Oakland County-- and he impressively held it in 2010. After redistricting, Peters found himself in the majority Black 14th District and in a redistricting contest against 13th District Rep. Hansen Clarke. That Peters won in a primary in a majority-Black district really shows the extent of his appeal. It is rare to see a white Democrat representing a majority Black congressional district.
When Sen. Carl Levin retired in 2014, Peters announced a bid for the Senate. This race was initially thought to be highly competitive but his opponent, former Michigan Secretary of State Terri Lynn Land, made a number of gaffes throughout the campaign. Ultimately, Peters won by 14% and will almost certainly be the last Democrat for a long time to carry a number of rural counties. Peters even won the highly rural 4th District in central Michigan, which Gretchen Whitmer would lose by 13% four years later.
Initially, the 2020 Senate race in Michigan was thought to be one of the most competitive Senate races in the county. Both candidates are excellent fundraisers but Peters continually leads in polls and the Trump campaign seems to have abandoned Michigan at this point. In an era of straight ticket voting, James needs Trump to win the state in order to beat Peters. It seems like this race has really fallen off the radar as the cycle has gone on.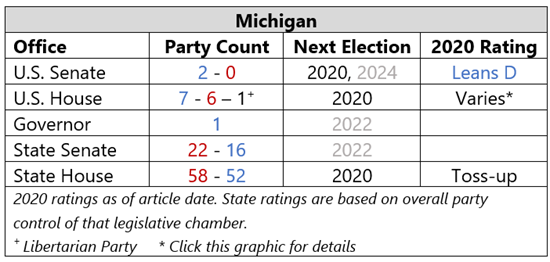 State level politics
Despite its blue streak at the presidential level, Republicans have found great success at the state level in Michigan. Republicans have controlled the Michigan Senate since the 1980s and aside from a four year period in the mid-2000s, they have controlled the House since the late 90s.
In 2018, Democrats flipped both the Secretary of State and Attorney General's offices for the first time since the 1990s. Four women were elected statewide in 2018, which makes Michigan one of the friendliest states in terms of electing female statewide officeholders. Former county prosecutor and state legislator Gretchen Whitmer won the open governorship by 10% but a number of towns that voted for President Obama in 2012, voted Republican. In contrast to those mostly working class towns, Whitmer won a number of suburban towns that voted for Mitt Romney six years earlier.
After making considerable gains in 2018, Democrats are once targeting the Michigan House this year and only need a few seats to flip it. After voters approved a redistricting amendment in 2018, the legislature will no longer have a role in redistricting every 10 years. A bipartisan citizens redistricting committee will be established in 2021 to draw new legislative and congressional district maps.
Presidential politics and 2020 outlook
Michigan Presidential Polls >>
It is a commonly recited fact that before Trump, Michigan had not voted Republican for President since 1988 -- that is true but it's an oversimplification of how competitive the state has been. Barack Obama won the state handily in two elections and that obscured the state's competitiveness. Al Gore and John Kerry only carried the state by a few points in 2000 and 2004. Obama's strength in the Midwest obscured how competitive the region really is, as he was a unique candidate with an impressive ability to win over rural voters.
One key battleground county in the presidential race will be the curious Macomb County. Divided between a more blue collar north and a more white collar south, Macomb is one of the swingiest counties. Although often labeled as the home of so called 'Reagan Democrats,' Macomb is not nearly as Democratic as many people thought. In 1996, Bill Clinton was the first Democrat to win the county since Hubert Humphrey in 1968. Donald Trump winning it in 2016 was by no means a surprise, though he may struggle to carry it again by the 11% he did four years ago.
Of the Obama/Trump states, Michigan has always made the least sense in the Trump corner. It is the most urbanized of the "Blue Wall" trio of Wisconsin, Michigan, and Pennsylvania. Polling has generally backed up this assertion. Biden has consistently led in polls and the 2018 results were across the board gains for Democrats in the state. As a relatively urbanized state, it seemed strange to see Michigan in the Republican column and polling this cycle indicates that it was a fluke. The Trump campaign has gone dark in Michigan and has instead turned their attention to Minnesota, which seems like a longer shot and offers fewer electoral votes than the Wolverine State. Neither campaign seems to be heavily contesting Michigan at this point but things could change as election day draws closer. For now, it seems like Joe Biden is favored to put this state back in the blue column once again.
---
Next Week:

Pennsylvania
Tentative Schedule: Wisconsin (9/14), Florida (9/21), Texas (9/28), Arizona (10/5), North Carolina (10/12), Ohio (10/19), Georgia (10/26), Iowa (11/2). Dates subject to change.
We use the model powering the 2020 presidential election simulator to determine the following week's state. Specifically, we will look at the 'Battleground 270' results of 25,000 simulations run late Sunday afternoon. Of the states remaining, the next to be covered will be that with the highest likelihood of a Trump or Biden win as of that date. View the current state-by-state probabilities in the table at the bottom of the Battleground 270 page.
Reports in this series:
comments powered by

Disqus
Headlines