Michigan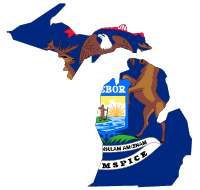 Michigan joined the Union in January 1837. The state voted primarily Republican in presidential elections until the Great Depression. From the 1930s through the 1960s, the state alternated periodically between the two parties. From 1972 through 1988 the state voted exclusively Republican, before becoming part of the 'blue wall' that voted Democratic in six consecutive presidential elections from 1992 through 2012. Donald Trump narrowly flipped the state in 2016, defeating Hillary Clinton by just 0.2%. This was the closest state by popular vote percentage in 2016.

Michigan has experienced significant economic turmoil since the 1970s and has seen slow population growth relative to the rest of the country. It was the only state to actually lose population in the 2010 Census. This trend has resulted in a loss of electoral votes, from 21 in the 1970s to 16 in 2012. As of late 2016, Michigan is on track to lose another electoral vote after the 2020 presidential election.
Voting History
State voted with the overall winning candidate
Electoral College Votes
Colored bars represent electoral votes by party. Tap to see names. 2020 electoral votes shown in dark green until after the election.