The Road to 270: New Hampshire
By Drew Savicki
August 24, 2020
The Road to 270 is a weekly column leading up to the presidential election. Each installment is dedicated to understanding one state's political landscape and how that might influence which party will win its electoral votes in 2020. We'll do these roughly in order of expected competitiveness, moving toward the most intensely contested battlegrounds as election day nears.
The Road to 270 will be published every Monday. The column is written by Drew Savicki, a 270toWin elections and politics contributor. Contact Drew via email or on Twitter @DrewSav.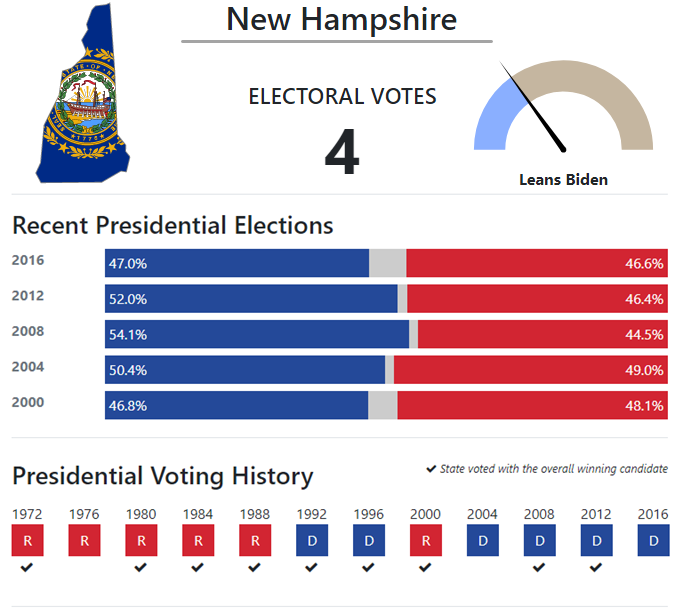 Editor's Note: There are only ten weeks until the presidential election on November 3. At the bottom of this article, we list the current schedule for the remaining ten states in the Road to 270 series.
---
The most conservative of the New England states, New Hampshire is known for its strong libertarian streak. Home to the nation's first presidential primary every four years, New Hampshire voters enjoy a front row view to American politics.
Geography
New Hampshire's two congressional districts split the state east-west, and reflect the cultural, geographic, and political divides in the state well.
NH-1:

The 1st District includes the Manchester area and the seacoast. This is traditionally the more Republican leaning of the two districts, partly due to its large presence of Massachusetts expats, many of whom fled the Bay State's high taxes. The seacoast is home to wealthy towns and villages, with its largest city being Portsmouth. Saint Anselm College, which houses the New Hampshire Institute of Politics, is here -- it's hosted presidential debates, and is a must-visit venue for serious candidates during the primary season.

NH-2:

Home to the state capital of Concord and the tech hub of Nashua, this scenic district covers western New Hampshire. Small, Trump-friendly working-class towns dot the landscape up north while its southern towns, along the Massachusetts border, usually preferred Republicans like Mitt Romney. Located in far northern New Hampshire is Dixville Notch, where every four years, residents cast their primary votes at midnight.
Congressional Politics
New Hampshire is no stranger to competitive congressional races. For election junkies, there is perhaps no greater saga than the four consecutive contests between former Reps. Carol Shea-Porter (D) and Frank Guinta (R). Shea-Porter was elected to the 1st District in 2006, and held it in 2008. Still, Shea-Porter's single-digit margins made her a Republican target in the 2010 midterms. Republicans snagged a top recruit in former Manchester Mayor Frank Guinta. Although President Obama had carried the district by 6% two years earlier, Guinta won the election by 12 points. With Obama back on the ballot in 2012, Shea-Porter mounted a comeback and defeated Guinta. In the more anti-Obama 2014 midterm, the national environment favored Guinta, who won the second rematch. Bogged down in a campaign finance scandal, Guinta lost reelection to Shea-Porter in 2016.
An era ended in October 2017, when Shea-Porter announced she was retiring from Congress. Her retirement opened up a crowded field of candidates, including her former Chief of Staff, Naomi Andrews, Levi Sanders (the son of next-door Sen. Bernie Sanders), Marine veteran and Obama admin official Maura Sullivan, and Manchester Executive Councillor Chris Pappas. With support from both the state's senators and Rep. Anne Kuster (D), Pappas won the primary with 42% of the vote, setting up a historic election. Pappas, an openly gay politician defeated Republican Eddie Edwards, a retired Black police Chief from South Hampton.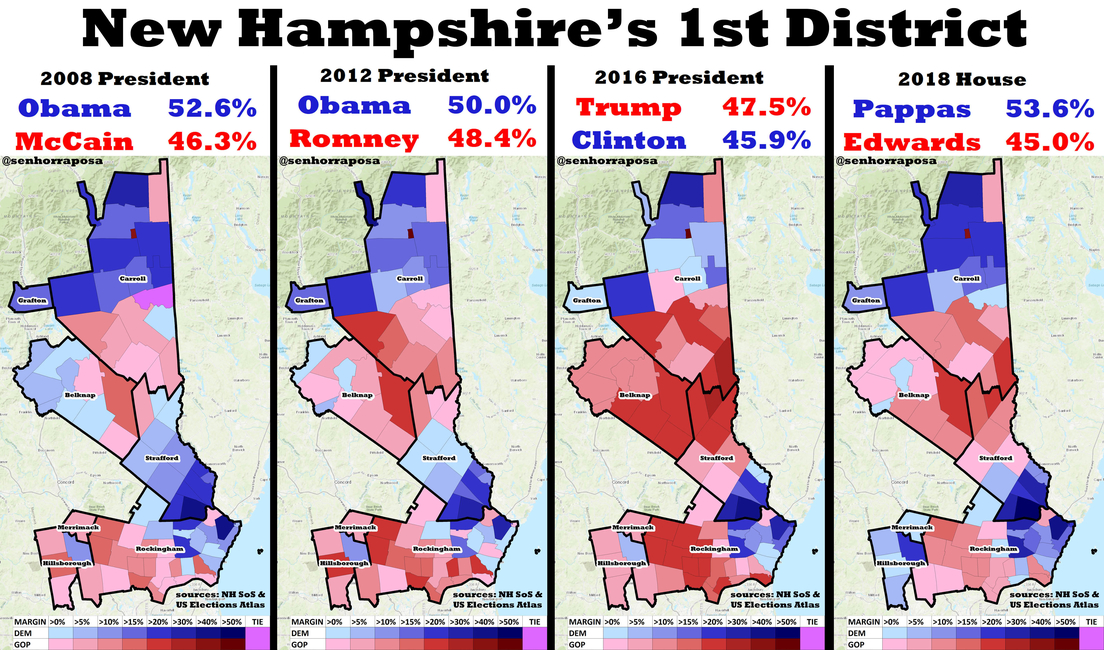 Given the historical competitiveness of the district, Pappas' 8.5% win is rather remarkable, and was slightly better than Barack Obama's win in the district in 2008. Pappas was able to appeal to traditionally Republican suburbanites and likely won back some blue-collar Trump voters. The Cook Political Report recently changed its rating for this district, from 'Leans Democratic' to 'Likely Democratic', citing Pappas' strong fundraising, mediocre opposition, and private polls that show him well-positioned to win reelection.
In western New Hampshire, Democrat Anne Kuster, a former attorney from Concord, has locked down the state's 2nd District. Though Hillary Clinton only carried this district by 3% in 2016, Republicans largely threw in the towel against Kuster in 2018. Kuster has proven to be highly popular here and although the Crystal Ball rates the district as 'Likely Democratic,' other outlets like Cook and Inside Elections rate the race as 'Solid Democratic'.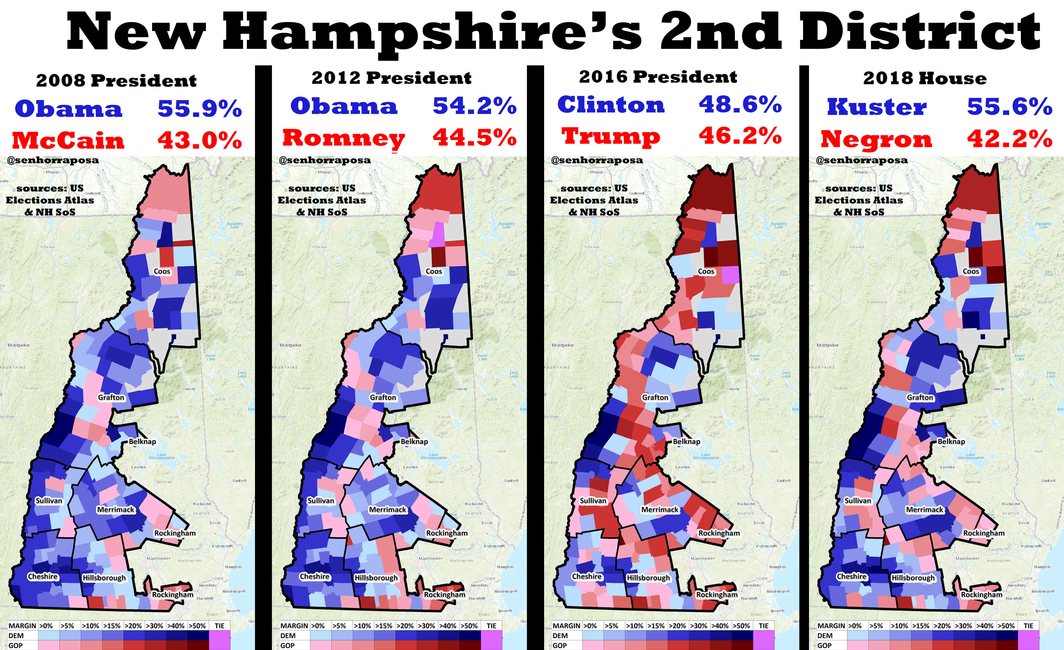 Compared to Obama, Kuster has seen clear weakening among blue-collar voters -- not too surprising, considering the inroads that Trump made with that group in 2016. Still, she made some gains along the Massachusetts border, where Trump's support was comparatively soft.
The state currently has two Democrats in the Senate. This is unusual -- the last time both its senators were Democrats, Jimmy Carter was president. New Hampshire is ancestrally Republican but, unlike the other New England states, its GOP senators don't have a tradition of moderation. Its previous senators, like Bob Smith, Judd Gregg, Gordon Humphrey, and, most recently, Kelly Ayotte, were all fairly conservative.
New Hampshire and Virginia are the only states where both senators are former governors. New Hampshire's senior Senator, Jeanne Shaheen (D), served as governor of the state from 1997-2003. A mainstream Democrat, Shaheen has long been in state Democratic politics. She was the New Hampshire Chair of Colorado Sen. Gary Hart's 1988 campaign for president and her husband served in that role for Vice President Al Gore's campaign in 2000. Shaheen was actually on Gore's shortlist for Vice President that year.
As a popular governor, Shaheen was recruited by national Democrats to run for an open Senate seat in 2002. Republicans nominated then-Rep. John E. Sununu, of the 1st District -- his father is former governor and White House Chief of Staff John H. Sununu. President Bush's approvals were high in 2002 -- the weekend before that election, the president made a stop in New Hampshire, which likely helped Sununu to a 51%-46% win. In a totally different political climate, Shaheen tried for a rematch in 2008, and beat Sununu by 6%. With that, she became the first Democratic senator elected from the state since John Durkin, in 1974.
In 2014, Shaheen faced former Massachusetts Sen. Scott Brown (R). Though he represented the Bay State from 2010 to 2013, Brown spent portions of his childhood in Portsmouth, where his parents were from. National Republicans lined up behind Brown, but his loose ties to the state seemed hard to overcome. Public polling showed a tight race and, in the end, Shaheen pulled off a three-point win. Though her overall margin was reduced from 2008, Shaheen actually improved in much of the north -- that area of the state is, geographically, farthest away from Massachusetts, so Brown's carpetbagging may have been especially suspect to those voters. In addition, northern New Hampshire is outside the Boston media market so voters in that area would not have been terribly familiar with Brown.
Shaheen is up for reelection this year but Republicans are not making a major play for the seat. After Gov. Chris Sununu (R) opted to run for reelection in 2020, Republican interest in this race quickly disappeared. Although the Crystal Ball is maintaining its rating of 'Likely Democratic' for now, Cook has rated it 'Solid Democratic' the whole cycle. In contrast to its presidential primary, New Hampshire has among the latest congressional primaries -- it'll be on September 8 this year. Both leading Republican candidates have military backgrounds, though Trump endorsed attorney Corky Messner. Regardless, Shaheen shouldn't have much trouble in the fall. Given her strength as an incumbent and her fondly remembered tenure as Governor, she has proven to be an enduring figure in the Granite State's politics.
New Hampshire's junior Senator is Maggie Hassan. A longtime state Senator, Hassan was elected governor in 2012, when Gov. John Lynch (D) retired after serving an unprecedented four-term tenure. After two terms as governor, Hassan ran for the U.S. Senate against Sen. Ayotte. Like the presidential race that year, New Hampshire's Senate race was extremely close: Hassan won by 1,017 votes, out of almost 740,000 cast. Following the release of the Access Hollywood tape, Ayotte was one of many Republicans who withdrew her endorsement of Trump, which may have cost her support on the right. Hassan credits her son, who has cerebral palsy, for her interest in public service -- in office, she is highly attentive to issues that impact the disabled.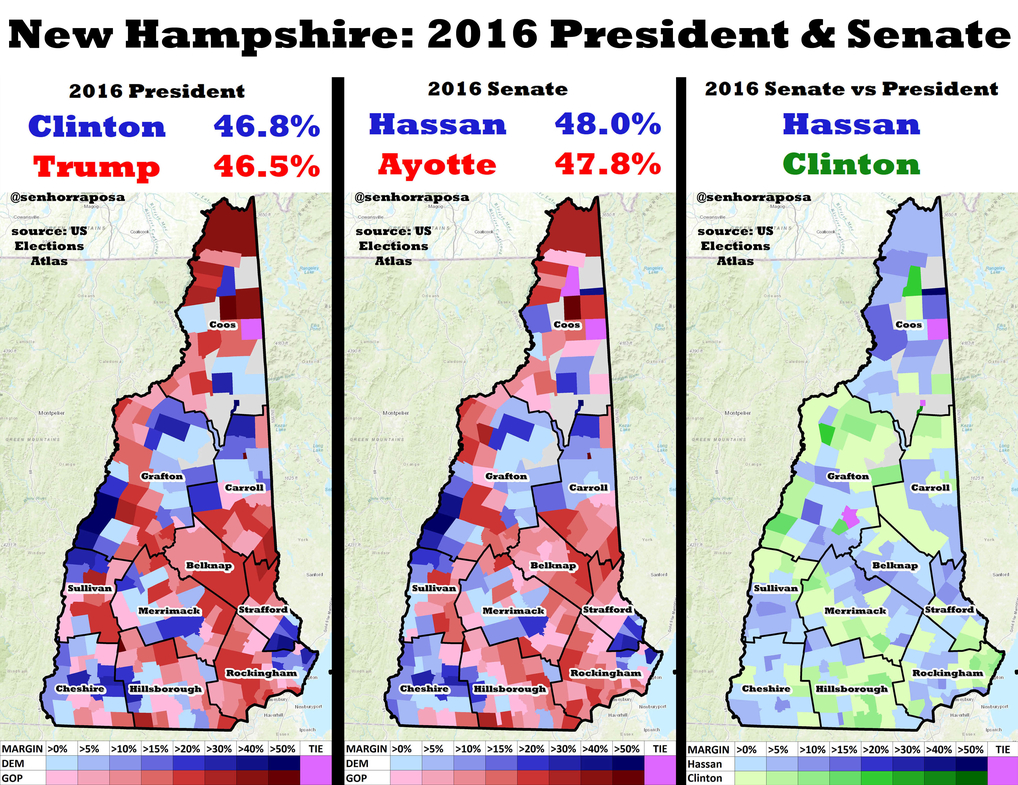 Looking at where Hassan did better than Clinton is quite interesting and shows that Ayotte struggled with a lot of Trump voters. She showed clear weakness in 'Trumpier' blue collar towns while running ahead of Trump in the state's urban and suburban areas. It wasn't enough for her to win though.
With the New Hampshire primary enjoying so much attention every four years, the state's congressional delegation is highly sought after for endorsements but only Rep. Kuster made one this year. Kuster endorsed former South Bend, Indiana Mayor Pete Buttigieg - who ultimately finished a respectable second place in the state.
State level politics
New Hampshire is one of just a few states in the country that elects no statewide executive offices, besides its governor. Occupants of its other row offices, like the Attorney General and Secretary of State positions, are elected by the legislature. Institutionally, its governor is considered one of the nation's weaker executives. The governor's power is partially shared with a separate executive body, called the Executive Council of New Hampshire. Five members are elected via districts (as of August 2020, Democrats hold a 3-2 majority). The governor retains the power to veto legislation, but the power to make certain executive or judicial appointments is shared with that of the Council. Depending on the party control of the governorship and the Council, they can work in tandem or hamstring one another. New Hampshire, along with neighboring Vermont, are the only states with two-year gubernatorial terms.
The legislature -- known as the General Court -- is among the nation's most curious. The state Senate is comprised of 24 members, who serve two year terms. The state House is the largest legislative chamber in the nation, with an astonishing 400 members. Due to the General Court's enormous size, legislators receive just $200 per term as compensation -- so New Hampshire has what is often called a 'citizen' or 'volunteer' legislature. Members have outside jobs that they hold even while they are in session. Such legislatures are most common in New England and the western U.S.
The New Hampshire legislature is frequently one of the most competitive legislatures in the country -- the state House has flipped four times over the past dozen years -- and this year will be no exception. Democrats are currently considered slight favorites to hold the Senate while their majority in the House looks firmer.
Secretary of State Bill Gardner (D) is an institution in the state's politics and is a fierce defender of his state's presidential primary. Serving since 1976, he has remained in office even when the General Court has been in GOP hands. In December 2018, with a newly-elected Democratic majority in the legislature, Gardner faced a real race from 2016 gubernatorial nominee Colin Van Ostern. Gardner was criticized for taking part in President Trump's (now-defunct) Commission on Election Integrity -- to many Democrats, he was legitimizing the president's politically-motivated commission. Gardner ultimately kept his job, though the vote was close.
Gov. Chris Sununu was elected in 2016 and reelected in 2018. He is in a historically rare situation: for the first time since the 1870s, the state has a GOP governor and Democratic-controlled legislature. Still, his approval ratings are high, and he's favored for reelection. His political future is uncertain, but he is often mentioned as a possible challenger to Sen. Hassan in 2022.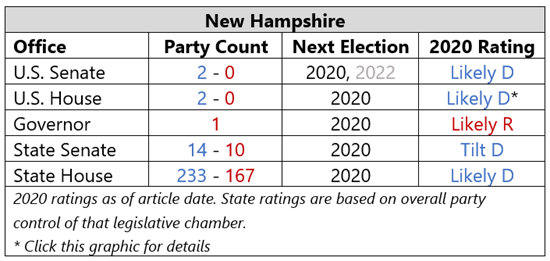 Presidential politics and 2020 outlook
It is impossible to discuss New Hampshire's role in presidential elections without discussing the New Hampshire primary. Every four years, the state holds its 'first in the nation' presidential primary (although the Iowa Caucus is the first contest where delegates are awarded). According to New Hampshire state law, "The presidential primary election shall be held on the second Tuesday in March or on a date selected by the secretary of state which is 7 days or more immediately preceding the date on which any other state shall hold a similar election." In other words, the state is legally obligated to maintain its status as the first presidential primary.
New Hampshire has held a presidential primary since 1916, but the contest gained its modern-day significance in 1952. That year, voters began to vote directly for candidates. After a poor showing in the primary that year - he lost the state to Tennessee Sen. Estes Kefauver, President Truman dropped out of the race. On the Republican side, it was Dwight Eisenhower's first foray into politics -- his Granite State win showed he was a viable candidate for the nomination.
In an increasingly diverse Democratic Party, New Hampshire's relevance in the Democratic nominating process has been questioned. Its heavily white and liberal electorate simply does not match the Party's base. This was shown when Vermont Sen. Bernie Sanders carried the state in both his unsuccessful presidential runs. Joe Biden -- who won the nomination in large part from his strength with Black voters in later contests -- placed fifth in the Granite State primary.
On the Republican side, New Hampshire is a much better fit for the party's base. In the past three cycles, the winner of the New Hampshire primary has won the GOP nomination. In 1992, incumbent president George H. W. Bush's weakness in the primary -- he beat conservative challenger Pat Buchanan by only 53%-38% -- foreshadowed his general election loss.
The Granite State emerged as a swing state in 1992, when Bill Clinton narrowly carried it over Bush. In fact, aside from Clinton's Arkansas home, New Hampshire saw the biggest blue shift from 1988 to 1992: Bush's share plunged from 62% to 38% between the elections. That drop was surely exaggerated by the presence of Reform Party nominee Ross Perot on the ballot. Perot earned nearly a quarter of the vote, polling relatively well in the blue-collar north. For 1996, it basically matched the national vote, going to Clinton 49%-39%. In 2000, George W. Bush won the state with a 48% plurality, thanks to Green Party candidate Ralph Nader receiving 4%.
2000 remains the last time the state voted Republican but, by raw vote margin, it was the closest state in the country in 2016. This cycle, polling of the state has been scarce, and the two campaigns seem more interested in larger electoral prizes. With much of the state located in the expensive Boston media market, the state isn't a terribly efficient one in which to air ads.
As of 2018, 36.5% of Granite State adults hold a bachelor's degree or higher, making it one of the nation's most educated states. New Hampshire is one of those states where Democrats trading blue collar voters for college educated whites isn't likely to hurt them. The Trump campaign will be holding a rally in Manchester this week but with it playing defense in states like Iowa and Ohio, and given the strength Democrats have shown with college graduates in the Trump era, it seems Biden is favored to carry the state.
---
Next Week:

Michigan
Tentative Schedule: Pennsylvania (9/7), Wisconsin (9/14), Florida (9/21), Texas (9/28), Arizona (10/5), North Carolina (10/12), Ohio (10/19), Georgia (10/26), Iowa (11/2). Dates subject to change.
We use the model powering the 2020 presidential election simulator to determine the following week's state. Specifically, we will look at the 'Battleground 270' results of 25,000 simulations run late Sunday afternoon. Of the states remaining, the next to be covered will be that with the highest likelihood of a Trump or Biden win as of that date. View the current state-by-state probabilities in the table at the bottom of the Battleground 270 page.
Reports in this series:
comments powered by

Disqus
Headlines