New Hampshire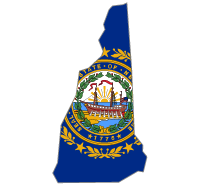 New Hampshire, one of the original 13 colonies, entered the Union in June 1788, and has participated in all 58 presidential elections through 2016. Although surrounded by "blue" states, the independent nature of New Hampshire voters leads it to be considered a battleground state in most election cycles. It has, however, ultimately voted Democratic in six of the last seven elections. In 2016, Hillary Clinton won by 0.4% over Donald Trump, the 2nd closest state (after Michigan) in percentage terms that year. New Hampshire has maintained its allocation of four electoral votes since 1884.
Voting History
State voted with the overall winning candidate
Electoral College Votes
Colored bars represent electoral votes by party. Hover to see names. 2020 electoral votes shown in dark green until after the election.