January 3, 2019
The 116th Congress got underway at noon on Thursday. We've updated our Who Represents Me look-up tool to reflect the new Congress, as well as governors elected in November. Use the search box to look up information for a specific address, Zip Code, city or state.
Many of the new governors have not yet taken office; we note that where applicable. Some of the contact and social media information in these listings will likely be incomplete in the near-term. It is gathered from 3rd party sources; we do not control how quickly those sources make updates.
U.S. House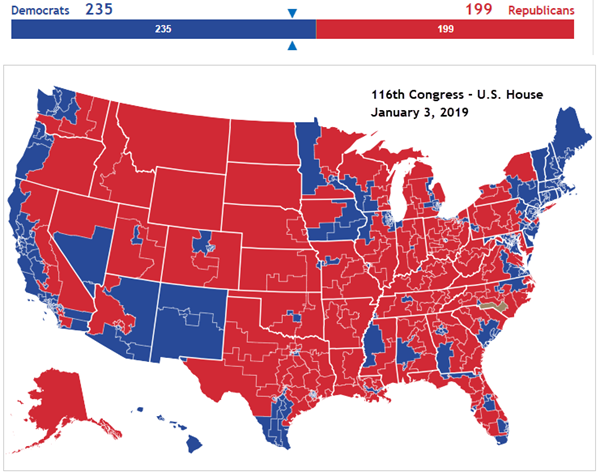 Democrats gained 40 seats in the 2018 midterm elections; the party holds a 235-199 edge as the new Congress is seated.
Democrats gained 7 seats in California, 4 in New Jersey and 3 in New York, Pennsylvania and Virginia. The party gained one or two seats in 15 other states
This is the first time Democrats will be in the majority since the 111th Congress ended on January 3, 2011. The House speaker at the time, Rep. Nancy Pelosi, has been voted back into that position. She will be the first to return to the job since Rep. Sam Rayburn (D) of Texas did so - for a 3rd time - in 1955.
There is one vacancy, in North Carolina's 9th district. A narrow GOP win on Election Day has been held up due to allegations of election fraud. A new election is possible, which will keep the seat vacant for several months. However, the Election Day winner, Mark Harris, is asking a court to certify him as winner. The departing incumbent, Robert Pittenger (R) has announced he will not run in any new election.

By our count, 92 of the 434 members sworn-in today were not in the U.S. House on Election Day, 2018. This includes 85 first-time members, 4 that won special elections and who were seated during the lame-duck session, and 3 members who had previously served.

Pennsylvania's new Congressional district map will be effective with the start of this Congress.

Prior to the election, there were 25 GOP-held seats in districts that voted for Hillary Clinton in 2016. Only three remain.
U.S. Senate
Republicans gained 2 seats in the 2018 midterm elections; the party holds a 53-47 edge in the 116th Congress

Democratic incumbents were defeated in 4 states: Florida, Indiana, Missouri and North Dakota. Democrats were successful in flipping Arizona and Nevada

9 new Senators were sworn-in today. In addition to the new members from the six states above, Republicans held on to open seats in Tennessee in Utah; a Republican vacancy is being filled in Arizona's other Senate seat. That state, which has never had a female Senator, will now have two.
Only 10 states (9 if Vermont is excluded*) now has a split Senate delegation (one Democrat, one Republican); this is one of the lowest numbers since direct election of Senators began in 1913.
The 2020 Senate Interactive Map is available. We are working on the corresponding House and Governor maps, as well as some enhancements to the 2020 electoral map. There are 670 days until the 2020 elections.
* Independent Senator Bernie Sanders caucuses with the Democrats; Vermont's other Senator, Patrick Leahy, is also a Democrat
comments powered by

Disqus
Headlines