Election Results Update
By 270toWin Staff
November 7, 2018
U.S. House
Democrats will have control of this branch of Congress beginning in January. As of this writing, they have won 220 seats, more than the 218 needed for a majority. Republicans have won 197. 18 districts remain uncalled. All but one of the remaining seats is currently held by the GOP. If you'd like to game out the remaining seats, here's an interactive House map based on actual results.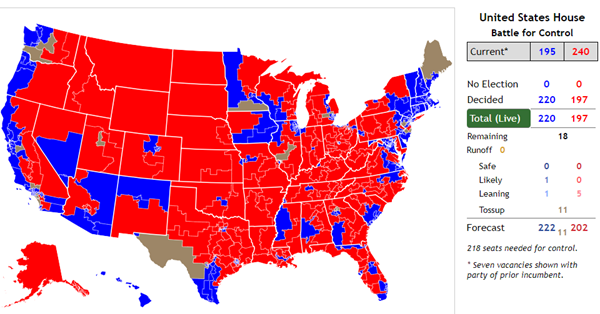 U.S. Senate
Republicans started the night with 51 seats and they'll have at least that many heading into 2019. Democratic incumbents Joe Donnelly (Indiana), Claire McCaskill (Missouri) and Heidi Heitkamp (North Dakota) went down to defeat. Democrats picked up Nevada.
On the map below, Florida is awarded to Republican Rick Scott, while California is not yet called. These are calls (or non-calls) made by our results partner, Decision Desk. Scott is ahead, but there remains the possibility of a recount. In California, there are two Democrats on the ballot. While a nominee call has not been made, Democrats will retain that seat. On our interactive Senate map of actual results, we've awarded California, while keeping Florida undecided.
The other two uncalled races are Arizona and the special election in Mississippi. In Arizona, Rep. Martha McSally (R) has a lead of just under 1% with over 99% of the vote in. Meanwhile, as expected, Mississippi's race is headed to a November 27th runoff.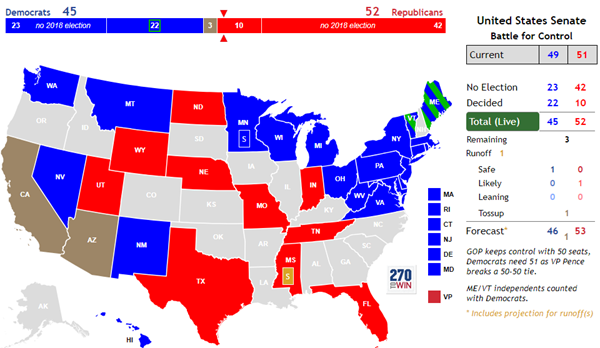 Governor
Democrats have won six Republican-held seats, significantly cutting into the latter's 33-16 edge heading into Election Day. Connecticut and Georgia remain undecided, although the Associated Press has called it for Democrat Ned Lamont. We show that on our interactive Governor map of actual results.
In Georgia, Republican Brian Kemp has 50.6% of the vote, a lead of about 2 points. The question at this point is not whether Kemp will finish with more votes than Democrat Stacey Abrams, but rather whether Kemp will finish above the 50% threshold to avoid a runoff on December 4th.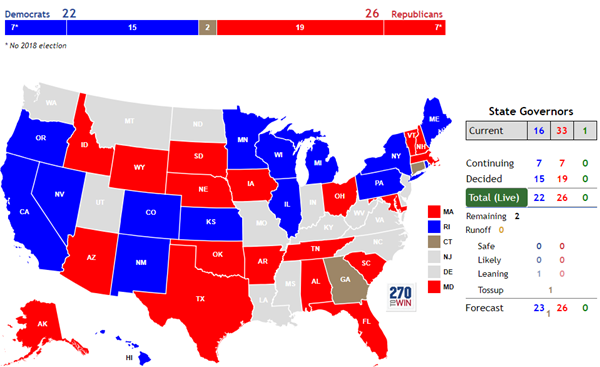 comments powered by

Disqus
Headlines