Donald Trump Elected President; Republicans Retain Control of Congress
By 270toWin Staff
November 9, 2016
Thank you for visiting 270toWin this election week. We had some intermittent site performance issues overnight Tuesday as a result of unprecedented levels of traffic. While we planned for the spike, there were still some impacts on both the user experience and our ability to keep the site updated on election night. We apologize for any inconvenience.
----
Defying almost all predictions, Donald J. Trump was elected president of the United States on Tuesday. Trump, who has never held political office, expanded the electoral map into states Republicans have not won for a generation or more.
Trump won large electoral prizes in Pennsylvania and Wisconsin, neither of which has voted Republican since the 1980s. He took Ohio, which again proved an election bellwether. Trump also won an electoral vote in Maine, the first time that state has split its four votes.
The current map: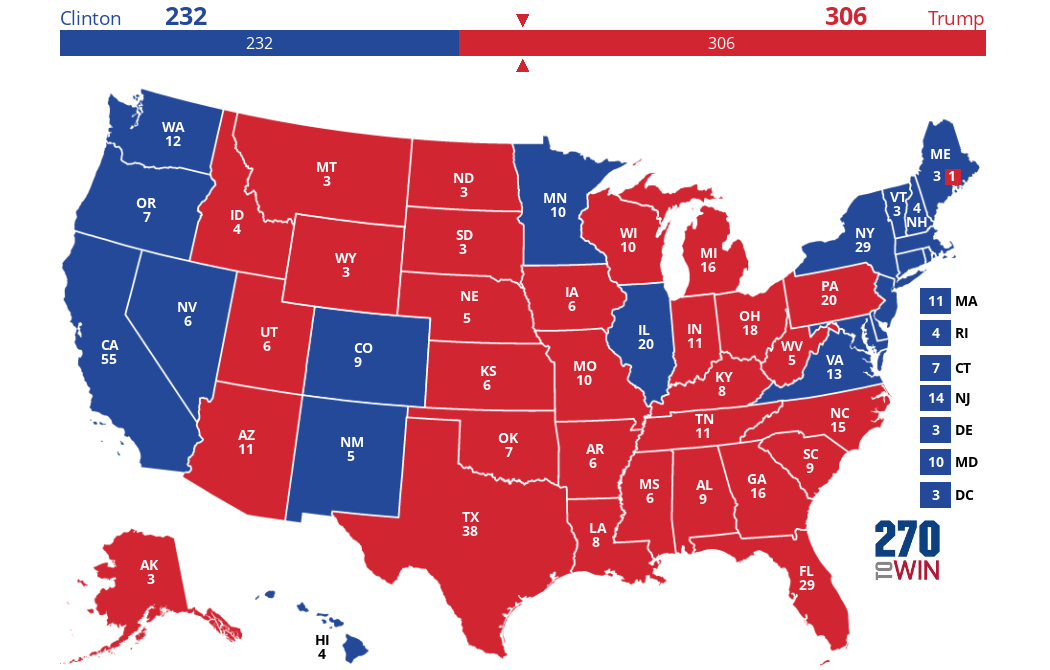 As of Wednesday morning, four states were uncalled. Clinton won Minnesota; that state has not voted for a Republican since 1972. As of Wednesday afternoon, Arizona looked likely to go to Trump, while Michigan and New Hampshire were virtually tied. In Michigan, Trump leads by about 0.3%, in New Hampshire it is Clinton by 0.2%. If those hold, the final map would show Trump 306, Clinton 232.
Thursday Night:
Trump is declared the winner in Arizona, bringing him to 290 electoral votes. New Hampshire and Michigan remain too close to call. Only 0.3% separates Trump and Clinton in those two states. Clinton leads by that amount in New Hampshire, while Trump is ahead in Michigan.
Late Saturday: Preliminary final vote counts would indicate a Trump win in Michigan, with Clinton winning New Hampshire. However, those states have not yet been called by the Associated Press. The margins are very close, leaving open the possibility of a recount. For now, we've updated the map to award the states, but using a lighter red/blue shade to reflect this uncertainty.
Republicans Retain Control of Congress
Donald Trump will enjoy a majority in both houses of Congress. At this point, Republicans will have at least 51 seats in the new Senate. The race in New Hampshire remains too close to call. The election in Louisiana will go to a run-off on December 10th.
In the House, the current tally is 238 Republicans, 193 Democrats, with two California races uncalled, including one involving 8-term incumbent Darrell Issa. The California Republican has a small lead, while his Democratic colleague in District 7 also has a small lead. The other two races, in Louisiana, will go to run-off in December; both are expected to remain in GOP hands.
Originally posted 11/9/2016 in the morning; latest update 11/12 7:30AM.
comments powered by

Disqus
Headlines