Final Tally of Electoral Map Forecasts
By 270toWin Staff
November 8, 2016
In our final look at the electoral projections, there remains quite a bit of variability in opinion across the experts we've been following. Aside from CNN, all have Clinton across 270 electoral votes, although most have her well short of that total when totaling the states that are the most secure (safe + likely ratings). Most of the forecasts have Clinton leading in states with either 274 or 322 electoral votes. The main difference seems to be expectations for Florida, North Carolina and New Hampshire: some have those lean Clinton, others still see them as toss-ups.
You can review the forecasts, and associated maps on our 2016 Presidential Election Forecasts page.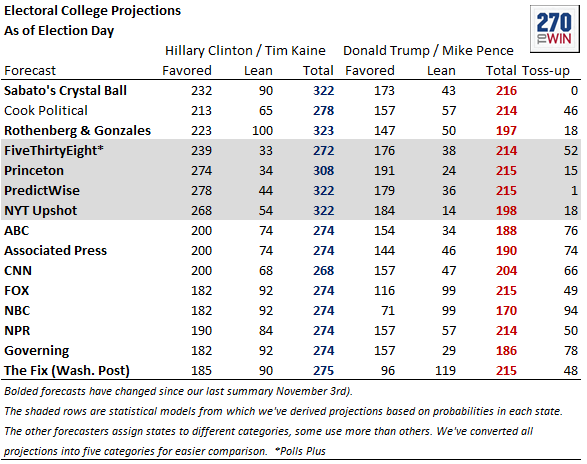 Aggregating the forecasts, and then placing them in categories, we end up with this consensus map. Note that these aren't averages. For example, only states called 'safe' by 14 or 15 pundits are shown in the darkest color below.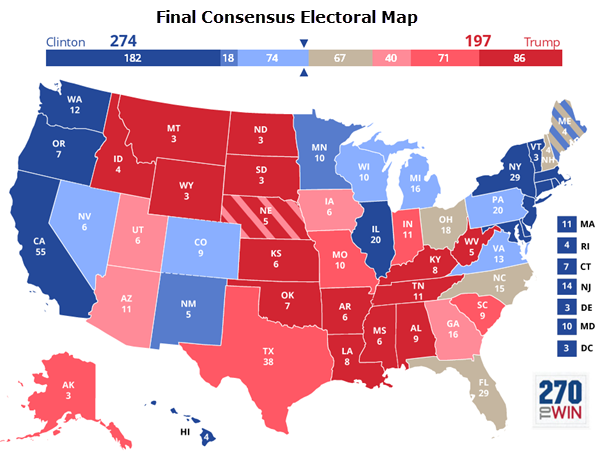 In the final map here, we show all the toss-ups assigned to the candidate ahead when all the forecasts are aggregated. The pundits have a slight preference for Clinton to win all three of Florida, New Hampshire and North Carolina, with Trump seen as prevailing in Ohio. The closest to a coin flip is Maine's 2nd Congressional District; Trump will eke that out if the consensus is correct.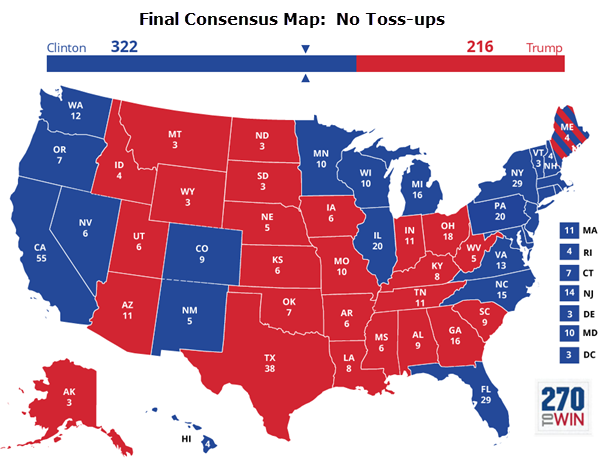 comments powered by

Disqus
Headlines