Six Seats May Decide the Battle for Senate Control
By 270toWin Staff
October 13, 2016
Depending on how the presidential race shakes out over the next four weeks, the biggest battle on Election Day may be for control of the U.S. Senate. Republicans currently control with 54 seats, Democrats (including two independents) have 46. Since the Vice-President breaks any ties, Democrats will need to gain four seats if Clinton wins, five if Trump prevails.
Of the 34 seats up this year, 24 are currently held by Republicans. Looking at the Senate ratings from three pundits (Sabato, Cook, Rothenberg & Gonzales), 18 seats seem to be safe for the incumbent party. Of the remaining 16, five are rated safe by two of the three pundits, so are not likely to change hands. That leaves 11 competitive seats, only one of which - Nevada - is currently in Democratic hands.
Looking at those 11 seats, Illinois and Wisconsin seem to be the Republican seats most likely to flip, although the Wisconsin polling has been quite a bit closer lately. The incumbent Republicans in three states (Arizona, Florida, Ohio) are leading in the polls. If those five seats fall that way, we'll have 47 Democrats and 47 Republicans, meaning control of the Senate would depend on the remaining six toss-up races: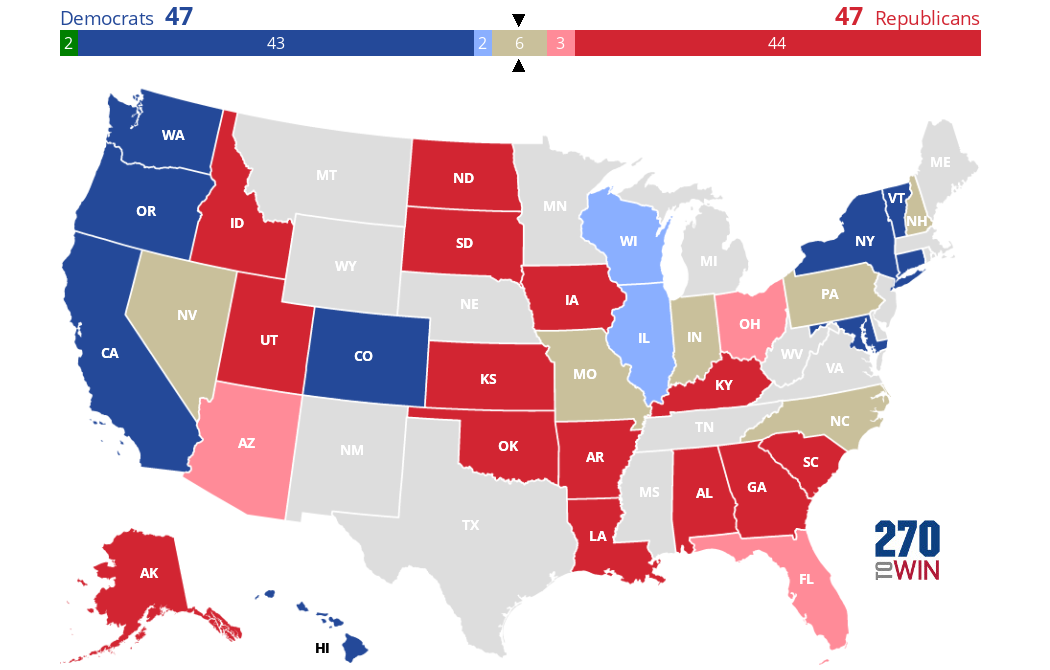 Click or tap the map to create and share your own 2016 Senate forecast.
comments powered by

Disqus
Headlines