CNN Polls: Trump Takes Lead in Battlegrounds Florida and Ohio
By 270toWin Staff
September 14, 2016
Donald Trump has taken a small lead in both Florida and Ohio, new CNN/ORC polls of likely voters finds.
In Florida, Trump leads by 4 points head-head, 3 points when third parties are included. This brings the Florida polling average to almost dead even; Trump has a lead of less than 1%.
In Ohio, Trump also leads by 4 points head-head, with a 5 point lead when third parties are included. These results are very similar to a Bloomberg Politics poll out earlier today. All recent polling now gives Trump a 1-2 point lead in the state.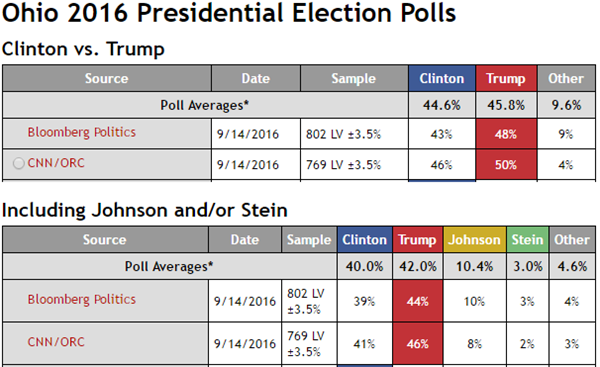 Barack Obama won both Florida and Ohio in 2008 and again in 2012. In the latter election, these were two of only four states decided by 5 points or less. No Republican has ever been elected president without winning Ohio.
CNN also surveyed the Senate races in both states, finding the incumbent Republicans with double-digit leads over their challengers. Marco Rubio leads by 11 over Patrick Murphy in Florida. In Ohio, Rob Portman has a 21 point lead on Ted Strickland.
comments powered by

Disqus
Headlines