New President & Senate Polling from Seven Battleground States
By 270toWin Staff
September 1, 2016
Public Policy has surveyed the presidential and Senate races in seven battleground states. Nothing dramatically out of line with the existing averages for these races was found. Visit our Recent 2016 Election Polls page to link to the individual details.
President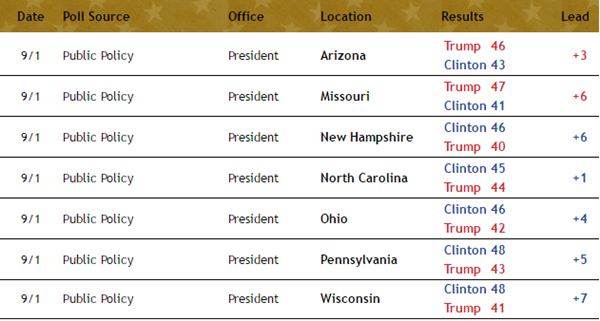 All seven states came surveyed were somewhat to highly competitive, with the largest margins a Clinton lead of 7 in Wisconsin and a Trump lead of 6 in Missouri. Other than New Hampshire, where Clinton's average lead is 10.5%, none of these results were more than 2-3 points from the polling average in each state.
This set of polls yielded no change to the electoral map based on polls, where Clinton leads 262-145, with 131 states polling within 5 points or less.
Senate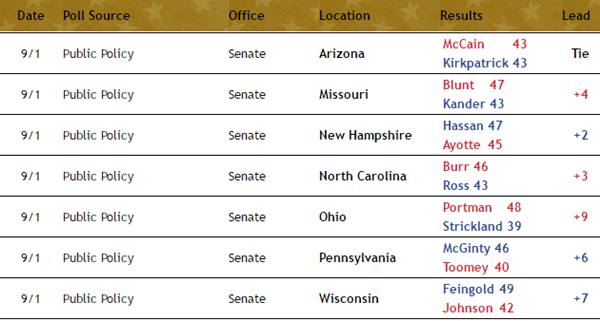 Senate races were a bit more spread out, ranging from a Republican lead of 9 in Ohio to a Democratic lead of 7 in Wisconsin. Arizona was exactly tied. The Ohio number also stands out when comparing to the presidential race there. Donald Trump is running 13 points behind the Republican incumbent Senator, a much greater spread than in any of the other states surveyed. The tightness of the race in Arizona is the largest deviation from polling average, where McCain leads by 6.5%.
comments powered by

Disqus
Headlines