A Solid Night For Sanders, but Clinton Moves Closer to Winning the Nomination
By 270toWin Staff
May 18, 2016
Bernie Sanders had another good night Tuesday but Hillary Clinton moved to within 100 delegates of clinching the Democratic nomination. Sanders won Oregon by about 9 points and appears to have come within a whisker of taking Kentucky. The Bluegrass State still has not been called by Associated Press as of this writing, although some media outlets are characterizing Clinton as the 'apparent winner'. She leads by about 0.5%.
Regardless of who wins Kentucky, proportional allocation means roughly a 50/50 split there. As of this morning, 27 delegates have been awarded to each, with one still outstanding. In Oregon, despite a decent Sanders margin, he only won four more delegates --28 to 24 -- than Clinton.
As of this morning, Clinton has 2,291 delegates, just 92 away from the 2,383 required to win the nomination.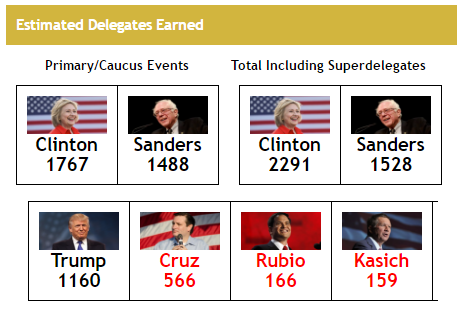 On the Republican side, Donald Trump won Oregon and moved to within 77 of the 1,237 delegates needed to clinch.
Both Clinton and Trump should cross the delegate finish line on June 7. Between now and then, the election calendar is light. Next Tuesday, Republicans will vote in Washington followed by Democratic caucuses in the Virgin Islands on June 4 and Puerto Rico on June 5. The final big day of the primary season is the aforementioned June 7. California headlines five primaries that day.
comments powered by

Disqus
Headlines