Polling Update for Tuesday's Indiana Primary
By 270toWin Staff
May 2, 2016
Indiana holds the only primary this week. The polls are open 6AM to 6PM local time. Part of the state is in Central Time, meaning the last polls would close at 7PM Eastern Time. That is likely when the networks will begin reporting results. Depending on the outcome, the narrative may begin to shift to a prospective Trump vs. Clinton match-up this fall.
Republican: Trump is at about 1,000 delegates after his strong showing on the East Coast the past two weeks. Indiana has 57 delegates, awarded on a split winner take all basis. 30 of these will go to the statewide popular vote winner, with the remaining 27 awarded, in groups of 3, to the winner of each of the state's 9 congressional districts.

Reviewing the polls, Trump has a 3 point lead, on average. However, Trump likely has the momentum heading into Tuesday. The two most recent polls have him up by 9 to 15 points. The one poll that shows Cruz well ahead was a survey conducted over a two week period. A Trump victory statewide seems likely; the question then becomes how many congressional districts he will win. Assuming it is at least 5, that will put him over 1,050 delegates, well inside 200 of the 1,237 needed to secure the nomination.
Looking ahead, there's been no polling for next week's Nebraska primary, which awards 36 delegates on a winner take all basis. The conventional wisdom has been that Cruz will win there. However, the prediction markets have made a pronounced move in Trump's direction over the past week; with his probability of winning doubling, to near 60%.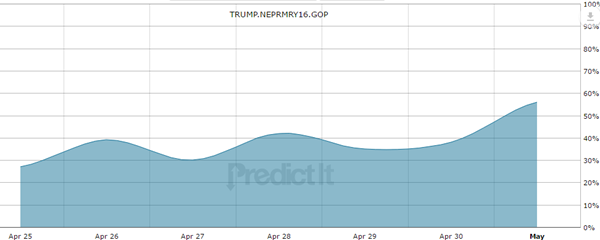 If Trump were to take Indiana and then win in Nebraska, his path to 1,237 would be that much more clear. Map it out with our interactive delegate calculator.
Democrat: Clinton enters the week about 200 delegates short of the required 2,383. This includes superdelegates. Bernie Sanders strategy revolves around leading in pledged delegates by the time the primary calendar wraps up and then convincing the superdelegates to switch their positon at the Democratic Convention. The math is not in his favor. It is also worth noting that, in the superdelegate era, Al Gore was the only Democrat to arrive at the convention having clinched the nomination on the strength of pledged delegates alone.
Looking specifically at Indiana, most polls give Clinton a single digit lead; it averages about 6 points. Tuesday's primary will award 83 pledged delegates, allocated proportionately based on statewide and individual district results. This proportional approach, common to all Democratic contests, makes a late-in-the-campaign comeback by Sanders all that much more challenging.
Neither Trump nor Clinton is likely to officially clinch the nomination until the California primary on June 7. However, it seems increasingly likely they will meet in November.
comments powered by

Disqus
Headlines