Delegate Update: Trump, Clinton Getting Closer
By 270toWin Staff
April 29, 2016
This week's 5 East Coast primaries, dominated by Hillary Clinton & Donald Trump, have moved those candidates much closer to a general election meeting on November 8th.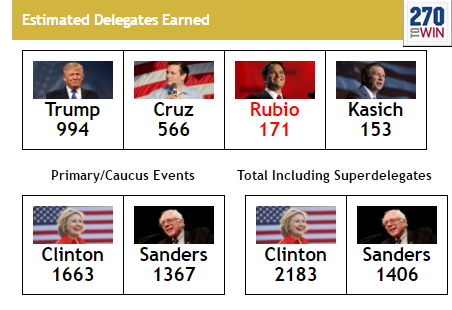 On the Republican side, after sweeping all five states on Tuesday, Trump is now just short of 1,000 delegates. While he outperformed across the board, his biggest boost is coming from Pennsylvania, where he seems to getting the support of the majority of the state's 54 elected, unbound delegates. According to the AP, Trump has thus far secured the commitment of 40 of those, to just 4 for Ted Cruz. While these unbound delegates can theoretically change their mind, the AP is usually pretty conservative with their allocations.

Considering this Pennsylvania windfall, Trump's path to the nomination has gotten a bit easier. Whether he makes it will likely come down to California, although a win in next Tuesday's Indiana primary, where Trump leads by 5, would go a long way. Use our interactive delegate calculator to see if you can get Trump to 1,237.
The math is much easier for Hillary Clinton. She is now just 200 delegates shy of the 2,383 needed to win the nomination. She'll likely pick up about 45 in next Tuesday's Indiana primary, where she leads by 6 in the polls. There are only about 235 pledged delegates available during May (including Indiana). Absent a surge in commitments by the remaining superdelegates, Clinton will likely not officially achieve the required number until June 7, the day of the huge (delegate-wise) California primary.
comments powered by

Disqus
Headlines